Retail Value:
$1,200.00
Donated By:
Knox Knife
**** Chosen by Winner:
Eric G.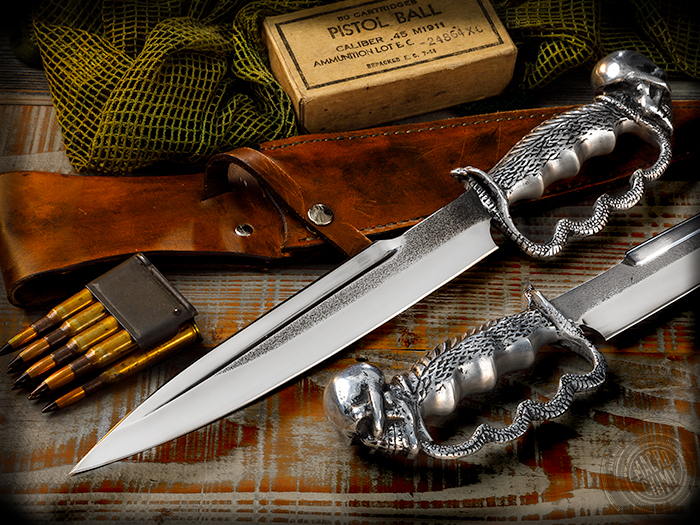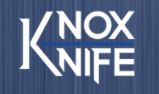 10.5 inch 440C stainless blade with antiqued flats and polished grinds, 15.25 inches overall length. Cast aluminum polished Stone Skull and Cobra grip and to bring the whole package together, it comes with custom Leather sheath.
The story of Jeff Knox's Stone Knives in his own words:

Being the son of a military collectibles shop owner, I grew up going to gun & military shows. Unlike my brother and father who are the epitome of addicted gun collectors, I was always drawn to the knives. As my collecting addiction and funding grew, the more I started focusing on the stranger, more unique and harder to find WWII knives. Any military knife collector can tell you the Mount Rushmore of WWII pieces, ie Taylor Huff, Baker, Stone & Nichols. Years ago I was able to grab a named Stone group and it is, to this day, one of my favorite WWII pieces.
Jumping forward to March 2017, I'm in heavy negotiation for an unissued, in box, smatchet. The deal is made and I am basking in the glow of my soon to be in hand procurement. As I continued to chat with the seller it comes out that he is Bill Stone, son of Eugene Stone who created his old school work of art Stone knives aboard the USS Holland in the Pacific Theater using Mitsubishi seaplane props!
Even more exciting than that, Bill tells me he still casts knives. This is huge information and how I didn't already know this makes me question the fabric of my reality. I want, nay, NEED to make a Stone knife with one of my blades. For weeks I sketched up blade designs and took polls of my friends for the best design, but ultimately I couldn't choose just one design so my first round of Stone knives, cast by Bill Stone, is 4 knives with 3 different designs all with varied grinds, finishes, textures and style choices.