Donate to Win
Artisan Cutlery Knife Rights 2019 Donation Bonus Zumwalt M390 Flipper: $299.99 Retail Value - ALL GONE!
Donated By:
Artisan Cutlery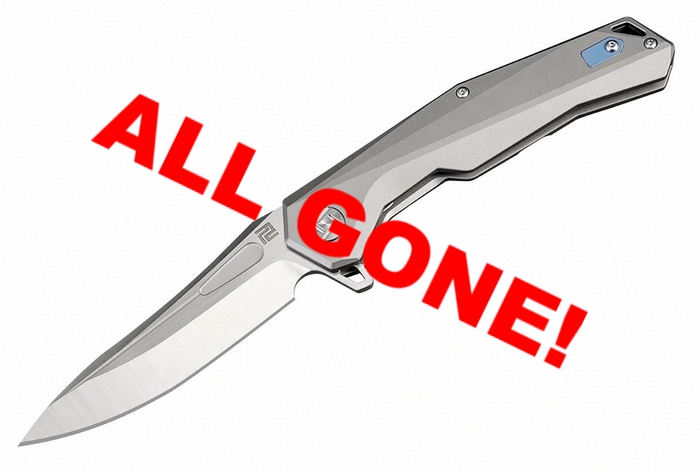 The Artisan Cutlery Zumwalt features a satin finish M390 stainless steel 4" plain edge drop point blade with a Titanium framelock handle and  Titanium reversible tip-up carry pocket clip. Comes with a Collector's Tin with nylon storage pouch, micro-fiber cleaning cloth, and VIP specification card. With its light weight and comfortable contoured handle, the Zumwalt is perfect for your next everyday carry knife.
Grey Handle shown.
Knives may have Green Handle.
Unfortunately, we are unable to provide
donors a choice of color.
Generously donated by Artisan Knives - Retail Value: $299.99 - ALL GONE!

Includes 90 Entries (65 FREE) + FREE Annual Membership or Renewal
Blade Length: 3.78"(96mm)
Blade Thickness: 0.15"(3.73mm)
Blade Finish:saint/sand polish
Blade Grind:Flat
Blade Material: M390
Blade Hardness: HRC58-60
Blade Style:Drop Point
Overall Length: 8.90"(226mm)
Closed Length: 5.12"(130mm)
Handle Material: Titanium
Clip Material: Titanium
Pivot Assembly: Ceramic Ball Bearing
Weight:5.11oz / 145g
Lock Type: Frame Lock
*While supplies last. Void where prohibited. Please allow up to 16 weeks for delivery of Donation Bonus Knives