Donate to Win
Cold Steel Knife Rights 2020 Limited Edition "Shall Not Be Infringed" AD-10 Tri-Ad® Lock Folder: $240 Retail Value Without Engraving - ALL GONE!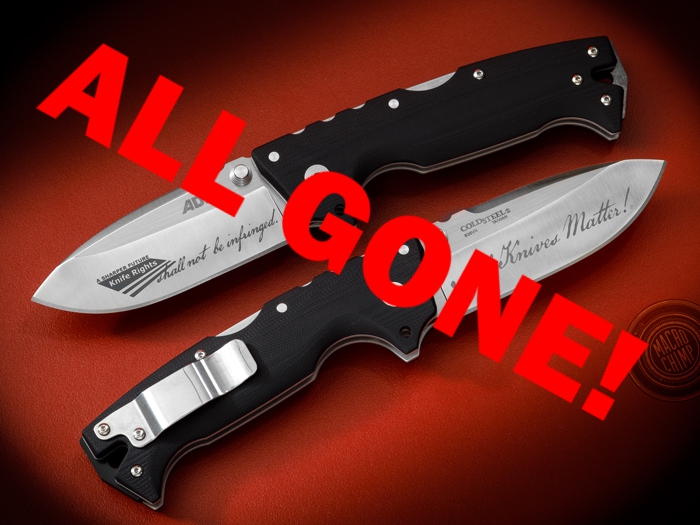 Cold Steel has once again stepped up with an impressive Donation Bonus Knife. This Cold Steel Knife Rights 2020 Limited Edition "Shall Not Be Infringed" AD-10 CPM S35VN Tri-Ad® Lock Folder features unique laser engraving. On the front is the Knife Rights Sharper Future™ logo with the enduring powerful conclusion of the Second Amendment, "shall not be infringed," laser engraved in a script based on the original hand-written Bill of Rights. This celebrates both the "Essential Rights" part of Knife Rights' "Essential Tools - Essential Rights™" slogan and Knife Rights' ongoing commitment to fighting the Second Front in Defense of the Second Amendment™.  The back side is engraved with our acclaimed "All Knives Matter!®" trademark in this same script. ALL GONE!


Generously donated by Cold Steel: Retail Value without engraving: $240 - ALL GONE!*
Includes 90 Entries (65 FREE) + FREE Annual Membership or Renewal
If you're planning a big game hunt, a dangerous expedition, or an exciting adventure and want to carry a high-performance folding knife that won't draw unwanted attention look no further than Andrew Demko's AD-10. Resembling Andrew's massive 4-Max, but reduced in size and weight, the AD-10 features an ultra wide ground blade of Crucible CPM S35VN Powder Metallurgy High Carbon Stainless Steel that terminates in a sturdy (yet innocuous) drop point. Ground thin at the edge and honed to razor sharpness, the AD-10 delivers unprecedented cutting, shearing, and piercing power in a sub 4-inch blade but remains remarkably resistant to bending, breaking or chipping. The handle of the AD-10 is likewise strong and user friendly, with heat-treated, full-length aluminum liners, 3D-machined G-10 scales, and oversized pins and bolts; it fits snugly and securely in the hand due to its precise contouring and integral finger guard. No folder would be complete without a reliable locking mechanism, so we have incorporated Andrew's famous Tri-Ad® lock. It's been proven over time to be unsurpassed in strength, shock resistance and durability, and offers unrivaled protection for your irreplaceable fingers. And, to assure lightning quick deployment and convenient carry, we have equipped the AD-10 with an ambidextrous thumb stud and dual pocket clips.
Overall Length: 8.50"
Blade Length: 3.625"
Cutting Edge: 3.50"
Blade Width: 1.25"
Blade Thickness: 0.15"
Blade Material: CPM S35VN
Blade Style: Drop Point
Blade Grind: Flat
Finish: Satin
Handle Length: 5.25"
Handle Material: 3D-Machined Black G-10
Frame/Liner: Stainless Steel
Weight: 6.83 oz.
Pocket Clip: Left- & Right-hand Stainless Tip-Up
Opener: Ambidextrous Thumb Studs
Lock Type: Ambidextrous Tri-Ad® Lock
Designer: Andrew Demko
*While supplies last. Void where prohibited. Please allow up to 16 weeks for delivery of Donation Bonus Knives