Donate to Win
Cold Steel Knife Rights 2022 Limited Edition "Shall Not Be Infringed" Silver Eye Elite Spear Point Folder: $269.99 MSRP Without Engraving - - ALL GONE!*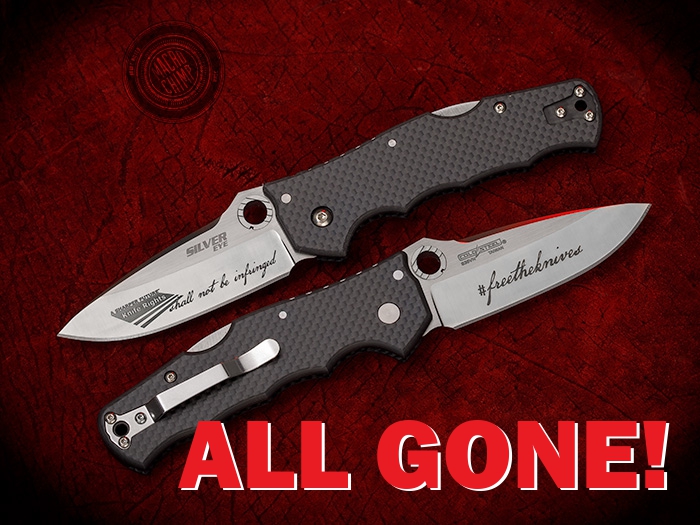 Cold Steel has once again stepped up with an impressive Donation Bonus Knife. This Cold Steel Knife Rights 2022 Limited Edition "Shall Not Be Infringed" Silver Eye Elite Spear Point  Folder features unique laser engraving. On the front is the Knife Rights Sharper Future™ logo with the enduring powerful conclusion of the Second Amendment, "shall not be infringed," laser engraved in a script based on the original hand-written Bill of Rights. This celebrates both the "Essential Rights" part of Knife Rights' "Essential Tools - Essential Rights™" slogan and Knife Rights' ongoing commitment to fighting the Second Front in Defense of the Second Amendment™.  The back side is engraved with "freetheknives" in this same script. Graphic design compliments of Ari M. Weinstein.

Generously donated by Cold Steel: MSRP without engraving: $269.99 - - ALL GONE!*
Includes 90 Entries (65 FREE) + FREE Annual Membership or Renewal
The Cold Steel Silver Eye Elite is an excellent addition to Cold Steel's range of performance "EDC" (every day carry) blades. Designed by award-winning custom knifemaker Andrew Demko, this eye-catching pocket knife is thin and light enough to carry all day with comfort and ease, with the elegant good looks you want from a high-end production folder. Featuring the same high-quality blade steel as the Golden Eye but with silver thumb ramps, it replaces the American G10 handle with costly carbon fiber scales. Carbon Fiber, with its excellent strength-to-weight ratio, provides a perfect balance between good looks, comfort, and class, with impressive durability and all-around toughness.
The Silver Eye Elite is an everyday carry blade that's a perfect choice for when you are wearing a suit or slacks. A great knife for church, a wedding, a date, or just anytime you want to add that extra level of flash and elegance to your gear without sacrificing performance or reliability. An extra-long, slimline steel clip (with integrated lanyard hole) allows for comfortable and discreet ambidextrous tip-up carry while keeping the Silver Eye Elite snugly secure in your pocket. Lastly, Cold Steel has equipped the knife with the Tri-Ad locking mechanism, giving unparalleled security, safety and strength.
Overall Length: 8.41"
Blade Length: 3.49"
Sharpened Length: 3.31"
Blade Thickness 0.13"
Blade Material: CPM-S35VN
Lock: Tri-Ad lock
Closed Length: 4.97"
Handle Thickness: 0.39"
Handle Material: Carbon Fiber
Clip: Stainless Steel
Weight: 4.09 oz.
Country of Manufacture: Taiwan
*While supplies last. Void where prohibited. Please allow up to 16 weeks for delivery of Donation Bonus Knives