Donate to Win
Hogue Knives Knife Rights 2019 Limited Edition Damascus & Carbon Fiber Doug Ritter RSK® Mk1-G2: $500 Retail Value - ALL GONE!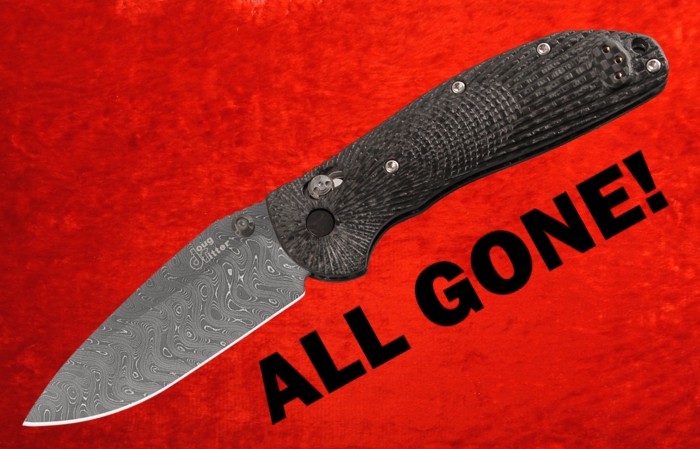 Hogue has once again served up a huge helping of WOW! with their forth $1,000 Donation Bonus Knife.  As many know, Hogue is the OEM for Doug Ritter's RSK® Mk1-G2, the second generation of Doug's folder. They requested and were given permission to use that as the basis for this years $1000 Donation Bonus Knife. Make a donation of $1,000 and receive a FREE* Knife Rights 2019 Exclusive Very, Very Limited Edition Damascus & Carbon Fiber RSK® Mk1-G2, a $500 Value. Hogue is only guaranteeing us 20 of these Damascus-bladed, Carbon Fiber RSK® Mk1-G2s!
Generously donated by Hogue - Retail Value: $500 - ALL GONE

Includes 150 Entries (100 FREE) + FREE Annual Membership or Renewal
Full details about the RSK® Mk1-G2 can be found here: www.dougritter.com/dr_rsk_mk1-g2.htm

The next generation of survival authority and Knife Rights Chairman Doug Ritter's popular RSK® Mk1 ambidextrous folder, manufactured by Hogue, is an upgraded version of the original RSK® Mk1 that Ritter introduced in 2004. It features a G10 handle, Ritter's highly regarded wide-chord, high flat-ground drop point blade, the ambidextrous ABLE™ Lock and other refinements.
This $1000 Donation Bonus version features a Chad Nichols Stainless Damascus blade with Carbon Fiber handles.
Blade Material: Chad Nichols Stainless Damascus
Blade Length: 3.44 inches (87 mm)
Blade Thickness: 0.115 inches (2.92 mm)
Blade Edge: Plain
Handle Material: Carbon Fiber
Closed Length: 4.72 inches (120 mm)
Open Length: 8.15 inches (207 mm)
Weight (with clip): 4.5 ounces (127 g)
Lock: Ambidextrous ABLE™ Lock
Liners: 410 Stainless Steel
Pivot Washers: Phosphor Bronze
Opener: Ambidextrous Dual Thumb Studs
Pocket Clip: Stainless Steel, Deep Carry, Reversible
Fasteners: Torx
RSK® is a registered trademark of Douglas S. Ritter
*While supplies last. Void where prohibited. Please allow up to 52 weeks for delivery of this Hogue Donation Bonus Knife