Donate to Win
ALL GONE! Hogue Knives Knife Rights 2020 Limited Edition Compound Damasteel & Carbon Fiber Out The Front Automatic: ALL GONE!
Donated By:
Hogue Knives and Damasteel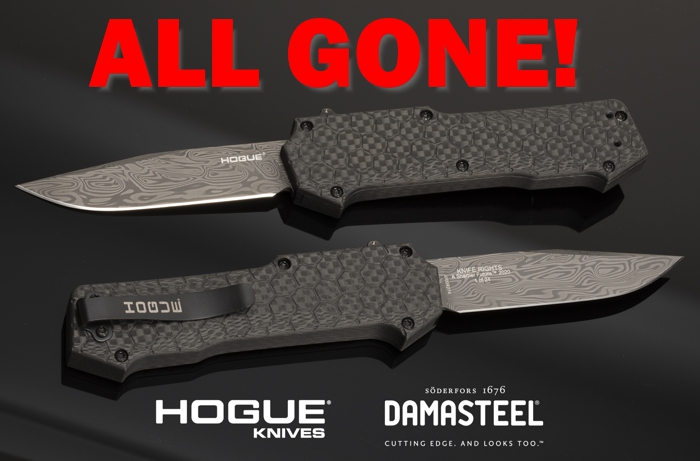 Once again Hogue Knives, this time with support from Damasteel, has taken it up a notch with their fifth limited edition $1,000 Donation Bonus Knife generously donated for Knife Rights' Ultimate Steel™ Spectacular annual fundraiser. Each donor who contributed $1,000 in the Ultimate Steel before the limited edition of 24 were gone, is receiving one of these extraordinary knives.
This year Hogue created a unique version of their lightweight "Compound" OTF (Out The Front) Automatic Knife with a 3.5" Clip Point Blade of Loki™ pattern Damasteel® Damascus patterned stainless steel. This knife serves as the world introduction of their new "Loki" pattern by Damasteel. A truly spectacular blade for the Ultimate Steel™ Spectacular.
Read about how Damasteel® is made: https://damasteel.se/process/
This Compound OTF has a Matt Diskin/FiberSmith LVA Carbon Fiber® case (handle) with internal 6061-T6 Aluminum Type III hard anodized chassis. It also features Hogue's newly introduced Tritium Night Fision™ trigger. It is fitted with a reversible Black PVD Coated Stainless Steel tip-down deep carry pocket clip.
This Compound OTF was generously 100% donated to Knife Rights by Hogue and Damasteel. - ALL GONE

Includes 150 Entries (100 FREE) + FREE Annual Membership or Renewal
The Hogue Compound Out the Front, or OTF, automatic is a hybrid of G10 and aluminum designed for repeatable one-handed operation in close-quarter situations. A textured G10 frame surrounds a 6061-T6 aluminum chassis for extreme strength without the associated weight. It has the same basic grip as the original Hogue OTF but with a more angular handle shape and more compact thumb slide. This trigger fires the blade with impressive force and retracts is just as fast. Built to last, the Compound will fire consistently time and time again with repeated reliability.
Double-action deployment Out the Front models utilize extension springs to produce an impressive, repeatable deployment and a PVD coating for enhanced wear protection. The result is an automatic that kicks open with authority every time you call on it. Each knife is individually tested and laser-etched with a unique serial number before it bears the Hogue name.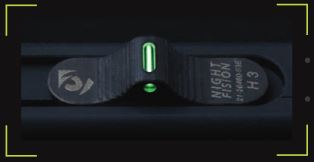 Select Hogue Out the Front Knives have been enhanced by incorporating tritium triggers. Tritium in a knife allows the user to immediately locate and orient the knife in low to no-light conditions. Tritium is made of hydrogen and originates in a gaseous form. The tritium gas is encapsulated into tiny borosilicate glass vials coated with phosphorescent paint. The gas excites the phosphor, creating a "glow" without the need for outside energy. The half-life of tritium is 12.3 years. Hogue has partnered with Night Fision™ who is licensed by the Nuclear Regulatory Commission to legally use H3 tritium in approved devices. Tritium is innocuous and completely safe to handle.
Hogue Knives Knife Rights 2020 Limited Edition Compound Specifications

Blade Length: 3.5"

Style: Clip Point

Overall Length: 8.4"

Closed Length: 4.9"

Thickness: 0.125"

Blade Material: Loki™ Pattern Damasteel® Stainless Patterned Steel

Hand Sharpened and Honed Edge

Locking Mechanism: Double Action Out-The-Front Automatic - Ambidextrous Trigger Deployment & Retraction – Tritium Night Fision™ Trigger

Frame: Black Carbon Fiber Case with Internal 6061-T6 Hard Anodized Aluminum Chassis

Pocket Clip: Black PVD Coated Stainless Steel  - Ambidextrous Tip-Down Deep Pocket Carry

Weight: 3.6 oz
*While supplies last. Void where prohibited. Please allow up to 20 weeks for delivery of this Hogue Donation Bonus Knife