Donate to Win
Hogue Knives Knife Rights 2022 Limited Edition Damasteel & Carbon Fiber Doug Ritter RSK® Mk3-G2: $500 Value - ALL GONE!
Donated By:
Hogue Knives, Damasteel, Buy Brown Industries & KnifeKits.com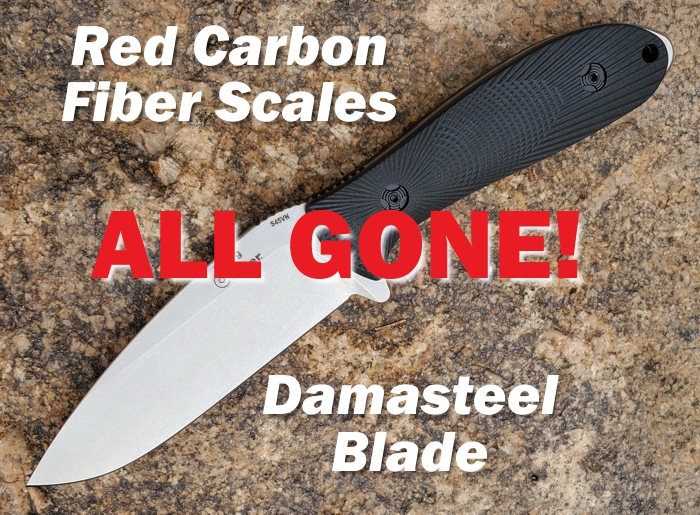 Standard Doug Ritter RSK® Mk3-G2 Shown

Once again Hogue Knives is stepping up to produce a spectacular seventh limited edition $1,000 Donation Bonus Knife generously donated for Knife Rights' Ultimate Steel™ Spectacular annual fundraiser. Each donor who contributes $1,000 in the Ultimate Steel before they are gone, receives one of these extraordinary knives.

This year Hogue is creating a unique version of the RSK® Mk3-G2 they make for Knife Rights Founder & Chairman Doug Ritter (available exclusively from Knifeworks, sales support Doug's Knife Rights efforts) with a 4.5" full-tang blade of Damasteel® Damascus patterned stainless steel. This RSK® Mk3-G2 will have Red Carbon Fiber scales 3-D machined in Ritter's signature sunburst pattern. The custom Blood Red Carbon Fiber Print Holstex Sheath is made and donated by David Brown of Buy Brown Industries with materials donated by KnifeKits.com.  Final details for the knife may change based on material availability.
Read about how Damasteel® is made: https://damasteel.se/process/
*While supplies last. Void where prohibited. Please allow up to 9 months for delivery of this Hogue Donation Bonus Knife
This Damasteel® and Red Carbon Fiber Doug Ritter RSK® Mk3-G2 was generously 100% donated to Knife Rights by Hogue, Damasteel, Buy Brown Industries and Knifekits.com. ALL GONE!
Includes 150 Entries (100 FREE) + FREE Annual Membership or Renewal
Hogue Knives Knife Rights 2022 Limited Edition RSK® Mk3-G2 Specifications
• Blade Length: 4.5"
• Overall Length: 9.25" (Full Tang)
• Weight: 5.7 oz
• Blade Style: Drop Point
• Blade Thickness: 0.14"
• Blade Material: Damasteel® Damascus patterned stainless steel
• Blade Hardness: 59-61 HRC
• Treatment: Cryogenically Heat Treated
• Blade Grind: Flat Grind - Hand Honed Edge
• Scales: Red Carbon Fiber
• Sheath: Blood Red Holstex