Donate to Win
Hogue Knives Knife Rights 2023 Very Limited Edition Damasteel & Carbon Fiber Counterstrike OTF $600 Value - ALL GONE!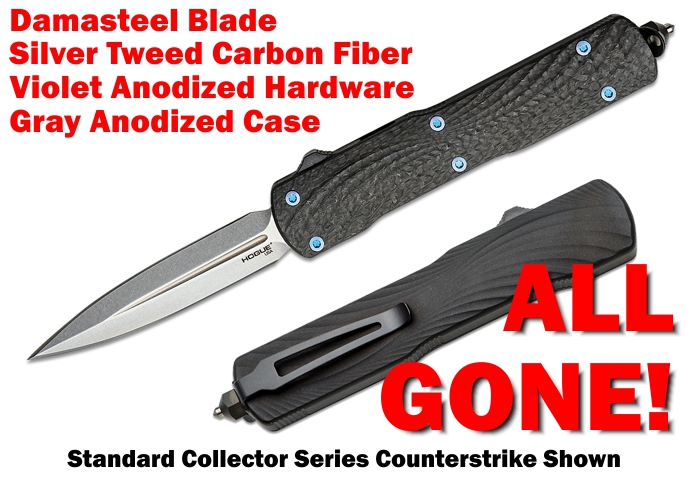 Standard Collector Series Counterstrike Shown


ALL Hogue Donation Bonus Knives are GONE!
Once again Hogue Knives is stepping up to produce a spectacular eighth limited edition $1,000 Donation Bonus Knife generously donated for Knife Rights' Ultimate Steel™ Spectacular annual fundraiser. Each donor who contributes $1,000 in the Ultimate Steel before they are gone, receives one of these extraordinary knives.

This year Hogue is creating a unique version of their Collector Series Counterstrike OTF Automatic with a 3.35-inch double-edged blade of Damasteel® Damascus patterned stainless steel. This Counterstrike will have a milled Silver Tweed Carbon Fiber cover and an anodized 6061-T6 Aluminum case. All the Titanium hardware will be anodized violet.

Read about how Damasteel® is made: https://damasteel.se/process/
*While supplies last. Void where prohibited. Please allow up to 9 months for delivery of this Hogue Donation Bonus Knife
Generously 100% donated to Knife Rights by Hogue. ALL GONE!
Includes 150 Entries (100 FREE) + FREE Annual Membership or Renewal
SPECS
• Blade Length: 3.35"
• Closed Length: 5.0"
• Overall Length: 8.35"
• Weight: 2.8 oz
BLADE
• Style: Double Edge
• Thickness: 0.094"
• Material: Damasteel
• Treatment: Cryogenically Heat Treated
• Hand Sharpened & Honed Edge
FEATURES
• Locking Mechanism: Double Action Out The Front Automatic - Ambidextrous Trigger Deployment & Retraction
• Frame: Gray 6061-T6 Hard Anodized Aluminum with Silver Tweed Carbon Fiber Cover
• Deep Carry Pocket Clip: Stainless Steel Ambidextrous - Right or Left Handed, Tip Down Carry
• Violet Anodized Titanium Hardware
• Carbide Glass Breaker with Lanyard Hole