Donate to Win
SOG Studies and Observations Group Knife Rights 2023 Limited Edition "#FreeTheKnives" Terminus XR G10 - Crimson: $59.95 MSRP Without Engraving! - FREE with $100 Donation!*
Donated By:
SOG Studies and Observations Group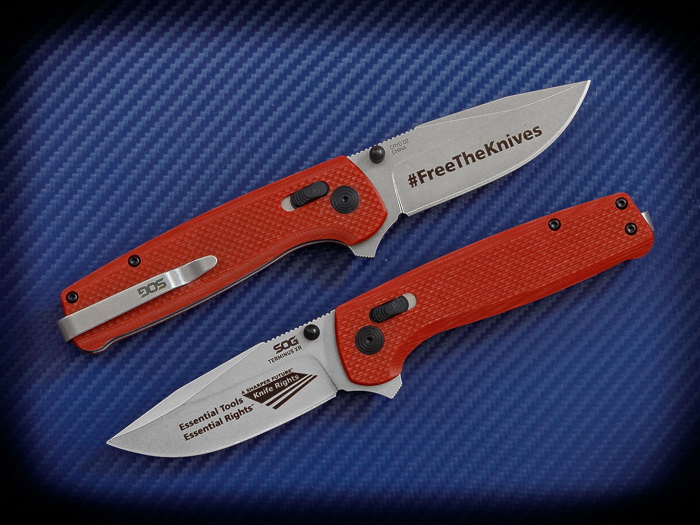 This SOG Knife Rights 2023 Limited Edition "#FreeTheKnives" Terminus XR G10 - Crimson features Knife Rights' Sharper Future™ logo on the front and #FreeTheKnives on the back. Graphic design compliments of Ari M. Weinstein.
Generously donated by SOG Studies and Observations Group - MSRP without engraving: $59.95 -  GET YOURS BEFORE THEY ARE GONE WITH A $100 DONATION!*
Includes FREE Annual Membership or Renewal PLUS 9 Entries (4 FREE)*
For those looking for a daily a carry folding knife that is a little more rugged, there's Terminus XR G10. Stripped back and straightforward, clad with an honest G10 handle and stone washed hardware. The XR locking mechanism is snappy and adjusts over lifespan of the knife. The D2 steel blade features high toughness and wear resistance. The knife is fully ambidextrous, with swappable belt clip for left or right wear. Three different opening methods: thumb stud, XR Lock, and kick. The Terminus XR pocket knife is setting a new bar for EDC.
Blade Length: 2.95"
Closed Length: 4.26"
Overall Length: 7.21"
Blade Material: D2 Tool Steel
Blade Thickness: 0.10"
Blade Hardness: 60-62HRC
Blade Style: Clip Point
Blade Finish: Stonewash
Handle Material: Crimson G10
Locking Mechanism: XR
Pocket Clip: Deep Carry (Tip-Up, Right/Left Carry)
Weight: 3.2 oz.
Country of Origin: China
*While supplies last. Void where prohibited. Please allow up to 16 weeks for delivery of Donation Bonus Knives