Donate to Win
Spyderco Knife Rights 2019 Limited Edition "SpydieWeb" Polestar Folder: $103 Retail Value Without Engraving - ALL GONE!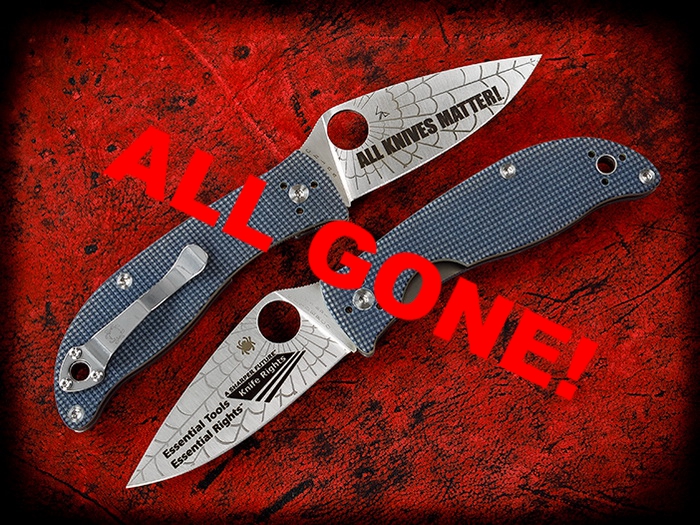 This Knife Rights 2018 Limited Edition Spyderco SpydieWeb Polestar features unique laser engraved spider webs as backgrounds on front and back with the Knife Rights Sharper Future™ logo on the front and our popular "All Knives Matter!®" trademark on the back. 
Generously donated by Spyderco - Retail Value without engraving: $103 - ALL GONE!

Includes 22 Entries (12 FREE) + FREE Annual Membership or Renewal
The Polestar's leaf-shaped blade is crafted from American-made CTS® BD1 stainless steel and features a fully accessible Trademark Round Hole™ for quick, ambidextrous, one-hand opening. Its full-flat grind, PlainEdge™ cutting edge, and distal taper give it an exceptional combination of edge geometry, point utility, and low-friction cutting performance. Unlike the Raven 2, its edge extends the full length of the blade and does not include an index-finger choil. This maximizes the usable length of the cutting edge and allows powerful cuts with the heel of the blade.
The Polestar's lightweight, ergonomic, open-backed handle features full, skeletonized stainless steel liners that provide outstanding structural strength and form the foundation of a stout LinerLock mechanism. To ensure a secure, hand-filling grip, the liners are capped with non-slip, textured gray G-10 scales. A strategically placed relief cut in the obverse side scale allows easy release of the lock mechanism and makes one-handed operation of the knife simple and intuitive. The handle also includes a four-position hourglass clip with a broad, triangular base that offers a choice of tip-up or tip-down carry on either side of the body.
*While supplies last. Void where prohibited. Please allow up to 16 weeks for delivery of Donation Bonus Knives
Blade Length:3.30"
Cutting Edge:3.15"
Blade Thickness:0.13"
Blade Material:CTS-BD1
Blade Style:Drop Point
Blade Grind:Flat
Finish:Satin
Edge Type:Plain
Handle Length:4.51"
Handle Material:G-10
Color:Gray
Frame/Liner:Stainless Steel
Weight:3.90 oz.
User:Right Hand, Left Hand
Pocket Clip:Tip-Down, Tip-Up
Knife Type:Manual
Opener:Thumb Hole
Lock Type:Liner Lock