Donate to Win
Spyderco Knife Rights 2021 Limited Edition "Here Comes The Sun" Tribute Resilience Folder: $86 Retail Value Without Engraving - ALL GONE!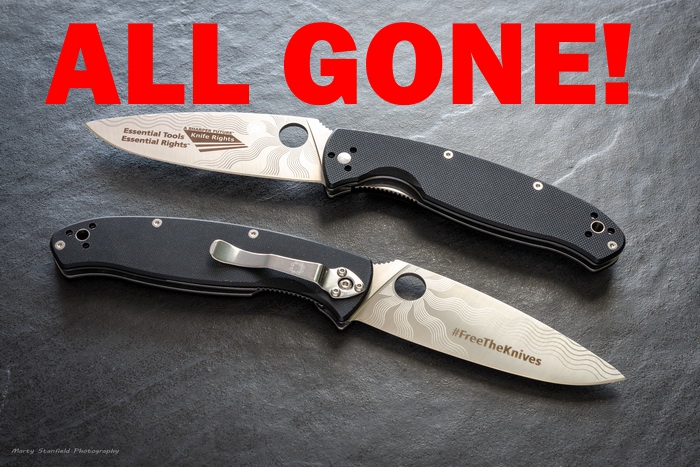 This Knife Rights 2021 Limited Edition Spyderco "Here Comes The Sun" Tribute Resilience linerlock folder features unique laser engraved Here Comes The Sun™" background design on front and back with the Knife Rights Sharper Future™ logo on the front and our popular #FreeTheKnives™ trademark on the back. Graphic design compliments of Ari M. Weinstein inspired by the Beatles song "Here Comes the Sun"* from their Abby Road album.
Generously donated by Spyderco - Retail Value without engraving: $84 - ALL GONE!*
Includes 22 Entries (12 FREE) + FREE Annual Membership or Renewal
*Use of "Here Comes The Sun" music and lyrics on this page is not an endorsement of Knife Rights or this fundraiser by The Beatles or their licensee(s). Fair Use legal doctrine for non-profit use.
Spyderco's collection of Value Folders are named after admirable human characteristics. Our economical Ambitious is smallest, slightly larger in size is the Persistence, the Tenacious is mid-sized, and our new Resilience the largest. All four folders offer a high level of cutting performance, materials, and construction for around the cost of a tank of gas.
The Resilience has a full-flat ground 8Cr13MoV stainless blade with a tip-to-handle cutting edge. Jimping cross-hatches the spine offering a slip-proof seat for the thumb while grasping and cutting. Black G-10 handle scales house skeletonized steel liners inside, a Michael Walker LinerLock, screw together construction and phosphor bronze washers around the pivot for smooth and resistance-free action. Hourglass stainless pocket clip is four-way compatible for tip-up/tip-down, left/right-hand carry.
Feature-for-feature, dollar-for-dollar, performance-for-performance the Resilience adds one more must-have best buy to the Spyderco line-up.
Overall Length: 9.375 " (238mm)
Blade Length: 4.25 " (108mm)
Steel: 8Cr13MoV
Closed Length: 5.25 " (133mm)
Edge Length: 4.25 " (108mm)
Weight: 5.4.oz (154g)
Blade Thickness: .125 " (3mm)
Handle: G-10
Clip Position: Ambi
Tip Carry Position: Tip-Up/Down
Lock Type: LinerLock
Grind: Full-Flat
*While supplies last. Void where prohibited. Please allow up to 16 weeks for delivery of Donation Bonus Knives