Donate to Win
Spyderco Knife Rights 2022 Limited Edition "SpydieWeb" Persistence Lightweight Folder: $66 MSRP Without Engraving -ALL GONE!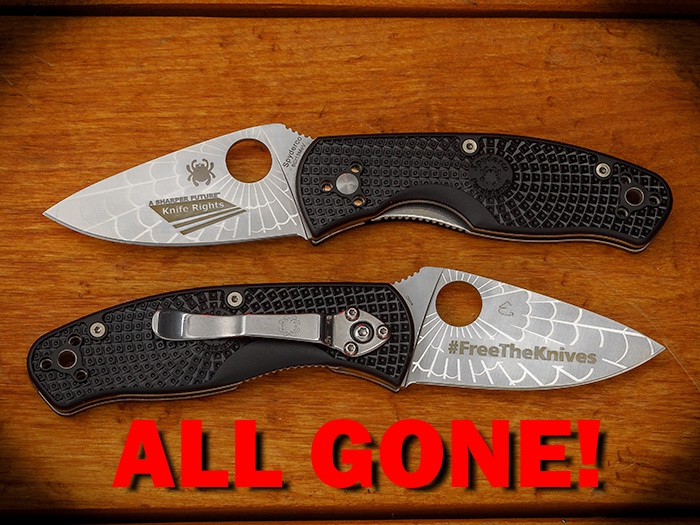 This Knife Rights 2022 Limited Edition Spyderco SpydieWeb Persistence Lightweight features unique laser engraved spider webs as backgrounds on front and back with the Knife Rights Sharper Future™ logo on the front and our popular "#FreeThe Knives" on the back. Graphic design compliments of Ari M. Weinstein.
Generously donated by Spyderco - MSRP without engraving: $66 - ALL GONE!*

Includes 22 Entries (12 FREE) + FREE Annual Membership or Renewal
The original Persistence is a proud member of Spyderco's Value Series of folders and ounce-for-ounce one of the best buys on the knife market. The new Persistence Lightweight takes this pocket-friendly design to the next level by swapping the original G-10 scales for injection-molded fiberglass-reinforced nylon (FRN). FRN scales reduce the knife's weight by almost 10 percent and add the enhanced non-slip grip of a Bi-Directional Texture pattern. All other features are faithfully consistent with the original, including an 8Cr13MoV blade, full stainless steel liners, a LinerLock mechanism, and a fourposition pocket clip. It is also available with a CombinationEdge™.
*While supplies last. Void where prohibited. Please allow up to 16 weeks for delivery of Donation Bonus Knives
Overall Length: 6.85" (174mm)
Blade Length: 2.75" (70mm)
Steel: 8Cr13MoV
Closed Length: 4.13" (105mm)
Edge Length: 2.70" (69mm)
Weight: 3.3oz (94g)
Blade Thickness: 0.122" (3.1mm)
Handle: FRN
Clip Position: Ambi
Tip Carry Position: 4-position
Lock Type: LinerLock
Grind: Full-Flat
Origin: China