Donate to Win
Spyderco Knife Rights 2023 Limited Edition "Ripples" Alcyone Folder: $115 MSRP Without Engraving - ALL GONE! - FREE with $200 Donation!*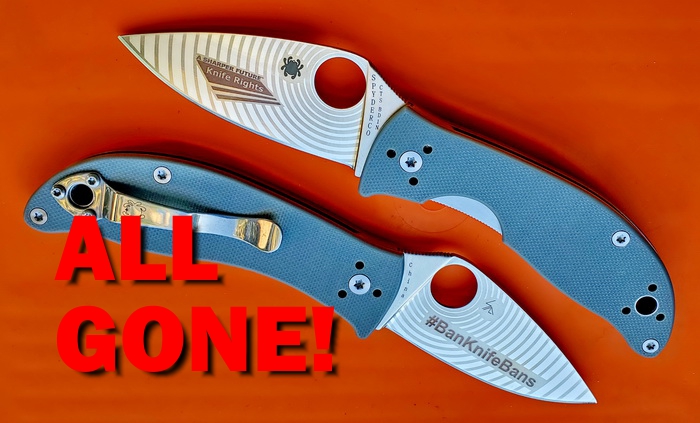 This Knife Rights 2022 Limited Edition SpydieWeb Alcyone Folder features unique laser engraved spider webs as backgrounds on front and back with the Knife Rights Sharper Future™ logo on the front and our popular "#FreeThe Knives" on the back. Graphic design compliments of Ari M. Weinstein.
Generously donated by Spyderco - MSRP without engraving: $115 - ALL GONE*
Includes 22 Entries (12 FREE) + FREE Annual Membership or Renewal
Like its namesake—a brilliant multiple star system in the constellation of Taurus—Spyderco's Alcyone folding knife was purpose-designed to shine brightly above its peers. It proudly features all the high-performance characteristics and classic design elements that define Spyderco knives in an affordably priced knife that proudly showcases US-made blade steel.
The heart of the Alcyone is its full-flat-ground blade, which is precision machined from American-made CTS® BD1N stainless steel. Its leaf-shaped profile includes a long, exceptionally capable PlainEdge™ working edge and a fully accessible Trademark Round Hole™ for swift, ambidextrous, one-handed opening. The blade is housed in a highly refined, ergonomic handle with full skeletonized stainless steel liners and an open-backed construction style. These features minimize the knife's weight and simplify cleaning, while providing a sound structure for its stout LinerLock mechanism. To ensure a secure, comfortable grip, the liners are couched between tough gray G-10 scales with a non-slip peel-ply texture. The handle is also home to a sturdy four-position pocket clip that supports left or right-side, tip-up or tip-down carry and is backed by a generously sized lined lanyard hole that allows the easy attachment of fobs and lanyards.
*While supplies last. Void where prohibited. Please allow up to 16 weeks for delivery of Donation Bonus Knives
Overall Length: 7.04" (179mm)
Blade Length: 2.91" (74mm)
Steel: CTS BD1N
Closed Length: 4.13" (105mm)
Edge Length: 2.78" (71mm)
Weight: 3.3oz (94g)
Blade Thickness: 0.110" (2.8mm)
Handle: G-10
Clip Position: Ambi
Tip Carry Position: 4-position
Lock Type: LinerLock
Grind: Full-Flat
Origin: China