Donate to Win
WE Knife Knife Rights 2020 Limited Edition "Starry Field" Streak Flipper: $170 Retail Value Without Engraving - ALL GONE!*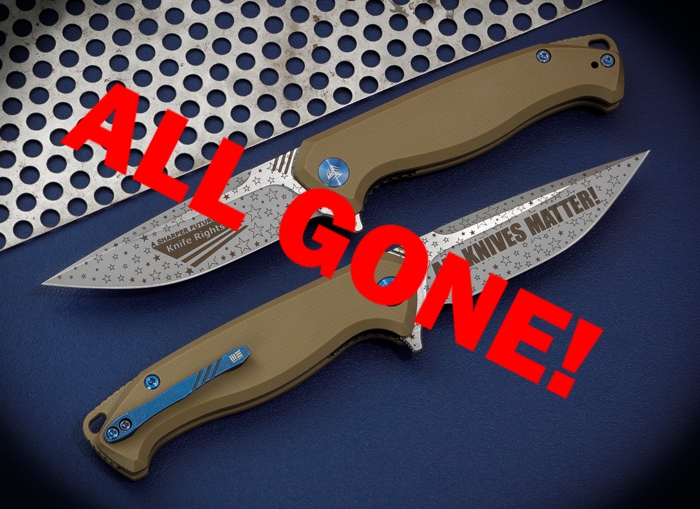 This WE Knife Knife Rights 2020 Limited Edition "Starry Field" Streak features unique laser engraving. On the front is the Knife Rights' Sharper Future™ logo in a starry field. On the back side is found another starry field engraved with our acclaimed "All Knives Matter!®" trademark. Graphic design compliments of Ari M. Weinstein.
Generously donated by We Knife - Retail Value without engraving: $170 - ALL GONE!*

Includes 37 Entries (22 FREE) + FREE Annual Membership or Renewal
Get a full-size EDC winner with the Streak from WE Knife Co. This model sports a green G-10 handle and a backwashed drop point blade with satin finished flats. WE's been on a long run of great EDC folding knives and this Streak model continues the tradition. Smooth G-10 handle scales are backed up by a rugged stainless steel liner lock. The flipper blade is made from Bohler M390 steel and opens smoothly on a ceramic ball bearing pivot. Item comes complete with a titanium pocket clip.
Overall Length:8.00"
Blade Length:3.45"
Cutting Edge:3.25"
Blade Thickness:0.13"
Blade Material:Bohler M390
Hardness:59-61 RC
Blade Style:Drop Point
Blade Grind:Flat
Finish:Stonewash
Edge Type:Plain
Handle Length:4.55"
Handle Width:1.00"
Handle Thickness:0.56"
Handle Material: Green G-10
Color:Black
Frame/Liner:Stainless Steel
Weight:3.80 oz.
User:Right Hand
Pocket Clip:Tip-Up
Knife Type:Manual
Opener:Flipper
Lock Type:Liner Lock
*While supplies last. Void where prohibited. Please allow up to 16 weeks for delivery of Donation Bonus Knives