Donate to Win
Dr. Larrin Thomas Personally Autographed Books PLUS Doug Ritter Auto-RSK® Folder
Total Retail Value:
$343.90
Donated By:
Dr. Larrin Thomas, Knifeworks, Doug Ritter
**** Chosen by Winner:
Jeff N.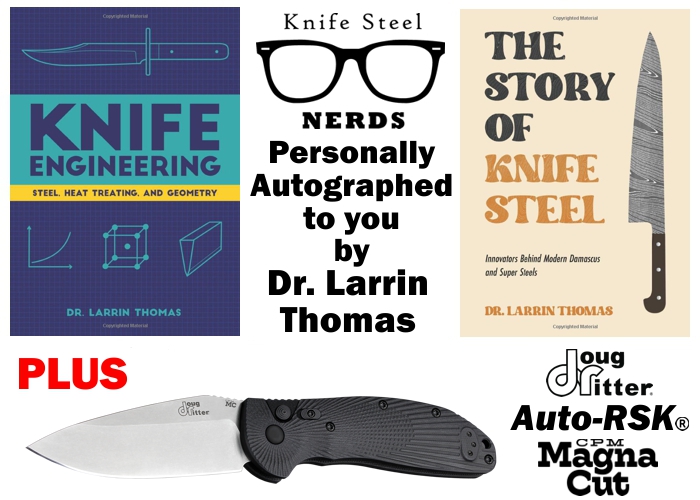 Dr. Larrin Thomas has donated his two books, Knife Engineering: Steel, Heat Treating, and Geometry and the new The Story of Knife Steel: Innovators Behind Modern Damascus and Super Steels that he will inscribe to the winner personally.  Knifeworks and Doug Ritter are donating an upcoming RSK folder that has a blade of Larrin Thomas's incredible CPM MagnaCut high performance powder metallurgy high carbon stainless steel. (Knife details will be revealed when publicly announced.)
Knife Engineering: Steel, Heat Treating, and Geometry - Paperback ($39.95) How to make the highest performing knives. A book for knife enthusiasts, knifemakers, and bladesmiths. Not a how-to on knifemaking or bladesmithing but an in-depth exploration of the effects of different steels, metallurgy, heat treatments, and edge geometries on knife performance. This book provides ratings for toughness, edge retention, and corrosion resistance for all of the popular knife steels. Micrographs of over 50 steels. Specific recommended heat treatments for each steel. And answers to questions like: 1) Does a thinner or thicker edge last longer? 2) What heat treatment leads to the best performance? 3) Are there performance benefits to forging blades? 4) Should I use stainless or carbon steel? All of these questions and more are answered by a metallurgist who grew up around the knife industry. Note: The book now has conversions to Celsius throughout after feedback from Global readers.
The Story of Knife Steel: Innovators Behind Modern Damascus and Super Steels - Hardcover ($94.95) This is the biggest project I have ever worked on, spending many, many hours to write the comprehensive tale about steel and knives. If you have ever wanted to learn more about the inner workings of the knife industry, this book is for you. Wherever possible I used firsthand accounts from metallurgists and knifemakers to explain why they innovated and how.
The development of different forge welding and Damascus patterning techniques from the 1970s to today.
How did we get exciting new steels in knives like 440C, 154CM, S30V, and MagnaCut?
How did custom knifemaking become such a huge market?
Where did the "forged vs stock removal" debate come from?
How did factory knives evolve from simple, standard pocket knives to boundary-pushing designs and materials?
Hundreds of images, including vintage ads and photos of knives. The book becomes increasingly more colorful as more of the ads and knives are available in color.
Doug Ritter MagnaCut Auto-RSK® folder ($209.95) Introducing the Auto-RSK®! Survival authority and Knife Rights Chairman Doug Ritter has added an automatic version of his popular RSK® Mk1-G2 folder to his RSK® line, manufactured by Hogue, EXCLUSIVELY from KnifeWorks. The Auto-RSK® features a G10 handle, Ritter's highly regarded wide-chord, high flat-ground drop point blade in CPM MagnaCut and Hogue's robust torsion spring push-button auto mechanism. Ritter said, "I don't believe that you will find a better overall value in a USA-made automatic for everyday utility or survival. And, like every Doug Ritter RSK®, it's a knife you can bet your life on™.