Total Retail Value:
$179.85
Donated By:
Ledlenser USA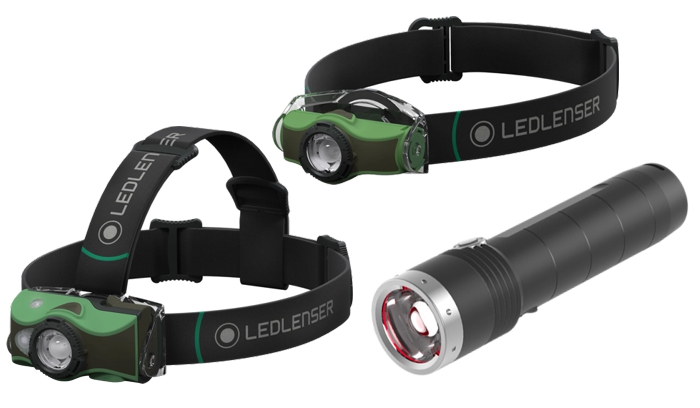 At Ledlenser we create light. Even in the furthest, darkest corner of the world. As one of the world's market leaders in LED flashlights and headlamps, we are downright obsessed with it. This 3-Light Ledlenser package includes the MT10 1,000 lumen flashlight ($79.95), MH8 600 lumen headlamp/flashlight ($69.95) and MH4 200 lumen headlamp/multipurpose light ($29.95).

With an output of 1000 lumens, the MT10 ($79.95) will blow away flashlights many times its size. Being so compact and lightweight, you can take the MT10 with you anywhere you go. The MT10 operates on a rechargeable Li-ion battery, with the built-in USB port making recharging the flashlight easy. As an added bonus a battery status indicator is built into the switch so you can see how much charge the battery has at any point. Featuring Ledlenser's patented Advanced Focus System which provides seamless transition from broad floodlight to a sharply focused long-distance beam and Smart Light Technology offering 3 light functions, the MT10 is sure to impress.
With your MH8 ($69.95) you can enjoy maximum flexibility, even in the wilderness. Thanks to the 600 lumen removable lamp head, it can be used as a headlamp or handheld light. The integrated lithium-ion battery can be charged quickly at home using the magnetic USB charging cable – or on longer trips without access to a power source, you can use conventional disposable batteries. Get through long nights using the energy saving mode, or choose constant light mode for especially consistent LED power. And for sure you can choose between red, green or blue light.
While you fish or while you hunt. With just a few hand movements, you can transform your MH4 ($29.95) from a headlamp to a multipurpose light. Our innovative mounting system is easy to use and the clip on the lamp head makes securing it to your shirt or belt simple. And of course the MH4 gives you maximum flexibility when used as a headlamp: the advanced focus system allows for quick and easy beam adjustment and the smooth swivel mechanism always directs the light exactly where you need it.