Total Retail Value:
$598.77
Donated By:
American Outdoor Brands' Lockdown
**** Chosen by Winner:
Jon U.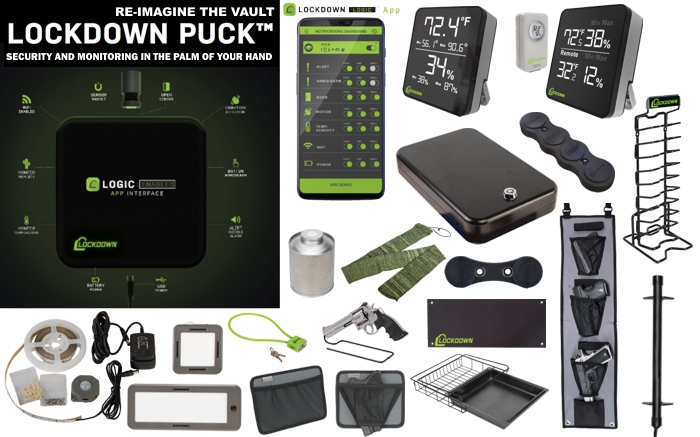 Not to Scale – Firearms NOT Included


The good folks at Lockdown have put together a great Security and Storage Package with an assortment of gear designed to make it easier to secure and store your firearms.
The Puck ($109.99) The Lockdown® Puck™ is a state-of-the-art monitoring and security device that provides true peace-of-mind with real-time notifications and control using the Lockdown Logic™ App. Track temperature and humidity, movement, and when something is opened anywhere in the world. Whether you're securing your vault, front door, or vehicle, with a touch of a button, Lockdown what matters most.
Utilizing state-of-the-art sensors and our proprietary algorithm to detect tampering, the Puck™ will notify you instantly anywhere in the world. The built-in Wi-Fi and Lockdown Logic App connects directly with your smart home and other Lockdown Devices. From protecting guns and ammo to your family heirlooms, you can trust the Lockdown Puck to keep your valuables safe and secure.
INCLUDES:
1 PUCK™ Unit
1 Nine-foot Micro USB power cord
1 Magnetic door sensor
1 Mounting bracket and hardware
4 AA batteries
1 SECURED lifestyle
CLICK for FULL DETAILS on the Lockdown® Puck™
Wireless Digital Hygrometer ($34.99) Keep your valuables protected from the damaging effects of temperature and humidity with Lockdown Hygrometers. The state of the art technology shows the current conditions and even records the historical max. and min. values. Use the Wireless Hygrometer with Remote Sensor to keep an eye on conditions inside a vault or cabinet.
Digital Hygrometer ($24.99) Keep your valuables protected from the damaging effects of temperature and humidity with Lockdown Hygrometers. The state of the art technology shows the current conditions and even records the historical max. and min. values. Use the Digital Hygrometer to keep an eye on conditions inside a vault or cabinet.
Dehumidifier Rod, 12" ($21.99) The Lockdown® Dehumidifier Rods work by slightly increasing and maintaining the air temperature inside the gun safe or other enclosure. This allows the warm air to circulate throughout the safe on a continual basis, thus eliminating humidity, mildew, and condensation. All of which are dangerous to your valuable firearm collection.
Silica Gel, 750g  ($21.99)  Lockdown® Silica absorbs moisture from the air inside a vault or storage area preventing condensation, mildew and rust from damaging valuable firearms. Crystals change color once fully saturated and can be easily recharged in the oven.
LED Vault Tape Light ($38.99)  Illuminate and customize your vault space with the Lockdown LED Vault Tape Light. You are in full control, with the ability to cut-to-size, mount and adjust the timing on this light. With easy installation and adjustable time delay, your safe will be organized and lit exactly the way you want it.
Automatic Cordless 25 LED Vault Light, 2pk ($43.99) The Lockdown® Automatic Cordless 25 LED Vault Lights have a built-in motion sensor that automatically turns the light on when you open the vault and off when you leave. Each light has 25 ultra-bright LED lights to light up all the dark corners of your vault.
Cordless 75 LED Vault Light ($21.99)  The Lockdown® Cordless 75 LED Vault Light has 75 Ultra-Bright LEDS with 95 total lumens output. It runs on 3 AAA batteries (not included) and has built in magnetic and screw mounting options. Mount it on walls or shelves to illuminate all the dark corners of your vault.
Handgun Vault, Keyed, Large ($27.99)  Store your handgun with confidence using the Lockdown Compact Handgun Vault. With an ultra-secure lock and a reinforced steel housing, this vault is perfect for home storage. Travel often? Slip the vault into a bag or purse and easily transport from place to place, while always having the key on hand for easy access. This pistol vault is California Department of Justice approved and meets TSA airline requirements.
Handgun / AR Upper Hanger ($32.99)  Reclaim unused space in your vault or gun cabinet. The Lockdown® AR Upper Hanger is the perfect addition to the door or free hanging space in your vault. Designed specifically to hold multiple handguns or AR-15 upper assemblies, you can now reclaim floor space where a rifle should go. Dual sided configuration can accommodate 1 upper on one side and 3 handguns on the other.
AR-15 Magazine Rack ($27.99) The Lockdown Magazine Rack is ideal for keeping AR-15 magazines organized. It conveniently holds up to 10 magazines either loaded or unloaded. It is designed to stand upright on a shelf or any flat surface or it can easily be mounted to a wall or vault door. It is compatible with both mil-spec and polymer mags. Holds any "in line" magazine from 10 round up to 30 round. The vinyl coated steel structure is durable and won't scratch or mar surface finishes.
Handgun Hanger ($21.99) The universal Handgun Hanger will hold a variety of pistols or revolvers. The wedge shape with open bottom allows the barrel to protrude through. Elastic bands and a rigid back panel provide the structure to hold guns securely in place.
Hanging Organizer, Small ($21.99) The compact size of the Small Hanging Organizer allows it to be easily added to small spaces in any vault. A mesh pocket with an elastic band keeps small valuables secure and easy to access.
Magnetic Barrel Rest ($21.99) Accessing a gun deep in the back of a vault can be challenging. Rather than learning to juggle an armful of guns, just use the Lockdown® Magnetic Barrel Rest. It conveniently secures to the outside of any vault and provides a perfect staging location. Rubberized holders keep your gun secure and protect your gun's finish.
Gun Concealment Magnet ($21.99) The Lockdown® Gun Concealment Magnet can be mounted conveniently in a variety of locations to securely hold a handgun in place. The powerful magnets easily support full size pistols and revolvers. A durable rubber coating protects the finish on the gun. Perfect for securing a gun out of sight, but within easy reach such as under a desk or nightstand shelf. Multiple magnets can be used to support rifles or shotguns. Includes two wood screws as well as two drywall screws and anchors. Full frame pistols hang securely and even upside down. Attach your gun under a desk for quick and convenient access. Works on most handguns with metal slide or metal barrel. Mounts anywhere: vertical, horizontal, hanging upside down, or at an angle. Use one magnet for handguns or multiple magnets for a shotgun or rifle. Over-molded non-marring rubber coating with a low profile for easy concealment.
Magnum Magnet ($27.99)  The Magnum Magnet easily organizes and conveniently stores your firearms. It's designed to hold pistols or long guns with a maximum weight of 75lbs.
Magazine Magnet ($11.99) The Magazine Magnet is perfect to organize your safe and keep magazines easy to reach. It will securely hold most steel magazines and fits up to 15 double-stack magazines. This ultra-strong magnet will even hold fully loaded magazines.
Vault Drawer ($27.99) The Lockdown Vault Drawer mounts underneath a vault shelf to instantly add previously unused space. Perfect for a variety of valuables and documents.
1 Handgun Muzzle Rack (3 Pack) ($11.99) Free up space and keep your handguns instantly accessible with the Lockdown Handgun Muzzle Rack. This compact pistol rack is the perfect tool for creating room in your vault or even on a range bench. The design allows for confident storage and stability with its over-molded construction and utilizes an upright access design to make your handgun selection process quick and easy.
Silicone Gun Socks: Shotgun/Rifle - 4"x54" ($9.99), Scoped Rifle -6"x48" ($11.99), Tactical Rifle - 6"x36"($10.99), Pistol - 4"x14"($5.99) Our Silicone Gun Socks are best for keeping unwanted dust, dirt and moisture from damaging your firearm. It protects against rust and any dings, scrapes or bumps that might occur. Our socks are 100% polyster silicone and are available in four different sizes to match your firearm.

15" Cable Gun Lock ($5.99) Lockdown 15" Cable Gun Lock is used to prevent accidents and unauthorized use. It fits most pistols, handguns, rifles shotguns and moder sporting rifles. Included are two keys and a padlock for tight security.