Total Retail Value:
$516.88
Donated By:
Lockdown
**** Chosen by Winner:
Bruce V.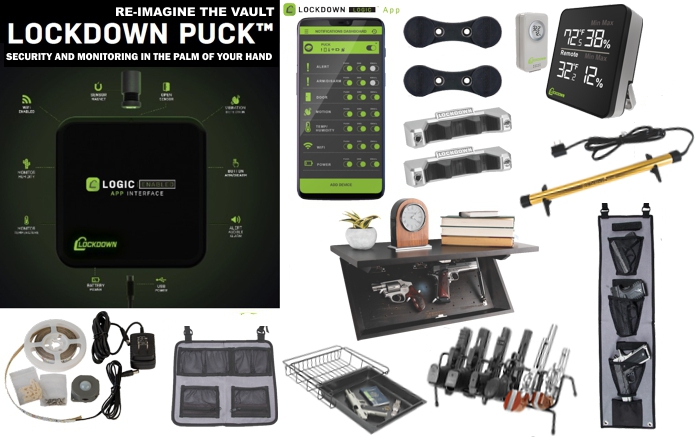 Not to Scale – Firearms NOT Included


The good folks at Lockdown have put together a great Security and Storage Package with an assortment of gear designed to make it easier to secure and store your firearms.
The Puck ($109.99) The Lockdown® Puck™ is a state-of-the-art monitoring and security device that provides true peace-of-mind with real-time notifications and control using the Lockdown Logic™ App. Track temperature and humidity, movement, and when something is opened anywhere in the world. Whether you're securing your vault, front door, or vehicle, with a touch of a button, Lockdown what matters most.
Utilizing state-of-the-art sensors and our proprietary algorithm to detect tampering, the Puck™ will notify you instantly anywhere in the world. The built-in Wi-Fi and Lockdown Logic App connects directly with your smart home and other Lockdown Devices. From protecting guns and ammo to your family heirlooms, you can trust the Lockdown Puck to keep your valuables safe and secure.
INCLUDES:
1 PUCK™ Unit
1 Nine-foot Micro USB power cord
1 Magnetic door sensor
1 Mounting bracket and hardware
4 AA batteries
1 SECURED lifestyle
CLICK for FULL DETAILS on the Lockdown® Puck™
In-Plain-Sight - Shelf ($129.99) Hide your most important stuff In-Plain-Sight with the Lockdown Shelf. We combined high-quality wooden construction with a secret magnetic latch that opens a hidden compartment. The Built-in LED light will even let you access it in total darkness, plus the shelf is compatible with all our other Lockdown smart products like the Puck, so be sure to Puck your shelf.
Low-profile Design: 24" X 11.75" X 3.25" (L X W X D)
Customizable peg system secures and organizes your firearms and valuables
Hidden magnetic latch for quick and secure opening
20lb max weight rating
Integrated Lockdown Puck™ (not included) mounting location with built in open sensor
Detachable hydraulic lift for easy installation
Wireless Digital Hygrometer ($34.99) Keep your valuables protected from the damaging effects of temperature and humidity with Lockdown Hygrometers. The state of the art technology shows the current conditions and even records the historical max. and min. values. Use the Wireless Hygrometer with Remote Sensor to keep an eye on conditions inside a vault or cabinet.
Golden Rod Dehumidifier Rod, 12" ($38.99) The Golden Rod Dehumidifier works by slightly increasing the air temperature inside the gun safe or other enclosure. This allows the warm air to circulate throughout the safe on a continual basis, thus eliminating humidity, mildew, and condensation. All of which are dangerous to your expensive firearm collection. Made in the USA.

12" Length
110-120 volt AC plug power source
Protects Up to 100 cubic feet with an extremely low overall surface area in safe
Eliminates moisture from the air by continuously warming the air and creating a convection current within the gun safe to prevent rust build up
Perfect for gun safes, boat hulls, camper cabinets, and other small areas that harbor moisture
Vermiculite filled, lifetime warranty and Made in the USA

LED Vault Tape Light ($38.99)  Illuminate and customize your vault space with the Lockdown LED Vault Tape Light. You are in full control, with the ability to cut-to-size, mount and adjust the timing on this light. With easy installation and adjustable time delay, your safe will be organized and lit exactly the way you want it.
Handgun / AR Upper Hanger ($32.99)  Reclaim unused space in your vault or gun cabinet. The Lockdown® AR Upper Hanger is the perfect addition to the door or free hanging space in your vault. Designed specifically to hold multiple handguns or AR-15 upper assemblies, you can now reclaim floor space where a rifle should go. Dual sided configuration can accommodate 1 upper on one side and 3 handguns on the other.
Universal Vault Door Organizer - Medium ($23.99) The Lockdown® Universal Vault Door Organizer is perfect for organizing all loose items that tend to clutter the shelves of a vault. With a variety of pocket sizes and configurations it will easily hold handguns, knives, electronics, jewelry or just about any small valuable items. The three larger pockets feature zippers that can be opened to allow a handgun barrel to protrude through or closed to contain smaller items. A rigid back panel adds support to the organizer, and mesh pockets make it easy to see contents.Pockets are all 600D polyester with elastic bands for a secure hold to pistols or other items. Includes hardware for mounting to carpeted vault door or metal cabinet door
Magnetic Barrel Rest x 2 ($21.99 each) Accessing a gun deep in the back of a vault can be challenging. Rather than learning to juggle an armful of guns, just use the Lockdown® Magnetic Barrel Rest. It conveniently secures to the outside of any vault and provides a perfect staging location. Rubberized holders keep your gun secure and protect your gun's finish. Holds 3 guns securely when leaned against vault. Over-molded rubber contact points to protect firearm finish.

Gun Concealment Magnet x 2 ($21.99 each) The Lockdown® Gun Concealment Magnet can be mounted conveniently in a variety of locations to securely hold a handgun in place. The powerful magnets easily support full size pistols and revolvers. A durable rubber coating protects the finish on the gun. Perfect for securing a gun out of sight, but within easy reach such as under a desk or nightstand shelf. Multiple magnets can be used to support rifles or shotguns. Includes two wood screws as well as two drywall screws and anchors. Full frame pistols hang securely and even upside down. Attach your gun under a desk for quick and convenient access. Works on most handguns with metal slide or metal barrel. Mounts anywhere: vertical, horizontal, hanging upside down, or at an angle. Use one magnet for handguns or multiple magnets for a shotgun or rifle. Over-molded non-marring rubber coating with a low profile for easy concealment.
Vault Drawer ($27.99) The Lockdown Vault Drawer mounts underneath a vault shelf to instantly add previously unused space. Perfect for a variety of valuables and documents.
Handgun Rack - Barrel Up ($14.99) The Lockdown® Handgun Rack are vinyl coated metal handgun racks that are extremely handy for use in your gun vault or at the shooting range to provide a safe place to rest your handguns. The individual channels are specially designed to cradle the grip and barrel of the gun and are wide enough to accommodate most wide body pistols or magnum revolvers.  Dimensions: 5.8" x 13.2" x 4.9"   Holds 6 handguns (pistols and/or revolvers). Vinyl coating will not scratch or mar handgun's finish.