Donate to Win
Mcusta Platinum Label Limited Edition "Shiki" Four Seasons Linerlock
Retail Value:
$430.00
Donated By:
Mcusta USA
**** Chosen by Winner:
Captain M.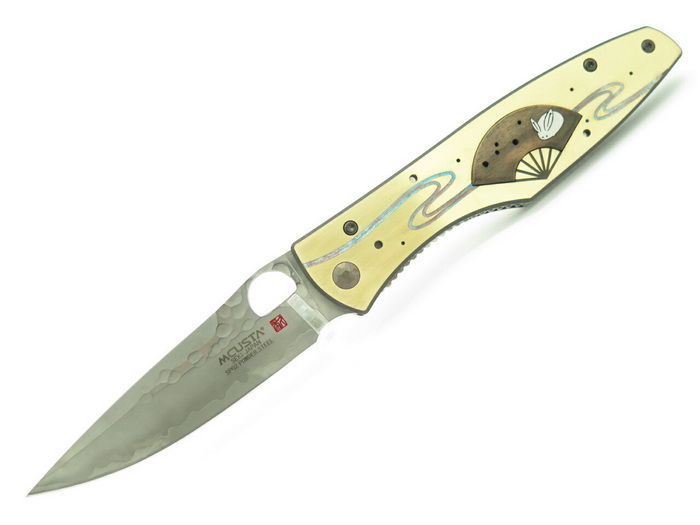 Made in Seki, Japan, Mcusta combines modern technology with traditional Japanese craftsmanship to produce hand finished custom quality production knives.
This Platinum Label custom limited edition knife, themed as the "Japanese Four Seasons" features a stunning inlaid motif of either Spring, Summer, Autumn, or Winter, inspired from an important Edo Period (c. 1700) Japanese National Treasure art screen. The art screen shows floating folding fans in the water called "Oogi Nagashi" which was once graceful entertainment for aristocrats in medieval Japan. This traditional event is still held every May at the Mifune festival in Kyoto.
Mcusta has intricately portrayed this scene on a brass handle with black coated trim representing a gold screen, and the folding fan in flowing stream is created by a patina finish (a bright bluish-green encrustation or patina formed on brass by atmospheric oxidation). It is a time-consuming process, and over time you will enjoy a color changes.
This Mcusta Platinum Label knife is limited to only 50 pieces per season with the serial number engraved on the blade heel. The Brass handle has a precious Japanese Persimmon wood Folding Fan inlaid with Blue stream lines running through it. The seasons are represented by Sakura (cherry blossoms) for Spring, Mt. Fuji for Summer, Maple leaf for Autumn and White Rabbit for Winter. Measures 4.75" long closed with a 3.625" long san mai SPG2 blade. SPG2 is a Japanese powder metallurgy steel that is tougher and has better resistance to corrosion than S30V and its edge retention is comparable to S35VN.
Comes in wood box with paper and shelf display stand.
This is Winter Serial Number 24/50
Made in: Seki, Japan
Closed Length: 4.75" long
Blade Material: Three layers SPG2 Powder Steel
Rockwell Hardness (HRC): 62
Blade Length: 3.625" long
Handle: Brass with wood inlay
Lock Type: Linerlock
Opening Mechanism: Round Hole