Donate to Win
Mossberg 590M Shockwave Mag-Fed Pump Action Non-NFA Firearm PLUS Crimson Trace LS-250 Lasersaddle™ Red Laser Sight
Total Retail Value:
$890.00
Donated By:
O.F. Mossberg & Sons and Crimson Trace
**** Chosen by Winner:
Bruce V.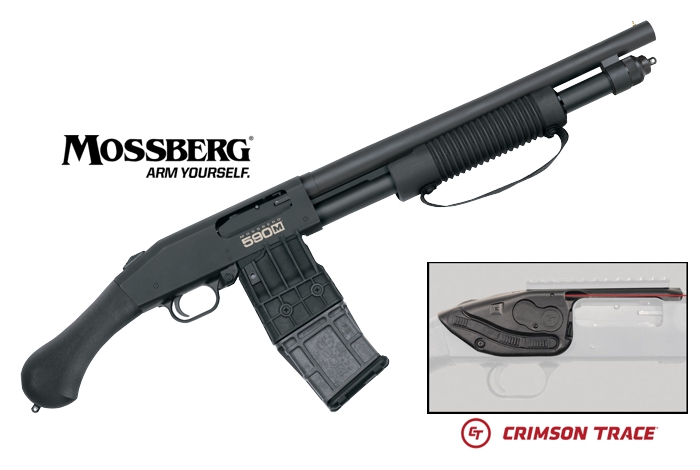 NOTE: Firearm will not be shipped directly to winner, but rather to Federal Firearms Licensee ("FFL") specified by winner (or selected by Knife Rights in Knife Rights' sole discretion). Winner can only take possession of firearm from the FFL(s). Winner must comply with all applicable legal requirements prior to taking possession of firearm. Winner is responsible for $70 shipping charge and any fees charged by receiving FFL. Click for complete rules.
Mossberg's 590M Shockwave ($721) is a mag-fed version of the original and popular Shockwave platform. Mossberg first unveiled its non-NFA Shockwave firearm platform in 2017. Classified by the BATFE (Bureau of Alcohol, Tobacco, Firearms and Explosives) as a "Non-NFA Firearm," the Shockwave requires no tax stamp for transfers.
While featuring the same Shockwave Technologies Raptor pistol grip as the original model, the Shockwave 590M has a few differences. The new model features a slightly longer 15-inch barrel and a slightly heavier weight at 6.55 pounds. However, the biggest difference is the capacity. The 12-gauge firearm features world's first double-stack, 10-round shotgun magazine; this offers 10+1 capacity.
The Crimson Trace LS-250 Lasersaddle™ ($169) is a feature-packed laser sighting solution for Mossberg 500, 590, & 590 Shockwave 12 Gauge Shotguns. Attaching seamlessly to the receiver, the LS-250 provides multiple ambidextrous laser activation pad points for instant targeting with a powerful 5mW red laser. As with all Crimson Trace laser sights, the LS-250 is user-adjustable for windage and elevation. The LS-250 features a Master On/Off Switch for completely powering down the system. This model provides 3 Hours of battery life with two provided CR2032 batteries. Fits Mossberg 500, 590 & 590 Shockwave in 12 Gauge only. Models must have receiver that is drilled and tapped. Does not fit 20 Gauge or .410 Bore.
590M Specifications
Gauge 12
Capacity 11
Chamber 2.75"
Barrel Type Heavy-Walled
Barrel Length 15"
Sight Bead
Choke Cylinder Bore
LOP N/A
Barrel Finish Matte Blue
Stock Finish Raptor Grip / Corn Cob Forend w/ Strap
Weight 6.55
Length 27.5"
LS-250 Lasersaddle™ Specifications
Material Polymer
Color Black
Master On/Off Switch Yes
Free Batteries For Life Yes
Battery Type Two #2032 Batteries
Installation User Installed
Laser Battery Life 3 Hours
Activation Mode Pressure Activated
Sighting Factory Sighted at 50'
User Adjustable Windage and Elevation
Warranty Three Year Full Warranty
Dot Size Approx. 0.50" at 50'