Donate to Win
Mossberg 590M Mag-Fed Pump-Action Shotgun PLUS Crimson Trace CTS-1300 Compact Open Reflex Sight PLUS Crimson Trace LS-250G Lasersaddle™ Green Laser Sight
Total Retail Value:
$1,281.98
Donated By:
O.F. Mossberg & Sons and American Outdoor Brands' Crimson Trace
**** Chosen by Winner:
Rick J.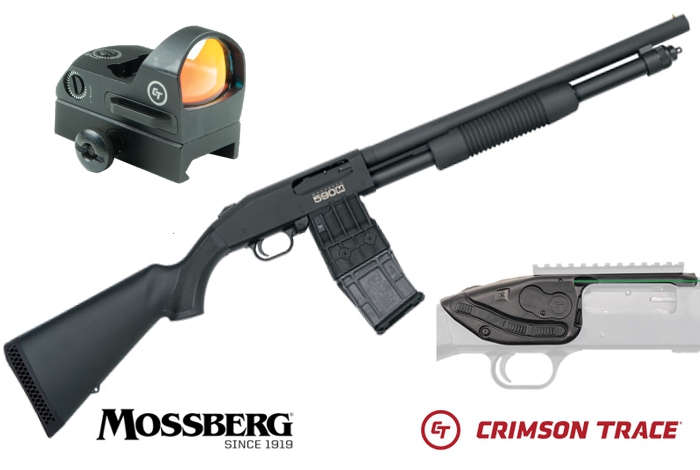 NOTE: Firearm will not be shipped directly to winner, but rather to Federal Firearms Licensee ("FFL") specified by winner (or selected by Knife Rights in Knife Rights' sole discretion). Winner can only take possession of firearm from the FFL. Winner must comply with all applicable legal requirements prior to taking possession of firearm. Winner is responsible for a shipping charge ($40 Pistol Caliber Pistols/$70 Rifle Caliber Pistols and Long Guns) and any fees charged by receiving FFL. Optics and Accessories will ship separately, not via the FFL. Click for complete rules.
Mossberg's 590M ($721) RELOADING & UNLOADING CONVENIENCE USING COMPACT, INTERCHANGEABLE MAGAZINES. 590M shotguns and magazines are uniquely designed incorporating stabilizing ribs that engage the magazine directly to the receiver for a sure lock-up. The 590M™ Series offers magazine-fed convenience in the legendary Mossberg pump-action tactical platform.

For home security, tactical, and competition applications, 590M Mag-Fed pump-actions offer many practical advantages: faster reloading/unloading, increased capacity without additional magazine tube length, and quick and easy transitioning between various types of loads.
Full magazines are the center of gravity point, making the 590M shotgun easy to balance for greater accuracy. The 590M is designed around the Mossberg 590,® the choice of tactical users worldwide and time-tested over decades of dependable service.
The features Mossberg tactical pump users expect are all there: Dual extractors, Twin action bars, Positive steel-to-steel lockup, Drilled and tapped receiver, Ambidextrous safety, and a Heavy-walled barrel.
590M Accessory magazines are available in 5,10,15 and 20 shot capacity.
The Crimson Trace CTS-1300 Compact Open Reflex Sight for Rifles and Shotguns ($299.99) Featuring a 3.5 MOA round aiming dot, the CTS-1300 will elevate your long gun's performance instantly. Easily user-installed by utlizing an industry standard mounting interface. The CTS-1300 includes a low-profile M1913 Picatinny mount. This open reflex sight is covered by our 3 Year Protection Guaranteed warranty and our Free Batteries For Life program.  CLICK for CTS-1300 Technical Data Sheet  (Mossberg Picatinny Rail/Scope Mount ($41) included.)
The Crimson Trace LS-250 Lasersaddle™ ($219.99) is a feature-packed laser sighting solution for Mossberg 500, 590, & 590 Shockwave 12 Gauge & 20 Gauge Shotguns. Attaching seamlessly to the receiver, the LS-250G provides multiple ambidextrous laser activation pad points for instant targeting with a powerful 5mW green laser. As with all Crimson Trace laser sights, the LS-250G is user-adjustable for windage and elevation. The LS-250G features a Master On/Off Switch for completely powering down the system. This model provides 3 Hours of battery life with 4 provided CR2016 batteries.  Aftermarket Accessory Rail Compatible.  Fits Mossberg 500, 590 & 590 Shockwave in 12 Gauge & 20 Gauge only. Models must have receiver that is drilled and tapped. Does not fit .410 Bore.   CLICK for LS-250G Technical Data Sheet
590M Specifications
Gauge 12
Capacity 11
Chamber 2.75"
Barrel Type Heavy-Walled
Barrel Length 15"
Sight Bead
Choke Cylinder Bore
LOP N/A
Barrel Finish Matte Blue
Stock Finish Raptor Grip / Corn Cob Forend w/ Strap
Weight 6.55
Length 27.5"
CTS-1300 Compact Open Reflex Sight Specifications
3.5 MOA round aiming dot
Industry standard mounting interface
Includes low-profile M1913 Picatinny mount
Externally accessible battery compartment
Low-profile, snag-free design
High efficiency LED for years of maintenance-free use
Free Batteries For Life
3 Year Limited Warranty
* Utilizes industry standard mounting interface matching: Burris® FastFire ™, JP Enterprises® Docter™, Vortex® Venom™ and Vortex Viper™.
LS-250 Lasersaddle™ Specifications
Material Polymer
Color Black
Master On/Off Switch Yes
Free Batteries For Life Yes
Battery Type Four #2016 Batteries
Installation User Installed
Laser Battery Life 3 Hours
Activation Mode Pressure Activated
Sighting Factory Sighted at 50'
User Adjustable Windage and Elevation
Warranty Three Year Full Warranty
Dot Size Approx. 0.50" at 50'