Donate to Win
Olamic Cutlery Wayfarer 247 Jeweled Ti Flipper Framelock
Retail Value:
$695.00
Donated By:
Olamic Cutlery
**** Chosen by Winner:
John M.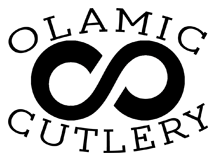 The Wayfarer 247 was released in May of 2016 as a mid-tech addition to Olamic Cutlery's line of handmade folding knives. Olamic Cutlery wanted to offer a true EDC knife at a lower price point while still having plenty of custom options. The design is a continuation of their custom Wayfarer line, but as an all titanium framelock. The handle is chamfered with a dropped end for a comfortable and secure feel in-hand. The blade is a "sheepscliffe" with a flat grind, suitable for any types of cuts. Olamic is currently using M390. Each knife has a unique serial number and comes with a pivot tool.
The 247 is a full titanium framelock with a number of features that make it a perfect Every Day Carry folding knife. Its hardened stainless lockbar insert ensures secure lock up and consistent lock performance. Olamic Cutlery opted for a stronger detent out of safety reasons, but also balanced it with lightning fast flipping action. Of course, the detent itself can be tuned to perfectly suit your preference. Its floating titanium backspacer lets dust go through the handle, instead of building up inside. The backbar is integrated with the slotted lanyard hole which means the blade will never cut the lanyard itself.
Blade Length: 3.5"
Blade Style: Sheepscliffe
Blade steel: M390
Handle: Titanium, Jeweled finish, Purple accents
Pocket clip: Jeweled Titanium
OAL: 8.125"