Donate to Win
Paragon Knives Titanium Rainbow Warlock Sorcerer Supreme Gravity Knife
Retail Value:
$999.99
Donated By:
Ashville Steel
**** Chosen by Winner:
Coley M.
NOTE: Restrictions on delivery of automatic knives in accordance with federal and state laws apply. Click for complete rules.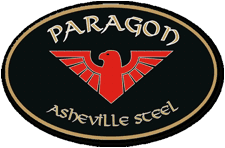 2022 BLADE Show Most Innovative American Design: Asheville Steel Warlock

Asheville Steel's Paragon Knives' Warlock diverges from traditional folding knives with its radical opening mechanism. Your first hint for deploying the blade is the oversized, textured pivot, which serves as a double button locking system. By pushing both sides of the pivot at the same time, the handle splits apart to reveal the blade; with gravity and a flick of the wrist, it will swing into the open position. It's an entertaining and novel opening mechanism that is effective, providing solid lock-up.

Features:
Stonewashed dagger blade made from CPM-S35VN stainless steel.
Rainbow-anodized titanium handle with starburst texturing.
Tip-up, right-side pocket clip made from titanium.
Overall Length:9.375"
Blade Length:3.875"
Cutting Edge:3.75"
Blade Width:1.13"
Blade Thickness:0.13"
Blade Material:CPM S35VN
Blade Style:Dagger
Blade Grind:Flat