Donate to Win
Patriot Ordinance Factory Renegade+ 5.56 NATO/.223 PLUS Crimson Trace CWL-200 Tactical Light
Total Retail Value:
$1,979.98
Donated By:
Patriot Ordinance Factory and Crimson Trace
**** Chosen by Winner:
Anthony G.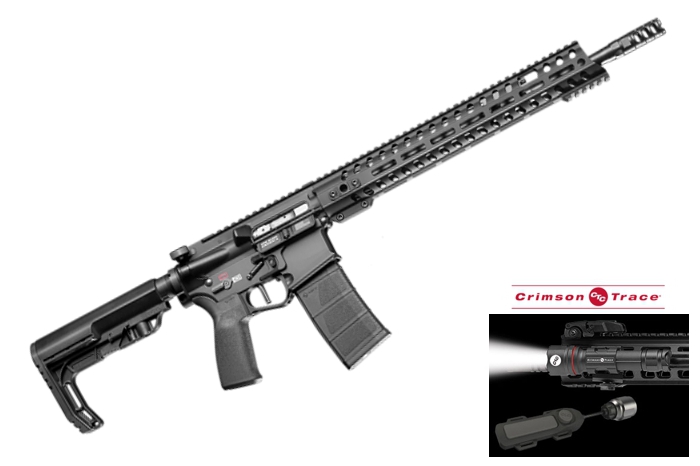 NOTE: Firearm will not be shipped directly to winner, but rather to Federal Firearms Licensee ("FFL") specified by winner (or selected by Knife Rights in Knife Rights' sole discretion). Winner can only take possession of firearm from the FFL. Winner must comply with all applicable legal requirements prior to taking possession of firearm. Winner is responsible for a shipping charge ($40 Pistol Caliber Pistols/$70 Rifle Caliber Pistols and Long Guns) and any fees charged by receiving FFL. Optics and Accessories will ship separately, not via the FFL. Click for complete rules.
Patriot Ordinance Factory Renegade+ ($1899.99) When we decided to make a direct impingement rifle, it couldn't be another "me-too" carbine. The Renegade + embodies everything a direct impingement AR-15 can be. With improvements such as our roller cam pin and patented heat sink barrel nut, these upgrades go well above mere aesthetics often found in rifles today. Put simply, the Renegade + addresses all of the weak points of the direct impingement system. The Dictator 9-position adjustable gas block gives you ultimate control of your rifle, whether tuning for ammo load or suppressor use. The straight gas tube eliminates heat build up from the weak points of standard gas tubes. And the roller cam pin ensures a smooth and more reliable relationship with the upper receiver.
The Renegade+ is built off of our Gen 4 billet lower receiver and Ultimate Bolt Carrier Group. This receiver is completely ambidextrous and includes our flat 3.5 lb match grade trigger with KNS Precision anti-walk pins. Competition ready right out of the box. The magic in the upper receiver is held within our Ultimate Bolt Carrier Group which is high phosphate nickel coated for maximum protection & reliability and features an integrated gas key (no screws required). Like the Renegade, the Renegade + comes with our M-LOK compatible Renegade rail, covering the 16.5" nitride heat treated barrel.
The Crimson Trace CWL-200 ($79.99) is a powerful rail-attached tactical light for Picatinny rail-equipped long guns and provides up to 900 Lumens of white light.Experience the power that effective illumination can provide. Introducing Crimson Trace Tactical Lights, a best-in-class family of tactical lighting products for rail-adapted long guns, backed by the Crimson Trace reputation you trust.
Renegade+ Specifications:
SKU: 00856
CALIBER: 5.56 x 45mm NATO (.223 REM)
CHAMBER: E2 Dual Extraction Technology
ACTION: Semi-auto, direct impingement
UPPER: MIL-SPEC upper receiver
WEIGHT: 6.3 lbs / 2.86kg (empty)
BARREL: 16.5" / 41.91cm match-grade nitride heat-treated Puritan barrel
RIFLING: 1:8, 1/2x28 barrel threads
LENGTH: 34" / 86.36cm (collapsed)
FINISH: Burnt Bronze
GAS BLOCK: 9-position adjustable midlength DIctator gas block
HANDGUARD: 14.5" M-LOK Renegade free-floating rail with five integrated QD sling mounts
MUZZLE DEVICE: A2 flash hider
TRIGGER: MIL-SPEC trigger
FURNITURE: Mission First Tactical
ACCURACY: MOA with proper ammo and shooter ability
FIRE CONTROL: MIL-SPEC Puritan lower receiver
MAINTENANCE: Standard receiver/carrier group field strip procedures.
INCLUDES: Nitride heat-treated bolt carrier group (includes cam pin) 6-position anti-tilt buffer tube Mission First Tactical 30-round magazine
CWL-200  Specifications

Instant Activation™: Tap-On / Tap-Off

Remote on / off pad with cord, hook & loop mounting straps and doublestick tape

900 (high) or 90 (low) Lumen LED white light

High output Cree® XPL LED

Material: Anodized Aluminum

Waterproof up to 1 meter

Impact resistance up to 1 meter

Modes: high, low, strobe, momentary

Battery life: 1 hr 25 min 900 Lumens / 3 hr 55 min 90 Lumens

Length: 5.3"

Weight: 4.9 oz with batteries installed

May be used as a handheld flashlight

Mode Series: High > Low > Strobe > Repeat