Donate to Win
Patriot Ordinance Factory Revolution 7.62 NATO/.308 PLUS YMH Resonator Suppressor PLUS Powered by Silencer Shop Package PLUS Riton RT-S MOD 5 GEN2 4-16X50 WIDEFOV Rifle Scope PLUS Surefire M300C Compact LED Scout Light
Total Retail Value:
$4,148.98
Donated By:
Patriot Ordinance Factory, Silencer Shop, Riton USA and Surefire
**** Chosen by Winner:
David M.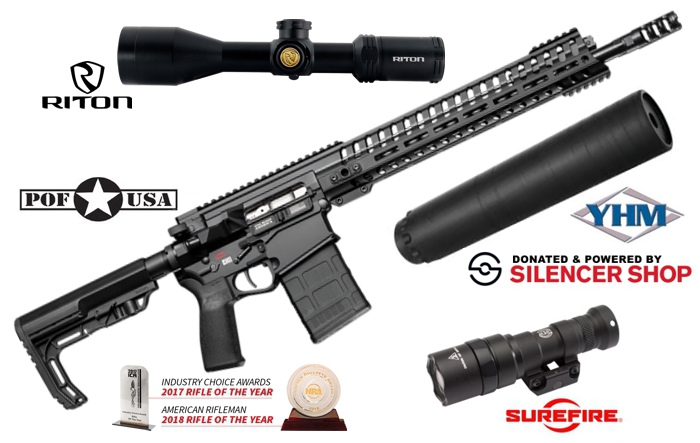 NOTE: Firearm and optional suppressor will not be shipped directly to winner, but rather to Federal Firearms Licensee ("FFL") specified by winner (or selected by Knife Rights or Hill Country Class 3 LLC d.b.a. Silencer Shop (Silencer Shop), in Knife Rights' and Silencer Shop's sole discretion). Winner can only take possession of firearm and suppressor from the FFL(s). Winner must comply with all applicable legal requirements prior to taking possession of firearm or suppressor. Winner is responsible for shipping charge ($40 Pistol/$70 Rifle Caliber) and any fees charged by receiving FFL. Click for complete rules.
The Patriot Ordinance Factory REVOLUTION™ ($2669.99) is our new .308 rifle that handles like a 5.56 – because it's the same size and weight as one. This isn't a stripped down rifle that's saving weight by making extra cuts or lacking the battle rifle features you're accustomed to. We've worked Patriot magic into the Revolution by using a 5.56 bolt carrier and other 5.56 parts allowing for a shorter overall receiver size and reduced weight.
This also isn't a normal small frame .308, it's smaller! The Revolution features many 5.56 parts; such as charging handle, bolt carrier, cam pin, buffer, heat sink barrel nut, handguard, and 5-position gas piston operating system. The barrel extension, bolt assembly, upper, and lower receiver are the exact same size as those on an AR15.
Weighing in at 7.3 lbs.the Revolution features our new Edge Handguard with four built-in QD mounts, and is packed with all you've come to expect from POF-USA. Fully ambidextrous billet receiver set, high phosphate nickel coated bolt carrier group, 5-position adjustable gas piston, single stage match grade trigger, and more. With our redesigned triple port muzzle brake recoil management is not an issue. YOU MAY HAVE JUST FOUND YOUR "ONE GUN."
Yankee Hill Machine's Resonator suppressor ($630) donated by Silencer Shop is their new .30 caliber sound suppressor. It was created to provide the shooting enthusiast a quiet, lightweight and cost effective suppressor. Capable of being used on multiple calibers and host weapons. The RESONATOR can be used on rifle calibers ranging from .17 HMR through 300 RUM making it a great choice for all shooters. Like the Turbo®, the Resonator uses a tubeless design which consists of heat treated 17-4 stainless steel and a heat treated 718 Inconel blast baffle which allows the suppressor to be full auto rated and designed for rigorous use. Includes YHM-4302 Q.D. Mount of your choice.
Powered By Silencer Shop Package (Retail Value $335): If you choose to accept the suppressor prize, but are new to the suppressor world, DON'T WORRY! Silencer Shop is powering every step of the transaction. All required paperwork and fees will be handled for the recipient utilizing the nationwide Powered By Silencer Shop network of dealers. Silencer Shop is including the following*:

FREE NFA Gun Trust
FREE Tax Stamp Payment
FREE Transfer to the Powered By Silencer Shop Dealer of Your Choice
* Additional rules apply for suppressors. Click for complete rules.
Riton 's Mod 5 4-16×50 Second Generation Scope ($549.99) has a Second Focal Plane optic with the Riton Hunting Reticle Mod 1 and 20% increased Field of View (FOV). This is our take on the quintessential hunting optic, built for accuracy and quick target acquisition in even the most extreme weather. Backed by The Riton Promise: Unlimited Lifetime Warranty. Features: Full Wide Band Coating and Fully Multi-Coated Optics, Low Light Enhancement Coating, 30 mm One-Piece Tube Aircraft Grade Aluminum with Rugged Design Ready for the Toughest Environments, 100% Waterproof, Fogproof and Shockproof Dry-nitrogen Purged and Filled, 1/4 M.O.A. Quick Windage and Elevation Adjustment, Fast-Focus Eyepiece, Assembled in EP-Level Clean Room, Capped Elevation and Windage Turrets with Zero Reset, Extreme Wide Field of View Enables Fast Target Engagement
The Surefire M300 Mini Scout ($299) is a powerful, lightweight weapon-mounted light—powered by a single 123A lithium battery—that features a virtually indestructible LED, which generates 500 lumens of light focused by a TIR lens into a high-intensity beam with plenty of reach for close- to mid-range operations. The rugged M300 easily and securely attaches to MIL-STD-1913 Picatinny rails via its integral thumbscrew clamp and is activated by clicking its pushbutton tailcap switch or pressing its pressure-activated tape switch, included on appropriate models. Machined from lightweight aerospace aluminum with a Mil-Spec hard anodized finish and O-ring sealed to keep out the elements, the ultra-compact M300 will withstand the rigors of combat without weighing down your weapon.

Revolution Specifications
SKU: 01235
Caliber: 7.62 NATO
Barrel: 16.5" (1:10)
Rail Length: 14.5" M-RAIL
Weight: 7.3lbs
Overall Length: 34"
YMH Resonator Suppressor Specifications
Caliber: 30 Cal.
Overall Length: 7.825"
Diameter: 1.562"
Weight: 16 Oz.
Suppression Level: 135 dB on 20" .308 Win
Material: 17-4 Ph SS and Heat Treated Inconel 718
Finish: Matte Black Cerakote
Method of Attachment: YHM-4302 Q.D. Flash Hider or Muzzle Brake
Rating: 17HMR through .300 RUM/.300 WIN MAG
Full Auto Rated: Yes
Riton 's Mod 5 4-16×50 Second Generation Scope Specifications
Magnification: 4-16 Parallax
Adjustment: Side
Tube Diameter: 30mm
Objective Lens Diameter: 50mm
Focal Lens Position: Second Focal Plane
Lens Coating: Fully Multi-Coated, FWB, Waterproof Coated, LLE
Reticle: RITON Hunting Reticle Mod 1 Field of View (ft@100yds/m@100m): 29ft/100yds
Material: 6061 Aircraft Grade Aluminum
Weight (oz/g): 23.0/652
Length (in/mm): 12/304
Eye Relief (in/mm): 4.4/112
Exit Pupil (mm): 12.5@4x/3.1@16x
Click Value (in@100yds/mm@100m): 0.25/6.95
Adjustment Range (in@100yds): +/- 80
Mounting Length (in/mm): 5/127
M300C Compact Scout Specifications
Virtually indestructible ultra-high-output LED generates 500 lumens of blinding light; produces tactical-level light for 1 hour on a set of batteries
TIR lens shapes versatile beam with enough reach and surround light for close-to longer-range operations
Hard-anodized aluminum body, tempered window & O-ring seals make light rugged, durable, and combat ready
Activation via Z68 momentary/constant-on pushbutton switching with protective shroud
Thumbscrew mount attaches quickly & securely to MILSTD-1913 rails