Donate to Win
Vintage Pirahana Excalibur OTF First Production #066/182
Retail Value:
$425.00
Donated By:
A Friend of Knife Rights
**** Chosen by Winner:
Brian S.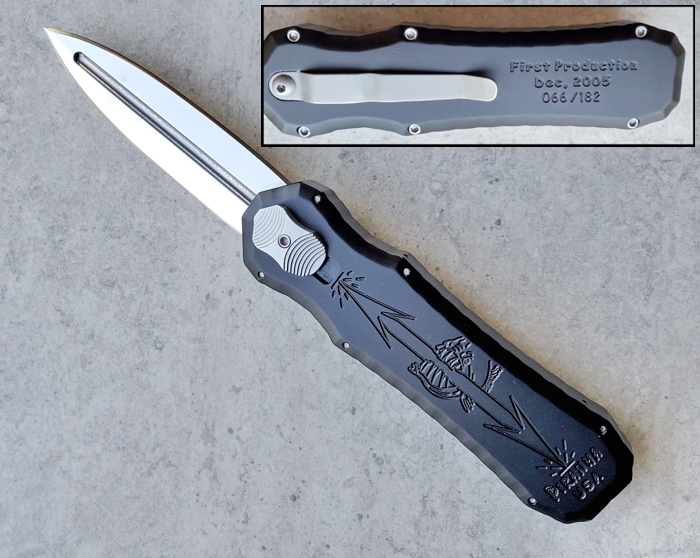 NOTE: Restrictions on delivery of automatic knives in accordance with federal and state laws apply. Winner is responsible for compliance with all state and local laws governing automatic (switchblade) knives. Automatic knives CANNOT be shipped to a P.O. Box, we MUST have a STREET ADDRESS. Click for complete rules.
The Piranha Excalibur is a double action out-the-front automatic knife. The action on the Excalibur is solid and reliable. The handle is anodized 6061-T6 aluminum with a sliding firing button on front and a titanium tip-down carry pocket clip on back. The double-edge blade is 154-CM stainless steel.
This Excalibur is a First Production knife from December, 2005, serial number 066 of 182.  It has a mirror polish blade. Satin finish screws, pocket clip and trigger.  Virtually new condition, but no papers or packaging. Retail Value is average of the estimates from our dealer friends.

Overall Length: 7.875"
Blade Length: 3.25"
Cutting Edge: 3.375"
Blade Thickness: 0.13"
Blade Material: 154CM
Hardness: 59 RC
Blade Style: Dagger
Blade Grind: Flat
Handle Material: Anodized Black 6061-T6 Aluminum
Pocket Clip: Titanium, Satin Finish, Tip Down, Right-Hand Carry