Retail Value:
$700.00
Donated By:
Don Lentz, DVM
**** Chosen by Winner:
James B.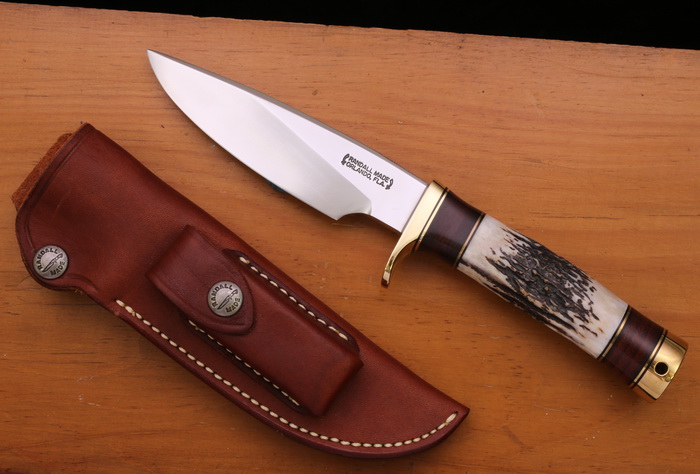 Drop point hunter, similar to Model 11, but handle construction is reminiscent of 1930's design. Thumb notch and top of hilt molded for thumb placement. Optional Brass hilt and butt cap; with natural stag and stacked leather. Model F Cover Sheath with pocket hone.
(This knife was in a privtae collection and its condition is "as new.")
Bo Randall made his first knife in the late 1930s, and by World War II, Randall Knives were the best known handmade knives in the world. That level of recognition has not diminished in the sixty some years since. Gary Randall, the present owner took over from his father W.D. "Bo" Randall in the mid 1970s. These are the best known and most noted handmade knives in the world. They have been mentioned in both novels and in histories. No two Randall Made knives are exactly alike, for no jigs or patterns are used in their final construction. Large scale commercial production with this kind of attention to detail is not feasible and that's why knives of this unique quality are not widely available.
While some dealers can give immediate delivery of a Randall knife in stock or get you a special order in approximately a year's time, if ordered directly from Randall the wait is currently about 5 years.