Retail Value:
$204.96
Donated By:
Real Avid
**** Chosen by Winner:
Stephen H.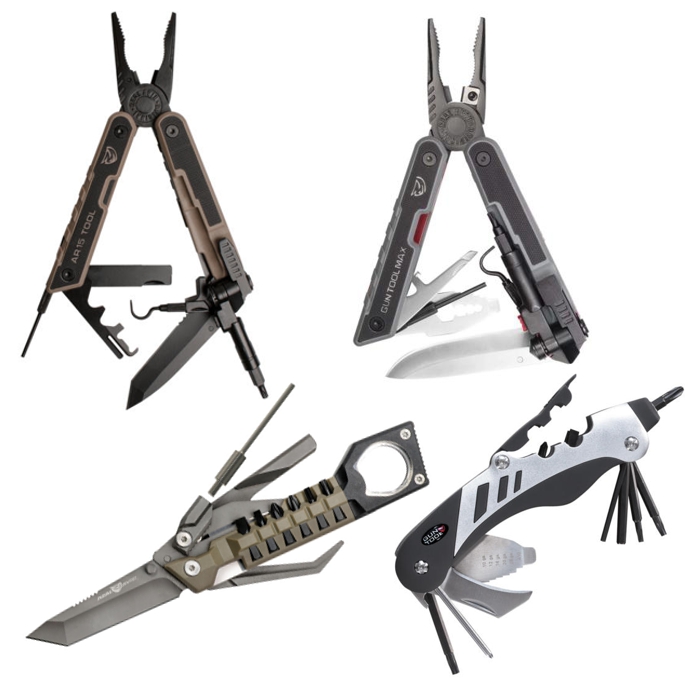 Real Avid has put together a package of their most popular gun maintenance tools:
AR15 Tool ($79.99)
THE ULTIMATE TOOL, FOR THE ULTIMATE PLATFORM, AT THE ULTIMATE PRICE. This folding X-Frame tool is clad with G-10 grip plates and is the most capable partner made for the AR15. It's packed with precision-made, mission-specific tools. It removes carbon with ease from 12 critical bolt carrier group surfaces, makes repairs, helps customize, reduces malfunctions, and makes disassembly and reassembly fast and easy. The integrated threaded post and receiver fits punches, picks, cleaning rods, and cables. The tactical sheath is MOLLE-compatible and carries 10 additional bits and an A1 & A2 Front Sight Adjuster for even greater capability whenever and wherever you need it.
Gun Tool MAX ($59.99)
A BETTER BREED OF GUN TOOL Packed with 37 precision-made, mission-specific tools for all hunters and shooters, this highly versatile tool repairs, customizes, and makes disassembly and reassembly fast and easy. Included are needle-nose pliers with carbide cutters, a universal choke tube wrench, locking driver, and a heavy-duty stainless steel knife. The ballistic nylon sheath carries 12 additional bits for added functionality. It's everything you need to maximize your gun's potential.
Pistol Tool ($39.99)
TAKE DOWN, BUILD UP, ADJUST, AND MAINTAIN YOUR HANDGUNS. Never before has so much insight been built into a tool that can fit in your mag pouch. The Pistol Tool gives a shooter the ability to maintain, add accessories, and tweak their favorite handgun with easy access to its 19 precision tools. Each tool is calibrated to popular platforms—from polymer striker-fired to revolver to 1911. Whether on the bench, at the range, or in the field, The Pistol Tool will make sure your trigger finger stays happy.
The Gun Tool ($24.99)
18-IN-1 SHOOTER'S MULTI-TOOL. We set out to make a gun-specific multi-tool and ended up creating an entire category. This gun tool was designed for those "Oh, crap" moments – when problems strike and they need to be fixed fast. The Gun Tool can change choke tubes, mount and adjust scopes, tighten screws and break down actions. No matter where a problem with a gun happens – in the field, at the range or workbench – count on The Gun Tool to fix it.