Retail Value:
$465.00
Donated By:
RMJ Tactical
**** Chosen by Winner:
Matt S.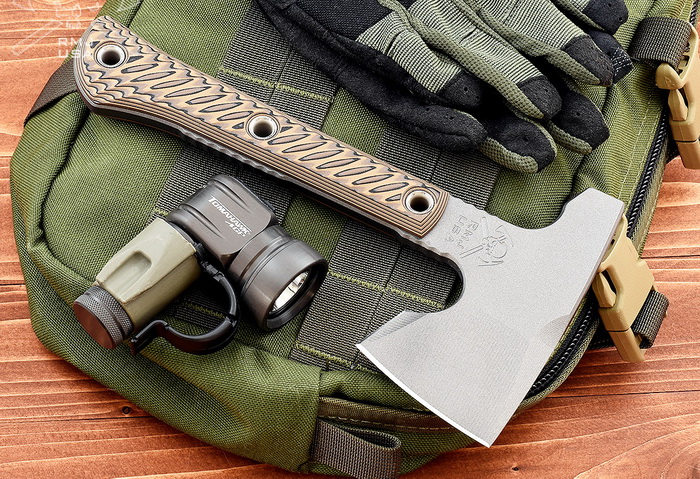 The 9.4" Mini Jenny Hammer Poll is compact outdoor multi-tool that fills the role of a high-quality multi-use tomahawk, that will be your go to tool on a day hike, or a week long camping trip.  Around the camp it's a versatile tool for, cutting wood, food preparation, clearing your camp site, fire starting and any other cutting chores. The ax features a hammer poll for the obvious, hammering things like tent spikes and other things that need hammered!
The Mini Jenny Hammer Poll offers full tang construction, 1/4" 80CRV2 carbon steel  (57-58 HRC)  is used in its construction.  3D contoured G10 handles scales are permanently mounted for durability.  The tomahawk has our Tungsten Cerakote finish that grants greater resistance to wear, corrosion, chemical damage, and impact damage.\
The main edge measures 2 5/8", designed for the abuse of the field, chopping through anything you need cut, be it brush, branches, or any other chores that need the use of a sharp blade.
We include a molded Kydex Bottom-Eject Scabbard with low ride straps for belt carry.
Specifications
Overall Length: 4.75 in
Overall Height: 9.375 in
Forward Cutting Edge Length: 2.63 in
Blade Thickness: .275 in
Weight: 18.2 ounces (without sheath)
Blade Material: 80CRV2 (HRC 57-58)
Sheath: Molded kydex Bottom Eject sheath with Low-Ride M.O.C. straps