Donate to Win
Ruger Custom Shop 10/22® Competition PLUS Leupold VX-6HD 2-12x42mm Rifle Scope
Total Retail Value:
$2,849.00
Donated By:
Sturm, Ruger & Co. and Leupold and Stevens
**** Chosen by Winner:
Bill S.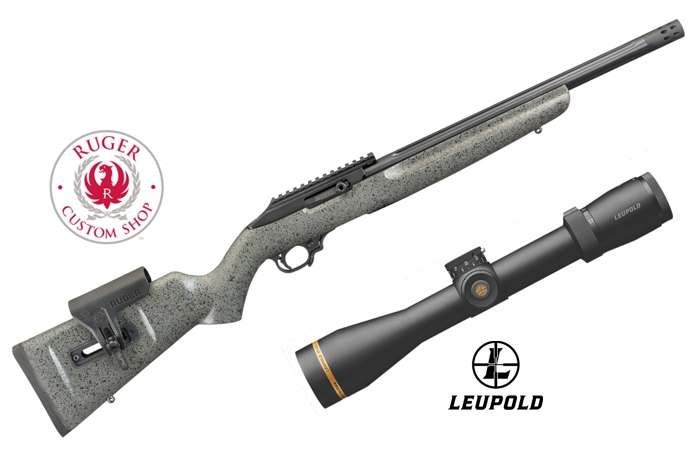 NOTE: Firearm will not be shipped directly to winner, but rather to Federal Firearms Licensee ("FFL") specified by winner (or selected by Knife Rights in Knife Rights' sole discretion). Winner can only take possession of firearm from the FFL(s). Winner must comply with all applicable legal requirements prior to taking possession of firearm. Winner is responsible for $70 shipping charge and any fees charged by receiving FFL. Click for complete rules.
The Ruger Custom Shop 10/22® Competition Model 31120  ($899)  features a hard-coat anodized, CNC-machined, heat treated and stress relieved 6061-T6511 aluminum receiver with an integral, optics-ready, 30 MOA picatinny rail. The custom receiver is paired with a heat treated and nitrided, CNC-machined match bolt to create a tight-fitting, smooth action that will enable the highest level of performance. The receiver incorporates a second bedding lug, ensuring it is securely bedded to the stock. This rifle also features an exclusive second barrel locator to provide a free-floating barrel for superior accuracy. The receiver incorporates a rear cleaning port, providing access to the barrel from the rear of the receiver for ease of cleaning. The stock features a fully adjustable cheek rest, which can be repositioned horizontally and vertically to allow the customer to create a custom-adjusted feel that is stable, comfortable and repeatable.
Caliber: 22 LR
Capacity: 10
Stock: Speckled Black/Gray Laminate
Barrel Material: Alloy Steel
Barrel Finish: Satin Black
The VX-6HD 2-12x42mm Scope ($1,950) takes versatility to the next level. It offers an incredibly wide field-of-view, while giving you the magnification needed for mid to long-range shots. Its rugged, lightweight body has made it a favorite for any hunter not willing to sacrifice performance or weight. The 2-12's edge-to-edge clarity gives you outstanding brightness, color consistency, and resolution. This means dominating the first and last 15 minutes of the day. The wide zoom range and our latest technology, which includes an in-scope electronic reticle level, CDS-ZL2 Zero Lock elevation dial, and removable throw lever, make your VX-6HD the most versatile Leupold riflescope ever made. The VX-6HD goes where other scopes can't. Its unique combination of features, durability, and elite optical performance guarantees that it can handle any challenge you throw at it. We built if for anything and everything, including your next epic adventure.
Weight (oz) 16.80
Tube Diameter - 30mm
Linear FOV (ft/100 yd) - Low 57.50
Linear FOV (ft/100 yd) - High 10.20
Linear FOV (m/100 m) - Low 19.10
Length (in) 12.50
Linear FOV (m/100 m) - High 3.10
Length (cm) 31.70
Eye Relief (in) - Low 3.80
Eye Relief (in) - High 3.80
Eye Relief (mm) - Low 96.50
Eye Relief (mm) - High 96.50
Objective Diameter (in) 1.70
Weight (g) 476.00
Elevation Adjustment Range (MOA) 70.00
Windage Adjustment Range (MOA)