Donate to Win
Ruger .22LR Rimfire Package: Ruger Precision Rimfire PLUS Crimson Trace Brushline Pro 2-7x32 BDC-Rimfire Scope PLUS Ruger Mark IV Tactical PLUS Crimson Trace CTS-1400 Open Reflex Sight PLUS Ruger Lite Rack LCP II PLUS Crimson Trace LG-497G Green Laserguard for Ruger LCP II PLUS Caldwell E-MAX Shadows PLUS Caldwell Tack Driver Plus PLUS Wheeler 2 Piece Picatinny Scope Rings
Total Retail Value:
$2,729.94
Donated By:
Sturm, Ruger & Co, Crimson Trace, Caldwell & Wheeler
**** Chosen by Winner:
Michael B.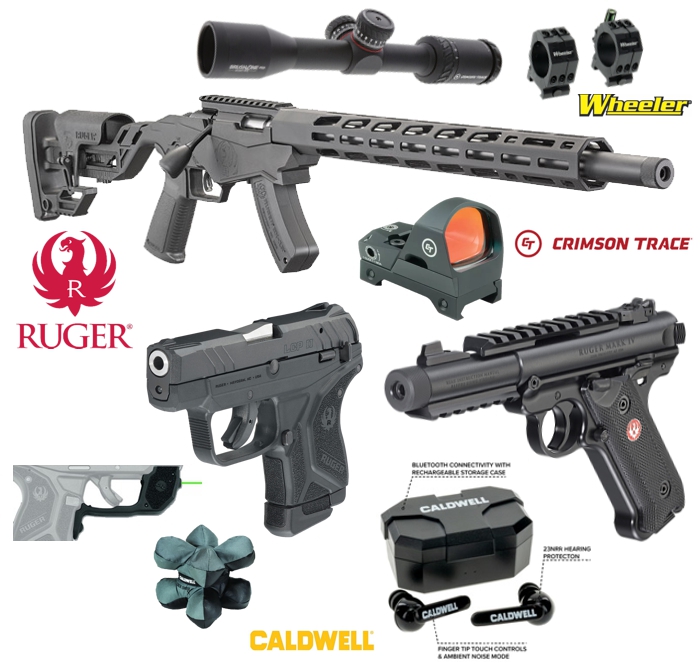 NOTE: Firearm will not be shipped directly to winner, but rather to Federal Firearms Licensee ("FFL") specified by winner (or selected by Knife Rights in Knife Rights' sole discretion). Winner can only take possession of firearm from the FFL. Winner must comply with all applicable legal requirements prior to taking possession of firearm. Winner is responsible for a shipping charge ($40 Pistol Caliber Pistols/$70 Rifle Caliber Pistols and Long Guns) and any fees charged by receiving FFL. Optics and Accessories will ship separately, not via the FFL. Click for complete rules.
Model 8400 Ruger Precision® Rimfire ($529)
Caliber: 22 LR

Stock: Quick-Fit Precision Rimfire Adjustable

Capacity: 15

Barrel Length: 18"

Overall Length:  35.13" - 38.63"

Grip: AR-Pattern

Handguard: Free-Float With Magpul® M-LOK® Slots

Handguard Finish: Black, Hard-Coat Anodized

Thread Pattern: 1/2"-28

Length of Pul:" 12" - 15.50"

Sights: None-Rail Installed

Barrel: Threaded Cold Hammer-Forged 1137 Alloy Steel

Weight: 6.8 lb.

Twist1: 16" R

Molded, one-piece chassis and adjustable buttstock assembly are manufactured with glass-filled nylon for strength, stiffness and stability, making a solid foundation for accuracy each and every shot. Adjustable buttstock features a flat Picatinny bag rider making it easy to affix a rear monopod. A molded-in window provides a tether point for your squeeze bag, and a metal QD pocket makes it easy to secure a sling.

Quick-Fit adjustable Precision Rimfire stock allows length of pull and comb height to be quickly and easily adjusted to get proper fit over a wide range of shooter sizes, outerwear and shooting positions. Indicating marks molded into the chassis help you quickly return to a previous position.

Big-Gun bolt throw adjustment enables shooters to change from a rimfire 1-1/2" bolt throw to a short-action centerfire 3" bolt throw, reducing the chance of short-stroking your bolt in competition.

Ruger Marksman Adjustable™ trigger is externally adjustable, with a trigger pull range of 2.25 to 5 pounds; wrench is stored in a buttstock compartment.

Ruger's own AR-Pattern pistol grip and safety selector provides an extended reach for maximum control and access to the 45°, reversible safety selector. May be configured with most AR-style grips and selectors.

Anodized Picatinny scope base includes 30 MOA elevation for increased long-range capabilities out of the box.

Oversized bolt handle for positive bolt manipulation (same as the Ruger Precision® Rifle).

15" aluminum free-float handguard is black hard-coat anodized aluminum and features Magpul® M-LOK® slots on all four sides for improved scope clearance for long-range scopes and easy mounting of M-LOK-compatible rails and accessories.

Target barrel is cold hammer-forged from 1137 alloy steel to create ultra precise rifling for excellent accuracy. Barrel can be replaced easily by a competent gunsmith using AR-style wrenches and headspace gauges.

1/2"-28 threaded barrel for standard muzzle accessories, like the Silent-SR® suppressor, comes with a factory-installed thread protector covering both the threads and crown.

Accepts all 10/22® magazines.

Also includes: one, 15-round BX-15® magazine.
Model 40150 Ruger Mark IV™ Tactical ($569)
Caliber: 22 LR

Capacity: 10+1

Grip Frame: Aluminum

Simple, one-button takedown for quick and easy field-stripping and proper chamber-to-muzzle cleaning. Pressing a button in the back of the frame allows the barrel-receiver assembly to tilt up and off the grip frame without the use of tools.

One-piece, precision CNC-machined grip frame.

Threaded barrel models feature a 1/2"-28 thread pattern for popular muzzle accessories and top and bottom Picatinny rails for attaching tactical accessories.

Cold hammer-forged barrel results in ultra-precise rifling that provides exceptional accuracy and longevity.

Ergonomic bolt stop.

Smoothly contoured, comfortable grip features a natural pointing grip angle with replaceable grip panels for a non-slip hold.

Internal cylindrical bolt construction ensures permanent sight-to-barrel alignment and higher accuracy potential than conventional moving-slide designs.

Contoured ejection port and easy-to-grasp bolt ears allow for durable and reliable operation round after round.

Accurate sighting system features a drilled and tapped receiver for Weaver- or Picatinny-style rail for easy mounting of optics.

Ambidextrous manual safety can be converted to left-side only with included washer.

Features a conveniently located push-button magazine release on the left side of the frame.

Magazine drops free on release for convenient reloading.

Magazine disconnect prevents discharge when the magazine has been removed.

Compatible with the Silent-SR® sound suppressor - Learn More

Also includes: two, 10-round magazines.
Model 13705 Ruger Lite Rack LCP® II ($349)
Caliber: 22 LR

Capacity: 10+1

Barrel Length: 2.75"

Overall Length: 5.20"

Weight: 11.2 oz.

Grip Frame: Black, High-Performance, Glass-Filled Nylon

Grooves: 6

Feature: Lite Rack™ System

Slide Material: Alloy Steel

Barrel Material: Stainless Steel

Slide Width: 0.81"

Sights: Integral

Twist: 1:16" RH

Slide Finish: Black Oxide

Barrel Finish: Satin Stainless

Height: 4"

Not Available in CA and MA

Lite Rack™ system includes refined slide serrations, pronounced cocking ears and a lighter recoil spring, allowing for easy slide manipulation.

Low recoil for comfortable training. Optimized to function with high-velocity ammunition.

With a patent-pending floorplate assembly, the magazine offers a very compact 10+1 capacity, extends the grip for improved control and retains the LCP® II™s popular last-round hold open function.

Manual safety is oriented in a push-forward-to-fire configuration that is instinctive and unobtrusive.

Compact and lightweight, the LCP® II is designed to fit a variety of holsters.

Textured grip frame provides a secure and comfortable grip. Larger grip frame surface provides better distribution of recoil forces.

Fixed front and rear sights are integral to the slide, while the hammer is recessed within the slide.

Rugged construction with through-hardened steel slide and one-piece, high-performance, glass-filled nylon grip frame.

Utilizes Ruger's safe, reliable and proven Secure Action™ fire-control system that combines a protected internal hammer with a bladed-safety trigger. The trigger has a short, smooth pull, clean break and positive reset.

Additional safety features include a magazine disconnect; neutrally balanced sear with significant engagement and strong spring tension; and hammer catch to help prevent the hammer from contacting the firing pin unless the trigger is pulled.

Satin, stainless steel barrel.

Accepts all existing LCP®II accessories with the exception of magazines chambered in .380 Auto.

Also includes: one magazine and magazine loader.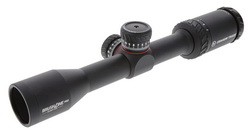 Crimson Trace Crimson Trace Brushline Pro 2-7x32 BDC-Rimfire Scope ($199.99) The Crimson Trace Brushline Pro optics are designed with the experienced hunter in mind and have been purposefully built from the ground up. The line includes options for pistols, muzzleloaders, shotguns, and hunting rifles. All of the reticles have been calibrated for the firearms platform that they will be placed on. The line features aerospace grade 1" and 30mm tubes that are extremely lightweight. The scopes are fully multi-coated and have exceptional light transmission and glass quality. All Crimson Trace scopes are covered under the LIFETIME protection guaranteed warranty and backed by our award-winning customer service team.

Specs
Magnification: 2-7x
Reticle: CT Custom BDC Rimfire
Focal Plane: 2nd Focal Plane
Material: Aerospace Aluminum
Eye Relief (in): 3.5
Objective Lens Diameter: 32mm
Tube Diameter: 1 in
Click Value" 1/4
Turrets exposed
Illumination: NO
Light Transmittance (%): 90
Dimensions (W x H x L): 2.1 in x 2.1 in x 11.5 in
Product Weight (oz): 16.76
Lens Coating: Green Multi Coated
Rear Mounting Length (in): 2.1
Front Mounting Length (in): 2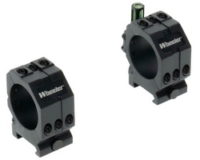 Wheeler 2 Piece Picatinny Scope Rings ($59.99) Securely mount your scope to any picatinny rail. The 6-screw design provides increased clamping force to keep the optic in place during recoil and the integrated articulating anti-cant mechanism helps keep your gun level for your long range shots. Centerline height from top of rail: Low - 0.775 in Medium - 0.950 in High - 1.100 in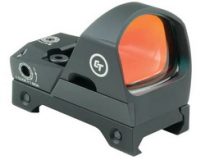 The Crimson Trace CTS-1400 Open Reflex Sight ($499.99) is a Compact Open Reflex Sight for Rifles and Shotguns. Featuring a 3.25 MOA round aiming dot and a wide field of view (FOV), the CTS-1400 will elevate your long gun's performance instantly. Easily user-installed the CTS-1400 includes a low-profile, snag-free M1913 Picatinny mount. 3.25 MOA Dot
The Crimson Trace LG-497G Green Laserguard® for Ruger LCP II ($319.99) Designed specifically for the Ruger® LCP® II, the powerful LG-497G Green Laserguard® drastically enhances the defensive capabilities of the pistol.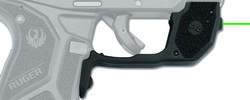 User-installed in moments with no modifications to the firearm, the green laser sight simply clamps around the trigger guard. Factory sighted at 50', the laser is also fully user-adjustable for windage and elevation using the provided tool. The laser is activated when the firearm is held in a normal firing grip via a front activation button. This is famously known as Crimson Trace's Instinctive Activation™.
The Caldwell E-Max Shadows ($149.99) are Bluetooth, rechargeable electronic ear plugs designed to go where you go, play all your music, and keep your ears protected. High quality stereo sound is Bluetooth compatible with your mobile device and comes with a 23dB noise reduction rating. Dual microphones provide directional clarity and come equipped with easy to use touch volume controls. The charging case comes with an integrated lithium battery.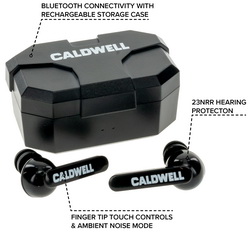 Features Include:
23db noise reduction
Battery Life: 5 Hours per charge
Includes a case that can recharge the earplugs 4-5 times
Bluetooth Pairing with phones or other capable devices for music or phone calls
Multiple ear tips included
Adjustable ambient sound amplification
The Caldwell Tack Driver X Bag ($51.99) is the perfect bag for getting a stable shooting position no matter what the situation. With a unique design, the Tack Driver X is ideal for PRS match use on barricades, rooftops, window and port openings or any other surface. The versatile design also works well for sighting in on a bench and hunting in the field. An adjustable strap allows for height adjustment and acts as a carry handle. A rubberized bottom material prevents sliding for a stable shooting position.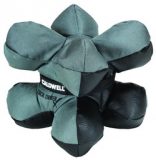 Features
The most versatile shooting bag on the market making these great for PRS Matches, sighting in or hunting
Durable construction for long service life
Plastic pellet filling is non-absorbent and enhances stability while shooting
Unique shape allows for multiple rest options
Dimensions: 8"W x 8"H x 8" D
Weight: 104 oz/6.5 lbs