Donate to Win
Ruger-57 5.7x28mm Pistol PLUS Crimson Trace CMR-207G Rail Master Pro Universal Green Laser Sight & Tactical Light PLUS Caldwell E-Max Shadows PLUS Tipton Compact Pistol Cleaning Kit
Total Retail Value:
$1,226.97
Donated By:
Sturm, Ruger & Co, Crimson Trace, Caldwell & Tipton
**** Chosen by Winner:
John S.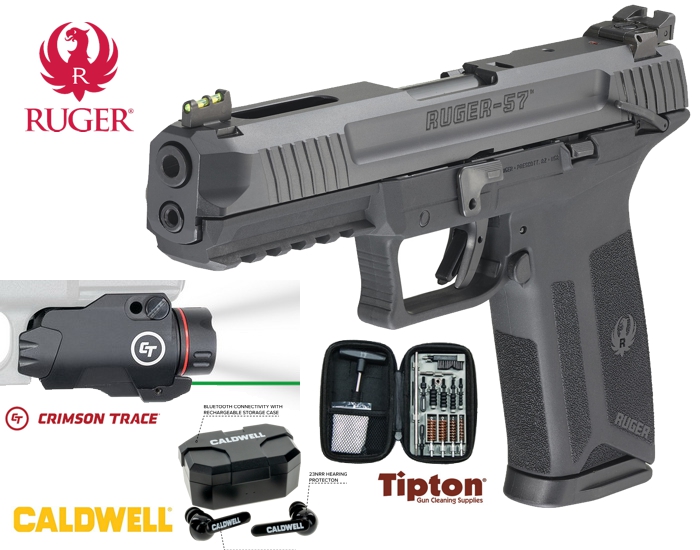 NOTE: Firearm will not be shipped directly to winner, but rather to Federal Firearms Licensee ("FFL") specified by winner (or selected by Knife Rights in Knife Rights' sole discretion). Winner can only take possession of firearm from the FFL. Winner must comply with all applicable legal requirements prior to taking possession of firearm. Winner is responsible for a shipping charge ($40 Pistol Caliber Pistols/$70 Rifle Caliber Pistols and Long Guns) and any fees charged by receiving FFL. Optics and Accessories will ship separately, not via the FFL. Click for complete rules.
Ruger-57- Model 16401 ($799)
Caliber: 5.7x28mm

Capacity: 20+1

Barrel Length: 4.94"

Impressive ergonomics include an easy trigger reach, 1911-style ambidextrous manual safety, robust slide release and reversible magazine release latch.

Through hardened, billet steel slide with lightening cuts is drilled and tapped for easy mounting of optics with separately available optic adapter plate, available at ShopRuger.com.

Windage and elevation adjustable, serrated rear sight and rapid acquisition fiber optic front sight for fast, accurate shooting.

The alloy steel barrel features a black nitride treatment for wear resistance.

Steel magazine provides double stack capacity without unnecessary bulk.

Textured, ergonomic frame provides a secure and comfortable grip.

Utilizes Ruger's safe, reliable and proven Secure Action™ fire-control system that combines a protected internal hammer with a bladed-safety trigger. The trigger has a short, smooth pull, clean break and positive reset.

Safe, easy takedown with no tools or trigger pull required.

Inspection port allows for visual confirmation of a loaded or empty chamber.

Picatinny-style accessory rail for easy mounting of lights and lasers.

Safety features include: 1911-style ambidextrous manual safety; an integrated trigger safety; light-weight firing pin; neutrally balanced sear with significant engagement and strong spring tension; and hammer catch to help prevent the hammer from contacting the firing pin unless the trigger is pulled.

Magazine drops free on release for convenient reloading.

Also includes: two steel magazines.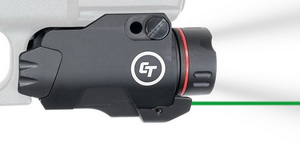 Crimson Trace CMR-207G Rail Master® Pro Universal Green Laser Sight & Tactical Light ($249.99) The Crimson Trace® CMR-207G Rail Master® Pro offers a powerful 400 Lumen LED white light and green aiming laser in a compact and durable unit. The CMR-207 features an aluminum body with ambidextrous activation points. User programmable modes of operation include: Laser + Light, Laser Only, Light Only. This Rail Master Pro features smart electronics that will power down the unit after 5 minutes, (preventing battery drain if activated during casing or holstering). Laser sight is fully user adjustable for windange and elevation. Powered by a single CR123 Lithium battery.
Fits pistols, rifles and shotguns with M1913 Picatinny or Weaver-style accessory rails.

The Caldwell E-Max Shadows ($149.99) are Bluetooth, rechargeable electronic ear plugs designed to go where you go, play all your music, and keep your ears protected. High quality stereo sound is Bluetooth compatible with your mobile device and comes with a 23dB noise reduction rating. Dual microphones provide directional clarity and come equipped with easy to use touch volume controls. The charging case comes with an integrated lithium battery.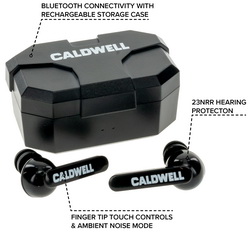 Features Include:
23db noise reduction
Battery Life: 5 Hours per charge
Includes a case that can recharge the earplugs 4-5 times
Bluetooth Pairing with phones or other capable devices for music or phone calls
Multiple ear tips included
Adjustable ambient sound amplification
The Tipton Compact Pistol Cleaning Kit ($27.99) Hold the power to clean multiple calibers in the palm of your hand with the Tipton Compact Pistol Cleaning Kit. This kit comes in a semi-rigid, zippered carry case and can be used on handgun calibers ranging from .22-.45. Whether you travel a lot, clean at the range, or like to be organized at home, this kit is the perfect size for storing in small spaces and durable enough to take anywhere.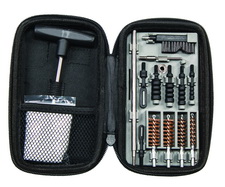 Features
For use on pistol calibers ranging from .22-.45
Semi-rigid carry case
Collapsible cleaning rod with rotating T-handle
Stainless steel cleaning rod
Includes: Cleaning pick, (10) cotton cleaning patches, nylon cleaning brush, bronze bore brushes and nylon jags (.22 cal, 9mm/.357/.38 cal, .40/10mm cal, .45cal), (2) nylon slotted tips