Donate to Win
Ruger American Pistol in 9mm PLUS Crimson Trace CMR-201 Rail Master Universal Laser Sight
Total Retail Value:
$738.00
Donated By:
Sturm, Ruger & Co. and Crimson Trace
**** Chosen by Winner:
Scott D.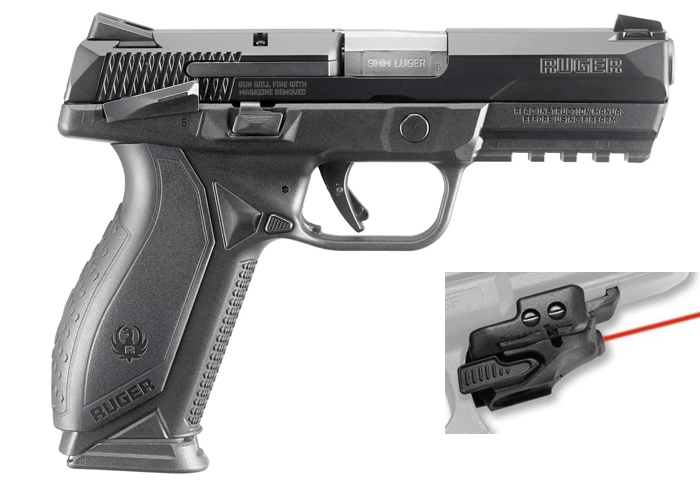 NOTE: Firearm will not be shipped directly to winner, but rather to Federal Firearms Licensee ("FFL") specified by winner (or selected by Knife Rights in Knife Rights' sole discretion). Winner can only take possession of firearm from the FFL(s). Winner must comply with all applicable legal requirements prior to taking possession of firearm. Winner is responsible for $25 shipping charge and any fees charged by receiving FFL. Click for complete rules.
The Ruger American Pistol in 9mm ($579)

Trigger features a short takeup with positive reset.

Recoil-reducing barrel cam, low-mass slide, low center of gravity and low bore axis.

Performance tested for sustained +P ammunition use.

Genuine Novak® LoMount Carry three-dot sights.

Modular wrap-around grip system for adjusting palm swell and trigger reach.

Safe, easy takedown with no tools or trigger pull required.

Ambidextrous slide stop and magazine release allow actuation with either hand.

Safety features include internal, automatic sear block system, integrated trigger safety and no trigger pull required for takedown.

Also includes - Two nickel-Teflon® plated steel magazines; small (9mm models only), medium and large grip modules.

Pre-tensioned striker system features a powerful striker spring for positive ignition without a heavier trigger pull.

Non-slip surfaces including functional slide serrations and purpose-oriented grip frame texturing for enhanced control.

MIL-STD-1913 Picatinny rail acts as a mounting point for a wide variety of standard lights, lasers and infra-red illuminators.

Visual inspection port allows for visual confirmation of a loaded or empty chamber.

Also includes - Two nickel-Teflon® plated steel magazines; small (9mm models only), medium and large grip modules..
The CMR-201 Rail Master® Universal Laser Sight ($159) is a powerful and versatile laser sight designed to fit rail-equipped pistols, rifles and shotguns. The Rail Master locks onto Picatinny M1913 or Weaver-style accessory rails with Crimson Trace's Secure-Lock Technology™. Once locked on, it will not move under recoil or handling. The universal design of the Rail Master offers quick Instant Activation™ by simply "tapping on" and "tapping off" from either side with the ambidextrous activation control tabs. Additionally, the CMR-201 features a 5 minute auto-shut off feature that will power down the unit to conserve battery life if the laser sight is unintentionally activated.
Versatile and flexible, the CMR-201 laser sight includes four (4) different inserts to adapt to various firearm platforms. The unit features a powerful 5mW red laser that will run for over four (4) hours on a single 1/3N Lithium battery. Rail Master is factory sighted at 50', but is fully user adjustable for windage and elevation.
Ruger American Pistol Specifications
Model: 8608

Caliber: 9mm Luger

Barrel Length: 4.2"

Twist: 1:10" RH

Grooves:6

Slide Material: Stainless Steel

Slide Width: 1.05"

Overall Length: 7.5"

Weight: 30 oz.

Capacity: 17+1

Height: 5.60"

Overall Length: 8"

Safety Option: Manual

Grip: Ergonomic Wrap-Around Grip Module

Grip Frame: One-Piece, High-Performance, Glass-Filled Nylon

Slide Width: 1.05"
Rail Master Laser Sight Specifications
Material: Polymer
Attachment: Accessory Rail
Activation Location: Switch Activation
Sighting: Factory Sighted at 50'
Battery Type: One 1/3N Lithium Battery
Laser Battery Life: Over Four Hours
Laser Output: 5mW Red Laser
Activation Mode: Instant Activation
Laser Visibility: Approx .5 Inch Diameter at 50 Feet
Wrench Size: 0.05
Finish: Polymer Housing
Installation User Installed
Warranty: Three Year Full Warranty
Color: Black
Dot Size: Approx. 0.50" at 50'