Donate to Win
Ruger Custom Shop Super GP100 Competition Revolver in .357 Mag PLUS Crimson Trace LG-344 Lasergrips for Ruger GP100
Total Retail Value:
$1,878.99
Donated By:
Sturm, Ruger & Co. and American Outdoor Brands' Crimson Trace
**** Chosen by Winner:
Darien M.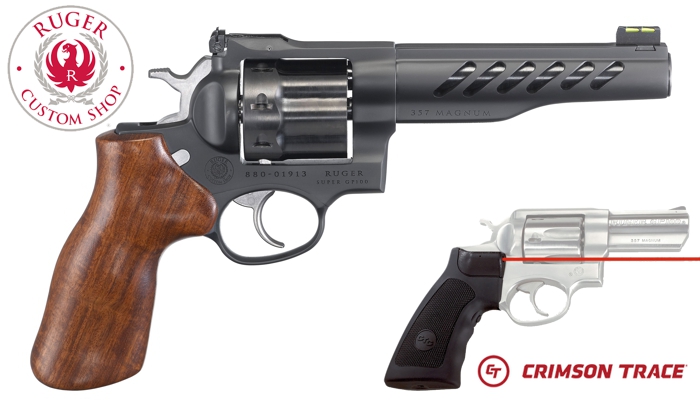 NOTE: Firearm will not be shipped directly to winner, but rather to Federal Firearms Licensee ("FFL") specified by winner (or selected by Knife Rights in Knife Rights' sole discretion). Winner can only take possession of firearm from the FFL. Winner must comply with all applicable legal requirements prior to taking possession of firearm. Winner is responsible for a shipping charge ($40 Pistol Caliber Pistols/$70 Rifle Caliber Pistols and Long Guns) and any fees charged by receiving FFL. Optics and Accessories will ship separately, not via the FFL. Click for complete rules.
The Ruger Super GP100 Competition Revolver ($1,549) is a great choice for anyone looking for, well, a competition revolver! This gun features polished and optimized internals, a centering boss on the trigger, and centering shims on the hammer, all coming together to give you the best feeling while shooting. Everyone needs a good revolver in their collection!
Triple-locking cylinder is locked into the frame at the front, rear and bottom for more positive alignment and dependable operation shot after shot.

High-strength stainless steel cylinder, featuring a PVD finish for excellent durability and ease of extraction, is extensively fluted to reduce weight.

Polished and optimized internals, a centering boss on the trigger, and centering shims on the hammer produce a smooth double-action trigger pull and a crisp and consistent let-off.

Utilizes the superior action of the Super Redhawk to allow for a two-spring lock work arrangement providing a more even double-action cycle and better ignition.

Cylinder and extractor are cut for moon clips to speed reloading during intense competition.

Ships with three full moon clips that act as both speed loaders and aid in the ejection of spent cartridges.

PVD coating aids in the reduction of glare during competition.

Hogue hardwood grip is hand-finished for a glowing, smooth, polished feel.

Grip frame easily accommodates a wide variety of custom grips.

Dual chambering allows the .357 Magnum model to accept factory .38 Special cartridges.

Transfer bar mechanism provides an unparalleled measure of security against accidental discharge.

Replaceable, fiber optic front sight and adjustable rear sight allow for quick target acquisition.

Cold hammer-forged barrel results in ultra-precise rifling that provides exceptional accuracy and longevity.

The half-lug 5.50" sleeve and shroud barrel is contoured for fast manual ejection and also features an 11 degree target crown for competitive-level accuracy.
Specifications
Caliber: 357 Mag / .38 SPL
Action: Double / Single Action
Finish: Matte Pvd
Frame: Steel Frame
Grips: Hogue Hand-finished Hardwood
Weight: 47 Oz.
Capacity: 8
Barrel: 5.5"
Overall Length: 11"
Rate-of-twist: 1-in-16
Sights: Fiber Optic Front

Crimson Trace LG-344 Lasergrips® for Ruger GP100 ($329.99) sights feature Crimson Trace's® rubber-overmold construction around a sturdy polymer grip frame. Providing equal comfort and control compared to stock Ruger grips, the LG-344 is compatible with Ruger wood panels (Super Redhawk). Lasergrips® with your Ruger revolver are ideal for personal protection from threats walking on four legs as well as two. Fits GP 100 & Super Redhawk, including Alaskan. Stock wood panels from GP 100 will only fit LG-344 Lasergrips® if you have a GP 100 with adjustable rear sights.