Donate to Win
Ruger LCP® II in .380 PLUS Crimson Trace LG-497 Laserguard® for Ruger LCP II
Total Retail Value:
$588.99
Donated By:
Sturm, Ruger & Co. and American Outdoor Brands' Crimson Trace
**** Chosen by Winner:
Steven F.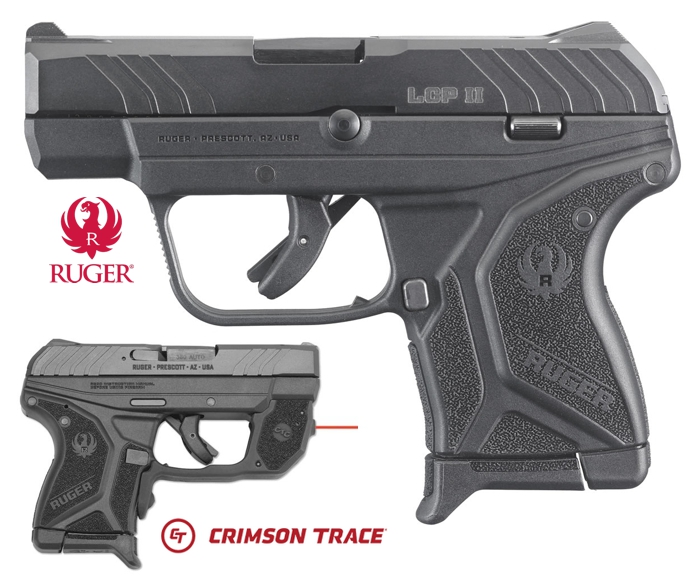 NOTE: Firearm will not be shipped directly to winner, but rather to Federal Firearms Licensee ("FFL"). Winner must comply with all applicable legal requirements prior to taking possession of firearm. Click for complete rules.
The Ruger LCP® II ($349) Compact and lightweight, the LCP® II is designed to fit a variety of holsters.
Textured grip frame provides a secure and comfortable grip. Larger grip frame surface provides better distribution of recoil forces.
Fixed front and rear sights are integral to the slide, while the hammer is recessed within the slide.
Rugged construction with through-hardened steel slide and one-piece, high-performance, glass-filled nylon grip frame.
Includes finger grip extension floorplate that can be added to the magazine for comfort and improved grip.
Secure Action fire control that combines the smooth pull of the LCP® with the short crisp feel and positive reset of a single-action.
Safety features include an integrated trigger safety; neutrally balanced sear with significant engagement and strong spring tension; and hammer catch to help prevent the hammer from contacting the firing pin unless the trigger is pulled.
Easy-to-rack slide designed to hold open after last round ejection.
Blued, alloy steel barrel.
Also includes: one magazine.
Note: 6-round LCP® magazines are compatible with the LCP® II, but will not activate the last round hold-open feature of the LCP® II. 7-round LCP® magazines are NOT compatible with the LCP® II.

The LG-497 Laserguard® for Ruger LCP II ($239.99) is designed specifically for the Ruger® LCP® II. The powerful LG-497 Laserguard® drastically enhances the defensive capabilities of the pistol. User-installed in moments with no modifications to the firearm, the laser sight simply clamps around the trigger guard. Factory sighted at 50', the laser is also fully user-adjustable for windage and elevation using the provided tool. The laser is activated when the firearm is held in a normal firing grip via a front activation button. This is famously known as Crimson Trace's Instinctive Activation™.
The LG-497 Laserguard is eligible for our Free Batteries For Life program.
Ruger LCP® II Specifications
Caliber: .380 Auto
Capacity: 6+1
Barrel Length: 2.75"
Overall Length: 5.17"
Weight: 10.6 oz.
Grip Frame: Black, High-Performance, Glass-Filled Nylon
Grooves: 6
Feature: Standard Model
Slide Material: Alloy Steel
Barrel Material: Alloy Steel
Slide Width: 0.75"
Sights: Integral
Twist: 1:16" RH
Slide Finish: Blued
Barrel Finish: Blued
Height: 3.71"
CA Approved: No
MA Approved & Certified: No
LG-497 Laserguard® for Ruger LCP II Specifications
Material Polymer
Color Black
Activation Location Front Activation
Attachment Trigger Guard
Battery Type One 1/3N Lithium Battery
Finish Polymer Housing with Rubber Overmold Activation Pad
Installation User Installed
Laser Battery Life Over Four Hours
Activation Mode Pressure Activated
Sighting Factory Sighted at 50'
User Adjustable Windage and Elevation
Warranty Three Year Full Warranty
Wrench Size 0.05
Dot Size Approx. 0.50" at 50'