Donate to Win
Ruger Precision Rifle in 6.5 Creedmoor PLUS Burris XTR II™ Riflescope 3-15x50mm PLUS Crux Axe Suppressor PLUS Powered By Silencer Shop Package PLUS Caldwell & Tipton Range Package
Total Retail Value:
$5,070.00
Donated By:
Sturm, Ruger & Co., Burris Company, Silencer Shop and Battenfeld Technologies
**** Chosen by Winner:
Alfonse D.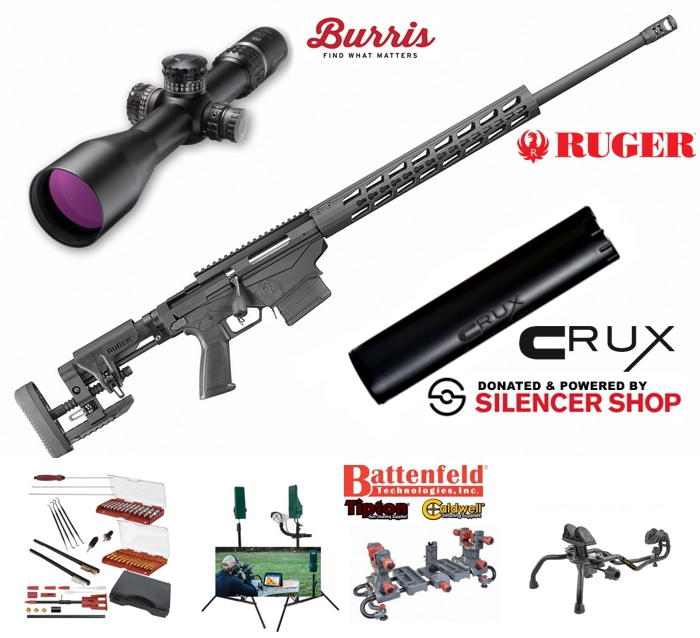 NOTE: Firearm and optional suppressor will not be shipped directly to winner, but rather to Federal Firearms Licensee ("FFL") specified by winner (or selected by Knife Rights or Hill Country Class 3 LLC d.b.a. Silencer Shop (Silencer Shop), in Knife Rights' and Silencer Shop's sole discretion). Winner can only take possession of firearm and suppressor from the FFL(s). Winner must comply with all applicable legal requirements prior to taking possession of firearm or suppressor. Winner is responsible for shipping charge ($40 Pistol/$70 Rifle Caliber) and any fees charged by receiving FFL. Click for complete rules.
Ruger Precision Rifle in 6.5 Creedmoor  ($1,599)

• Medium-contour (.75" at the muzzle) barrel features a Ruger Precision Rifle® Hybrid Muzzle Brake to effectively reduce recoil while minimizing noise and blast to the sides of the shooter (thread protector included)
• 15" free-float M-LOK® handguard is made of hard black anodized aluminum and features M-LOK® slots on all four sides for improved scope clearance for long-range scopes and easy mounting of M-LOK® compatible rails and accessories.
• Cold hammer-forged 4140 chrome-moly steel barrel with 5R Rifling at minimum bore and groove dimensions, minimum headspace and centralized chamber.
• Equipped with a Ruger Precision Rifle® Short-Action Handguard for improved scope clearance for long-range scopes. May be configured with any AR-style handguard.
• 20 MOA Picatinny rail secured with four, #8-40 screws for increased long-range elevation capabilities.
• "Upper" receiver and one-piece bolt are precision CNC-machined from pre-hardened 4140 chrome-moly steel to minimize distortion.
• Three-lug bolt with 70° throw features dual cocking cams and a smooth-running, full diameter bolt body.
• In-line recoil path manages recoil directly from the rear of the receiver to the buttstock, not through a traditional bedding system, providing maximum accuracy potential.
• Ruger® Precision MSR stock with QD sling attachment points features a bottom Picatinny rail and soft rubber buttpad. The left-folding stock hinge is attached to an AR-style buffer tube and accepts any AR-style stock.
• Barrels can be easily replaced by a competent gunsmith using AR-style wrenches and headspace gauges.
• Magazine well front is contoured for a positive grip for bracing against shooting supports.
• Oversized bolt handle for positive bolt manipulation, with 5/16"-24 thread for easy replacement. Bolt disassembly tool is stored in the bolt shroud for easy striker channel cleaning. Also features a Ruger Precision Rifle™ Billet Aluminum Bolt Shroud.
• "Lower" magazine well halves are precision machined from aerospace-grade 7075-T6 aluminum and are Type III hard coat anodized for maximum durability.
• Patent-pending multi-magazine interface functions interchangeably with M110, SR25, DPMS and Magpul-style magazines and AICS magazines (works with some M14 magazines).
• Ruger Marksman Adjustable™ trigger is externally adjustable with a pull weight range of 2.25 to 5.0 lbs.; wrench is stored in the bolt shroud.
• Extended trigger-reach AR-style grip and 45° reversible safety selector. May be configured with any AR-style grip and selector.
• Also includes: two, 10-round Magpul® PMAG® magazines.
The Burris XTR II 3-15x50 mm Rifle Scope ($1,199) features a 5-times zoom system and 25% thicker tube construction than the original XTR™ Riflescope. This is serious, state-of-the-art technology for competitive shooters and tactical operators.
The front focal plane reticle design on this and all high-magnification XTR II riflescopes allows the reticle size to increase or decrease as magnification is increased or decreased. Trajectory compensation is always correct and proportional for the selected power setting. This reticle design is also called first focal plane or FFP.
It has dimensionally-matched precision adjustment knobs and Zero Click Stop technology.
High-performance optics offer Hi-Lume® multi-coated lenses. The lenses optimize target resolution, contrast, and low-light performance.
All hand-fitted internal assemblies are triple spring-tensioned for absolute shockproofing, even under severe recoil. They are vibration resistant, even on extended vehicular patrols.
The riflescope outdelivers its modest price tag. And it's protected forever by the Burris Forever Warranty™ .
The Crux Axe suppressor ($933) donated by Silencer Shop is a continuation of the Saxon's evolution of the sigma baffle design. When we started pushing our technology way beyond normal we found that the Sigma baffle design become more efficient and did more work. So we wondered if we could shrink the design down and get better performance on smaller rifle systems. Boy were we amazed and you will be too.
The Axe is already becoming very popular with those that want the ultimate in miniature size with powerful sound suppression. Using our brake attachment we rate the Axe for full auto/hard semi-auto use. All of our suppressors now come in our Extreme Duty (XD) configuration. This means that you can run them on 5" SBRs. If you want to take a 338 Lapua Magnum and neck that cartridge down to a .260 Cal creating your own custom caliber, then this suppressor will easily handle this extreme setup. We've taken the guess work out of suppressor ratings.....its rated for ANYTHNG fitted for .260/6.5 mm caliber and lower. This is the lightest, quietest, toughest suppressor on the market. This is a new Class of Suppressors and Crux is the Best in this Class. Its why Crux Suppressors has been leading all technology development in the suppressor market for 3 years.  Nowhere can you get a full auto, 5″ SBR rated, suppressor at 9 oz added to your rifle, and only 4 inches added in length. In the World of Precision Rifle (Sniper) Competitions The Axe is King! In its Smaller 6" Length by 1.375″ O.D. and weighing in at Only 9 oz while Delivering 34 - 38 dB Sound Reduction it takes Maneuverability in precision shooting to a whole new level. Get Yours Today!
NOTE: Optional suppressor can be excluded if the winner is ineligible for any reason or prefers not to become subject to the requirements of the National Firearms Act (NFA). Current wait times for NFA transfers conducted by the BATFE are nine to twelve months and could be longer. KR is not responsible for tracking such wait times. Winner is responsible for compliance with the NFA and all state and local laws governing the possession of NFA items in the winner's jurisdiction.*
Powered By Silencer Shop Package (Retail Value $335): If you choose to accept the suppressor prize, but are new to the suppressor world, DON'T WORRY! Silencer Shop is powering every step of the transaction. All required paperwork and fees will be handled for the recipient utilizing the nationwide Powered By Silencer Shop network of dealers. Silencer Shop is including the following*:
FREE NFA Gun Trust
FREE Tax Stamp Payment
FREE Transfer to the Powered By Silencer Shop Dealer of Your Choice
* Additional rules apply for suppressors. Click for complete rules.
The Caldwell & Tipton Range Package is the perfect accompaniment for the Long Range Shooter. It includes the Caldwell Ballistic Precision Long Range Target Camera ($599), Caldwell Stinger Shooting Rest ($460), Tipton Ultra Gun Vice ($160) and Tipton Ultra Cleaning Kit ($120). You'll find all the details on these below.
Ruger Precision Rifle Specs
SKU: 18029

Caliber: 6.5 Creedmoor

Stock: Folding, Adjustable Length of Pull and Comb Height

Barrel Length: 24"

Barrel: Cold Hammer-Forged, 5R Rifling

Twist: 1:8" RH

Grooves:5

Weight: 10.7 lb.

Capacity: 10

Height: 7.30"

Overall Length: 43.25" - 46.75"

Length of Pull: 12" - 15.50"

Folded Length: 34.60"

Width: 3.30"
Burris XTR II™ Riflescope 3-15x50mm Specifications
Magnification: 3-15x
Reticles: SCR™ Mil
Objective Lens Diameter: 58 mm
Clear Objective Lens Diameter: 50 mm
Ocular Lens Diameter: 44.25 mm
Finish: Matte
Focal Plane: FFP
Main Tube Size: 34 mm
Field of View: 36 low – 7.5 high (ft. @ 100 yds.)
Eye Relief: 3.50 – 4.25 in.
Exit Pupil: 11 low – 3.3 high (mm)
Click Value: 1/10 mil; 100-Click Knob
Elevation Adjustment, Total Capability: 110 MOA
Example: 50 MOA is roughly 25 MOA from center.
Windage Adjustment: 55 MOA
Example: 50 MOA is roughly 25 MOA in any direction from center.
Parallax/Focus: Side focus/PA
Adjustable Parallax: 50 yds. – infinity
Length: 14.13 in.
Weight: 30.90 oz. (201031)
30.90 oz. (201032)
Illumination Control: Rotary dial; intermediate "battery saver" stops
Illumination Settings: 11 brightness settings
Battery: CR2032
Crux Axe Suppressor Specifications:
Length: 6"
Length added: 4"
Outside Dia: 1.375"
Weight: 9 oz"
Sound Reduction: 34 - 38 dB
Full Auto/Rapid Fire w/ PMS Brake
Self Locking: Taking active rotational force to rotate it will not come loose or shoot off like others
No Teeth to Wear Out
No Mechanisms to Activate
Under Firearm Rail Compatible
Metal to Metal Aerospace Seal
Conical Locating Feature: Perfect Accuracy Mount
Caldwell Ballistic Precision Long Range Target Camera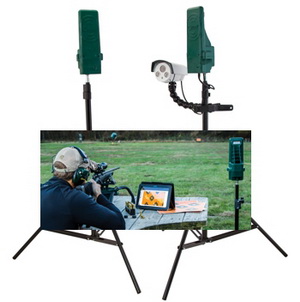 The Caldwell Ballistic Precision Long Range Target Camera was designed by our team of engineers to be the best target camera system available today and affordable so all shoot-ers can have one. The one mile range delivers live streaming HD video footage of your target to your smart phone or tablet through Caldwell?s free app. The Caldwell Ballistic Precision LR Target Camera comes with a premium storage case to store the entire system. A free app is available for download on your smart phone or tablet. It allows you to view live streaming HD video, take pictures, record video and can calculate your group size too. The rechargeable lithium ion battery allows you to use the Target Camera for up to 6 hours. If a more permanent setup is desired it features an external power jack to hook up to an alternative power source. The Caldwell Ballistic Precision LR Target Camera will become one of your best friends on the shooting range and you won't want to leave home without it.
Streams live HD video up to 1 mile away

Fully contained waterproof housings

Breaks down into a compact storage case for easy transport

High Definition camera in 720p

Integrated rechargeable lithium Ion batteries for extended use

Features an external power jack for more permanent installation

Compatible with Android, iPhone and most tablets

Free Full featured App allows you to save pictures, add notes, Calculate group size, save info and Record video
Caldwell Stinger Shooting Rest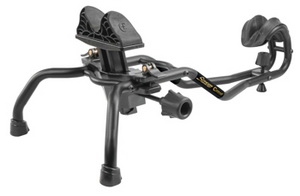 The Caldwell Stinger Shooting Rest combines a great looking design, ultimate user functionality and rock solid stability in an affordable rest. Central to the design is the innovative front elevation system. A spring loaded, height adjustment knob allows for fast, one handed coarse elevation adjustment. The new cutting edge molded front and rear supports protect the gun's finish and provide just the right amount of firmness for rock solid shots. The heavy duty dual metal frame and quick cam locks allow the Stinger's front rest to easily slide forward or backwards then lock in place when the desired length has been achieved. The Stinger Shooting Rest provides versatility and ultimate stability, delivering the shooter maximum accuracy potential.
3" of front elevation

non marring front and rear cradle

cam over front rest locks in place

1″ of rear elevation

rigid steel tube frame

Perfect for extended magazines and lever actions

3.5" of lateral gun fit adjustment

3" of front rest elevation adjustment

Rear fine elevation adjustment

3.5" of gun fit adjustment
Tipton Ultra Gun Vise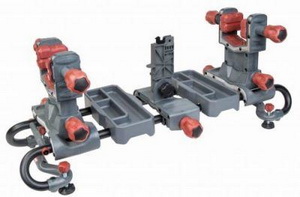 Tipton's Ultra Gun Vise is fully adjustable to fit bolt-action rifles, break-open shotguns, AR-15s, automatic pistols, revolvers, compound bows and crossbows for cleaning, maintenance and upgrading. Modular design allows you to switch up the module assemblies in any configuration to fit virtually any shape firearm. Comes with an AR block that provides a premium base for working on your AR-15. Independently adjustable front and rear clamps hold guns securely and are both height and length adjustable.The extra-wide vise delivers up to 26.5" of clamping distance. Fast-turn knobs ensure quick clamping. Overmolded rubber contact pads prevent damage to firearm. Glass-filled nylon construction with stainless steel reinforcing plates adds rigidity and strength. Leveling feet for easy scope leveling. Movable, removable accessory/tool trays are constructed of stiff, solvent-resistant nylon for years of dedicated firearm cleaning. 32.5"L x 11"H x 10.5''W.
• Rigid Steel Frame
• Modular chassis design
• Different modules can be quickly moved, rearranged or removed anywhere along the rail
• Over molded rubber contact pads throughout the device prevent damage to firearm
• Ball and socket articulating clamp pads allow for the pads to adapt to any surface
• Leveling feet on all corners makes scope leveling easier
• Dual Clamp Technology rigidly holds any gun shape in place
• Tube frame structure allows for complete access to your rifle
• Fast-Turn knobs, for quick clamping
• AR Vise Block module included for working on and cleaning AR-15s
• Front and Rear clamps are both height and length adjustable
• Modular system allows you to clamp components like AR Upper assemblies without needing to have them attached to the lowers.
• Works with break action firearms. You can clamp the forward/barrel while leaving the rear to swing open
• Works with Pistols allowing you to mount optics or clean efficiently
• 2 re-arrangeable or removable accessory trays
• Engineered Glass Filled Nylon construction provides a high level of rigidity while preventing damage to your firearm
• Stainless Steel reinforcing plates throughout the design provide reinforcement and rigidity
• Solvent-resistant materials stand up to years of hard use
Tipton Ultra Cleaning Kit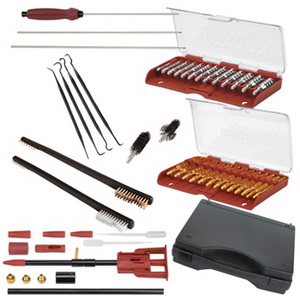 The Tipton Ultra Cleaning Kit was designed for the shooter that wants the absolute highest quality cleaning accessories available in one convenient portable kit. The heart of the kit is a Premium 3-piece Stainless Steel Cleaning Rod with multi bearing handle. The .205 dia, 40" usable length rod is constructed of 17-4 PH stainless to be extremely durable and resist taking a bend (the problem that plagues most multi section rods). The kit features Tipton's 13 pc. Utra Jag Set and 13 pc. Best Bore Brush which both deliver industry leading performance. Also included is Tipton's innovative RAPID Deluxe Bore Guide Set, which enhances the ability to clean any rifle. A variety of picks and cleaning brushes round out the assortment in the kit. All components are neatly contained in the molded plastic case with custom die cut foam for organization. For use with .22 cal and larger rifles.
Highest quality cleaning kit available

3-piece rod constructed of extremely high strength 17-4 PH Stainless Steel

Rapid Deluxe Bore Guide

13 pc Ultra Jag Set with case

13 pc Best Bore Brush Set with case

Two general purpose brushes, 1 nylon, 1 bronze

AR-15 bolt carrier and action brushes

4 polymer cleaning picks

Customized case with die cut closed cell foam with room to hold liquids, patches…

Easy to transport