Donate to Win
Ruger Precision Rimfire in .22LR PLUS Advanced Armament Co. Halcyon Suppressor PLUS Powered By Silencer Shop Package PLUS Crimson Trace Brushline Pro 4-12x40 BDC-Rimfire Scope PLUS Wheeler Sporter Bi-Weaver Style/Picatinny Rings
Total Retail Value:
$1,614.93
Donated By:
Sturm, Ruger & Co, Advanced Armament, Silencer Shop, Crimson Trace & Wheeler
**** Chosen by Winner:
Tyler R.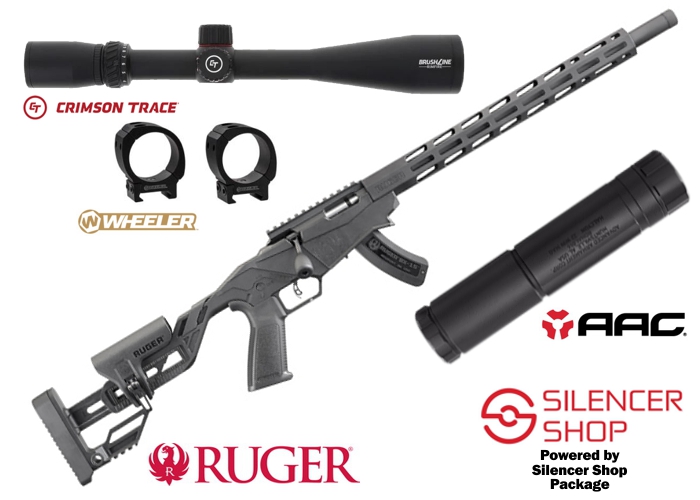 NOTE: Firearm and optional suppressor will not be shipped directly to winner, but rather to Federal Firearms Licensee ("FFL") specified by winner (or selected by Knife Rights or Hill Country Class 3 LLC d.b.a. Silencer Shop (Silencer Shop), in Knife Rights' and Silencer Shop's sole discretion). Winner can only take possession of firearm and suppressor from the FFL(s). Winner must comply with all applicable legal requirements prior to taking possession of firearm or suppressor. Winner is responsible for shipping charge ($40 Pistol/$70 Rifle Caliber) and any fees charged by receiving FFL. Click for complete rules.
Model 8400 Ruger Precision® Rimfire ($599)
Caliber: 22 LR

Stock: Quick-Fit Precision Rimfire Adjustable

Capacity: 15

Barrel Length: 18"

Overall Length:  35.13" - 38.63"

Grip: AR-Pattern

Handguard: Free-Float With Magpul® M-LOK® Slots

Handguard Finish: Black, Hard-Coat Anodized

Thread Pattern: 1/2"-28

Length of Pul:" 12" - 15.50"

Sights: None-Rail Installed

Barrel: Threaded Cold Hammer-Forged 1137 Alloy Steel

Weight: 6.8 lb.

Twist1: 16" R

Molded, one-piece chassis and adjustable buttstock assembly are manufactured with glass-filled nylon for strength, stiffness and stability, making a solid foundation for accuracy each and every shot. Adjustable buttstock features a flat Picatinny bag rider making it easy to affix a rear monopod. A molded-in window provides a tether point for your squeeze bag, and a metal QD pocket makes it easy to secure a sling.

Quick-Fit adjustable Precision Rimfire stock allows length of pull and comb height to be quickly and easily adjusted to get proper fit over a wide range of shooter sizes, outerwear and shooting positions. Indicating marks molded into the chassis help you quickly return to a previous position.

Big-Gun bolt throw adjustment enables shooters to change from a rimfire 1-1/2" bolt throw to a short-action centerfire 3" bolt throw, reducing the chance of short-stroking your bolt in competition.

Ruger Marksman Adjustable™ trigger is externally adjustable, with a trigger pull range of 2.25 to 5 pounds; wrench is stored in a buttstock compartment.

Ruger's own AR-Pattern pistol grip and safety selector provides an extended reach for maximum control and access to the 45°, reversible safety selector. May be configured with most AR-style grips and selectors.

Anodized Picatinny scope base includes 30 MOA elevation for increased long-range capabilities out of the box.

Oversized bolt handle for positive bolt manipulation (same as the Ruger Precision® Rifle).

15" aluminum free-float handguard is black hard-coat anodized aluminum and features Magpul® M-LOK® slots on all four sides for improved scope clearance for long-range scopes and easy mounting of M-LOK-compatible rails and accessories.

Target barrel is cold hammer-forged from 1137 alloy steel to create ultra precise rifling for excellent accuracy. Barrel can be replaced easily by a competent gunsmith using AR-style wrenches and headspace gauges.

1/2"-28 threaded barrel for standard muzzle accessories, like the Silent-SR® suppressor, comes with a factory-installed thread protector covering both the threads and crown.

Accepts all 10/22® magazines.

Also includes: one, 15-round BX-15® magazine.
Introducing the the hard-use Advanced Armament Company Halcyon rimfire suppressor ($449.95). AAC manufactured this durable suppressor from 17-4 PH stainless steel and titanium, and it's ready for whatever you throw at it. AAC silencers are known for impeccable build quality and the Halcyon suppressor is lightweight, modular, and is rated for use with up to 5.7x28mm ammo and is full-auto rated with .22 LR.
This modular Advanced Armament Suppressor is only 3.41 inches long and weighs just 4.5 ounces in its short configuration. The Halcyon suppressor is easily user serviceable as it does not require tools to disassemble or to add the front module. If you're seeking maximum sound suppression, operate the AAC Halcyon in its full length configuration. which is still light weight at only 6.4 ounces and compact at 5.8 inches.
The AAC Halcyon is caliber rated for .17 HMR, .22 WMR, and 5.7x28, and full-auto (on .22 LR). This makes the Halcyon one of the quietest rimfire suppressors: its excellent sound suppression performance (~42 dB reduction or approximately 114 dB in full configuration on a Walther P-22) makes it a must have.
Technical Specification:
Weight: 6.4 oz full, 4.5 oz compact

Length: 5.8" full, 3.41" compact

Diameter: 1.0"

Materials: 17-4PH T6, Titanium

Finish: Black PVD

Attachment: Direct Thread
Powered By Silencer Shop Package (Retail Value $335): If you choose to accept the suppressor prize, but are new to the suppressor world, DON'T WORRY! Silencer Shop is powering every step of the transaction. All required paperwork and fees will be handled for the recipient utilizing the nationwide Powered By Silencer Shop network of dealers. Silencer Shop is including the following*:
FREE Single Shot Trust
FREE Tax Stamp Payment
FREE Transfer to the Powered By Silencer Shop Dealer of Your Choice
* Additional rules apply for suppressors. Click for complete rules.
Crimson Trace Crimson Trace Brushline Pro 4-12x40 BDC-Rimfire Scope ($194.99) The Crimson Trace Brushline 4-12x40mm scope with the BDC Rimfire reticle has been optimized for the small-game hunter. This scope boasts a 1" tube made of aerospace-grade aluminum, making it lightweight yet durable. It has passed extensive environmental testing and is nitrogen-purged, waterproof, shockproof. It boasts MOC-coated ELD glass, and the aggressive knurling on the magnification ring and turret ensures effortless adjustments. All Crimson Trace® scopes are covered under a Lifetime Warranty and is backed by our award-winning customer service team.

Specs
Magnification 4-12x
Reticle CT Custom BDC Rimfire
Focal Plane 2nd
Material aerospace aluminum
Eye Relief (in) 3.5 in
Objective Lens Diameter 40
Tube Diameter 1"
Click Value 1/2 MOA
Turrets Capped
Illumination No
Light Transmittance (%)
Dimensions (W x H x L) 2.3 IN x 2.3 IN x 14 IN
Product Weight (oz) 16.2 oz
Lens Coating green multi coated
Rear Mounting Length (in) 2
Front Mounting Length (in) 2.4
Windage Range 65 MOA
Elevation Range 65 MOA
Side Parallax 50 yd
Zero Stop No
FOV Maximum 23.6 ft
FOV Minimum 7.9 ft
The new Wheeler Sporter Bi-Weaver® Style/Picatinny Rings ($35.99) are going to change the scope ring game. These revolutionary rings feature an easily adjustable base for conversion from Weaver to Pic Rail compatibility and back again. The durable 6061 aluminum construction will last through all your hunts and competitions, featuring 4 offset screws for easy on-the-go adjustments. Rings are available in 1", 30mm, and 34mm Low, Medium, and High to fit all your favorite optics.