Donate to Win
Ruger Custom Shop SR1911 Competition in .45 Auto PLUS Crimson Trace LG-904G Green Master Series Lasergrips for 1911 Full-Size
Total Retail Value:
$2,798.99
Donated By:
Sturm, Ruger & Co. and American Outdoor Brands' Crimson Trace
**** Chosen by Winner:
James B.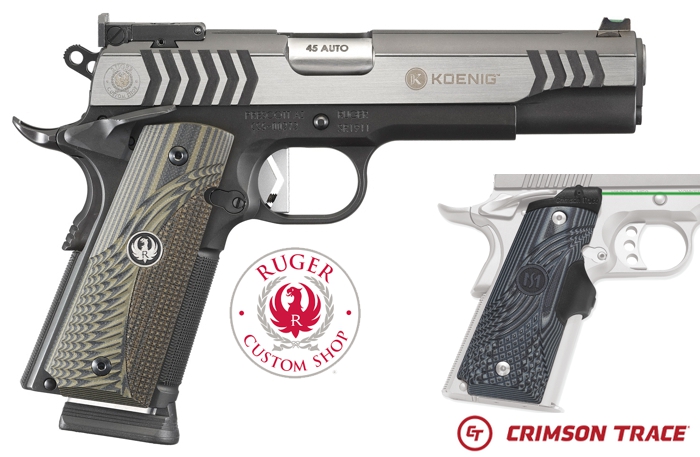 NOTE: Firearm will not be shipped directly to winner, but rather to Federal Firearms Licensee ("FFL") specified by winner (or selected by Knife Rights in Knife Rights' sole discretion). Winner can only take possession of firearm from the FFL. Winner must comply with all applicable legal requirements prior to taking possession of firearm. Winner is responsible for a shipping charge ($40 Pistol Caliber Pistols/$70 Rifle Caliber Pistols and Long Guns) and any fees charged by receiving FFL. Optics and Accessories will ship separately, not via the FFL. Click for complete rules.
Ruger Custom Shop SR1911 Competition in .45 Auto ($2,299)
Hand-fitted slide and frame provide a remarkably tight, yet smooth, action.

Match trigger featuring Koenig Shooting Sports low-mass hammer and competition sear, flat-faced trigger shoe, precision-machined cylinder and slide disconnector and hand-tuned sear spring.

Black nitrided stainless steel frame trimmed with a 25 lines-per-inch checkered front strap, matching checkered mainspring housing and Hogue® Piranha G10 grip panels for a superior grip.

Competition barrel featuring a polished feed ramp, fitted barrel lug, target crown, and unique 1:16" slow twist to increase accuracy with lighter weight match bullets.

Fiber optic front sight and adjustable serrated rear target sight for match speed and accuracy.

Undercut trigger guard and beavertail grip safety for a comfortable high hold designed to reduce muzzle flip.

Machined aluminum TechWell magwell for lightning fast reloads.

Ambidextrous safety, extended magazine release, forged slide stop and integral plunger tube.

Also includes: waterproof, fitted hard case; two, 10-round competition magazines; Ruger® Custom Shop Certificate of Authenticity, challenge coin, cleaning cloth, gun peg and decal.
Specifications
Caliber: .45 Auto
Capacity:8+1
Slide Material: Stainless Steel
Barrel Length: 5"
Grip Frame: Black Nitrided Stainless Steel
Grip Panels: Hogue® Piranha G10
Model Type: Competition
Width: 1.45"
Weight: 40 oz.
Slide Finish: Black Nitrided and Stainless Two-Tone
Front Sight: Fiber Optic
Rear Sight: Adjustable Target
Overall Length: 8.67"
Height: 5.63"
Grooves: 6
Twist: 1:16" RH
CA Approved: No
MA Approved & Certified: No
LG-904G Green Master Series™ Lasergrips® G10 Black/Grey for 1911 Full-Size ($499.99) Machined to fit seamlessly while bringing both artistry and rugged engineering to John Browning's classic 1911 design, Green Master Series™ Lasergrips® are sure to impress. Featuring ergonomic and aggressively durable G10 side panels with a rubber overmolded activation button; these are the ultimate laser sights. Standard to Crimson Trace Lasergrips, the LG-904G features Instinctive Activation™. This means that the laser sight automatically springs to life when the weapon is held in a natural firing grip. Master Series Lasergrips are fully compatible with ambidextrous safeties.
Fits 1911 and 1991A1 full-size frames, including: Auto-Ordnance, Les Baer, Colt, Kimber, Nighthawk Custom, Olympic Arms, Para-Ordnance (full-size, single-stack), Ruger,  Safari Arms, Sig Sauer, Smith & Wesson, Springfield Armory, Taurus, Dan Wesson, Wilson and most other 1911's with grip screws measuring 3-1/16" apart.