Donate to Win
Santa Fe Stoneworks Dama-Tesoro Inlaid Button Lock Folder
Retail Value:
$550.00
Donated By:
Santa Fe Stoneworks
**** Chosen by Winner:
Charles F.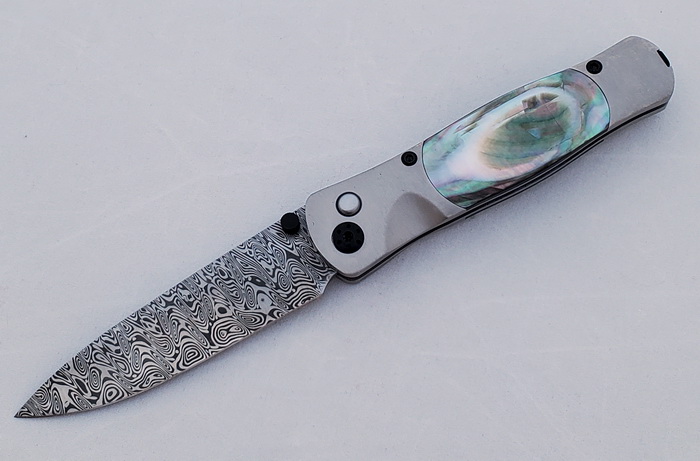 From the Santa Fe Stoneworks Custom Collection, this is the second version of the original Santa Fe Stoneworks button lock knife, the "Tesoro". This model has a Titanium body weighing only 2.3 oz. These Tesoro models feature an Odin Heim Damasteel blade. Damasteel is a one-of-a-kind Damascus made in Sweden. It is best known for its excellent edge retention, corrosion resistance, superior edge sharpness and cutting ability. It is also known as the best overall stainless Damascus-patterned steel resulting in a homogenous product. This knife is designed and made with full attention to detail, fit and form. The Italian word for beautiful or treasured is "Tesoro". We hope you will enjoy your "Dama-Tesoro".
This Dama-Tesoro feature Black Lip Mother of Pearl inlay.
Blade Length: 2.875"
Cutting Edge: 2.75"
Closed Length: 3.50"
Overall Length: 6.375"
Blade Material: Odin Heim Damasteel
Blade Thickness: 0.100"
Blade Style: Drop Point
Blade Grind: Hollow
Handle Material: Titanium Handles with Black Lip Mother of Pearl Inlays
Handle Thickness: 0.375"
Locking Mechanism: Button Lock
Opener: Right Hand Thumb Stud
Pocket Clip: Titanium (Tip-Up, Right/Left Carry)
Weight: 1.8 oz.