Donate to Win
Custom Charles Sauer / Paramount Cutters Damascus Cigar Cutter
Retail Value:
$2,700.00
Donated By:
Charles Sauer - Paramount Cutters
**** Chosen by Winner:
Gary D.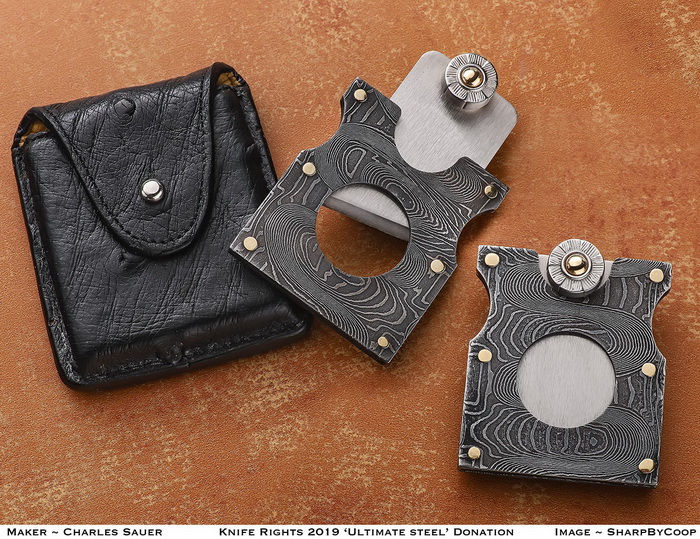 Renowned knifemaker Charles Sauer has embarked on a new venture making custom cigar cutters as Paramount Cutters. This cutter features W's Damascus forged by Charles with Damascus Thumb Knobs with 14K Gold Accents.  14K Gold pins secure the cutter together. The handmade guillotine blade is CPM S30V powder metallurgy high carbon stainless steel with a Rockwell hardness of 61.  An exotic leather pouch is included.
Paramount Cutters creates "One of a Kind" Cigar Cutters, for the finest of tastes. Charles Sauer has been making Damascus and Mosaic Damascus for 25 years. He has retired from being a Bladesmith and is now devoting all his time to his new full-time endeavor, of making Cigar Cutters, Pokers and Match Safes. Cutters can be produced in Damascus, Mosaic Damascus, Gold, or Sterling Silver. Precious stones can be supplied by Paramount Cutters, or the Client may supply stones. Paramount Cutters uses the new 3D printing method of waxes, which bring things to life, and truly 3D, for the Gold, and Sterling Silver Cigar Cutters Your design or Mine... anything is possible!
Read more at:  The Art of the Smoke: Charles Sauer of Paramount Cutters