Donate to Win
Sig Sauer Limited Edition P238 We The People .380 Auto Pistol PLUS Hogue Knives SIG Emperor Scorpion Folder
Total Retail Value:
$977.95
Donated By:
Sig Sauer and Hogue Knives
**** Chosen by Winner:
James D.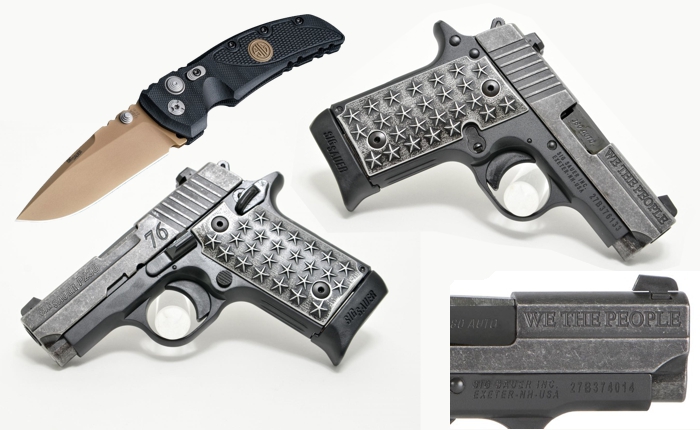 NOTE: Firearm will not be shipped directly to winner, but rather to Federal Firearms Licensee ("FFL") specified by winner (or selected by Knife Rights in Knife Rights' sole discretion). Winner can only take possession of firearm from the FFL. Winner must comply with all applicable legal requirements prior to taking possession of firearm. Winner is responsible for a shipping charge ($40 Pistol Caliber Pistols/$70 Rifle Caliber Pistols and Long Guns) and any fees charged by receiving FFL. Optics and Accessories will ship separately, not via the FFL. Click for complete rules.
This Sig Sauer Limited Edition P238 ($728) is Inspired by a rich patriotic history. This 1911-influenced .380ACP pistol serves as a fitting tribute to the Second Amendment. This uniquely-American pistol features custom aluminum grips adorned with 50 stars (25 per side) that represent each state in the union. A distressed finish on the stainless-steel slide includes patriotic engravings, such as 13 stars atop the slide and "WE THE PEOPLE" on the slide flats. Reacting to many requests from the marketplace for a subcompact SIG SAUER pistol, engineers designed the P238 as a smart looking, small handgun built with the same accuracy and reliability as large frame SIG SAUER pistols. With an overall length of just 5.5 inches a height of 3.9 inches, and weighing just under a pound, the P238 is the ultimate firepower in an all metal frame concealed pistol. The sear and trigger return spring are redesigned to prevent spring over-ride of the ejector during assembly.
This EX-01 3.5" SIG Emperor Scorpion Folder ($249.95)  may at first glance look like a piece of jewelry, but do not let its attractive appearance fool you. Inside this knife beats the heart of a beast! The oversized pivot, stop pin and button lock are heat treated stainless steel which provides a robust lock-up. Integrated spacers are designed to ensure the knife's long-term durability. Finally, a manual safety ensures that the lock cannot disengage, giving fixed blade-like reliability. The EX-01 is an over-engineered tool whose sole purpose is performance. 
This particular EX-01 has a 3.5-inch Drop Point Blade coated in Flat Dark Earth PVD with black G-10 Frame and a Flat Dark Earth SIG Medallion
Sig Sauer Limited Edition P238 We The People Specifications
SKU: 365-9-BXR3 
CALIBER: .380 Auto
ACTION TYPE: Semi-Auto
FRAME SIZE: Micro-Compact
GRIP TYPE: Custom Aluminum Star Grips
FRAME FINISH: Hard Coat Anodized
FRAME MATERIAL: Alloy
SLIDE FINISH: Distressed
SLIDE MATERIAL: Stainless Steel
BARREL MATERIAL: Carbon Steel
TRIGGER: SAO
BARREL LENGTH: 2.7 in (69 mm)
OVERALL LENGTH: 5.5 in (140 mm)
OVERALL WIDTH: 1.1 in (28 mm)
HEIGHT: 3.9 in (100 mm)
WEIGHT: 15.2 oz (431 g)
SIG Emperor Scorpion Specifications
Blade Length: 3.5"
Overall Length: 8.0"
Closed Length: 4.5"
Weight: 4.3oz
Locking Mechanism: Push-Button with Manual Safety
Handle Material (Frame): Solid Black G10
Pocket Clip: Stainless Steel Spoon, Reversible
Blade Style: Drop-Point with Ambidextrous Thumb Studs
Blade Thickness: 0.15"
Blade Material: 154CM Stainless Steel
Blade Hardness: RC 57-59
Blade Treatment: Cryogenically Treated
Blade Finish: Flat Dark Earth PVD