Donate to Win
Sig Sauer Limited Edition P938 We The People 9mm Pistol PLUS Hogue Knives SIG EX-A01 Tactical Automatic Folder
Total Retail Value:
$1,051.95
Donated By:
Sig Sauer and Hogue Knives
**** Chosen by Winner:
Kevin D.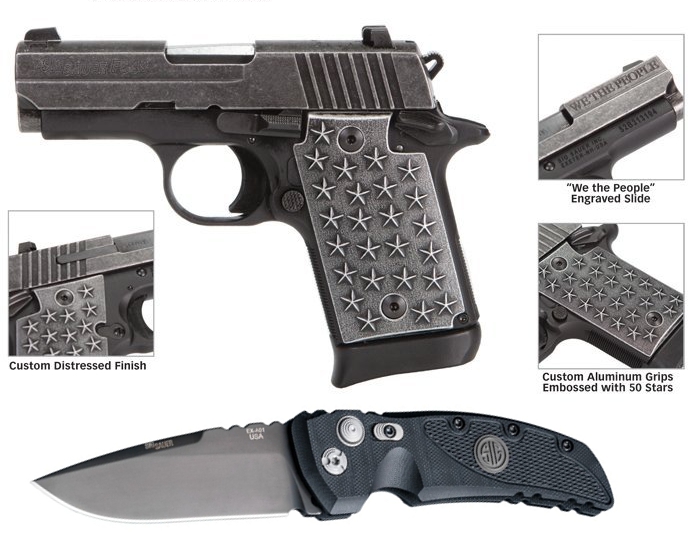 NOTE: Firearm will not be shipped directly to winner, but rather to Federal Firearms Licensee ("FFL") specified by winner (or selected by Knife Rights in Knife Rights' sole discretion). Winner can only take possession of firearm from the FFL. Winner must comply with all applicable legal requirements prior to taking possession of firearm. Winner is responsible for a shipping charge ($40 Pistol Caliber Pistols/$70 Rifle Caliber Pistols and Long Guns) and any fees charged by receiving FFL. Optics and Accessories will ship separately, not via the FFL. Click for complete rules.
NOTE: Restrictions on delivery of automatic knives in accordance with federal and state laws apply. Winner is responsible for compliance with all state and local laws governing automatic (switchblade) knives. Automatic knives CANNOT be shipped to a P.O. Box, we MUST have a STREET ADDRESS. Click for complete rules.
This Sig Sauer Limited Edition P238 ($772) commemorates a rich patriotic history, serving as a fitting tribute to the Second Amendment and SIG SAUER's premier conceal carry platform. This uniquely-American pistol features custom aluminum grips adorned with 50 stars (25 per side) that represent each state in the union. A distressed finish on the stainless-steel slide includes patriotic engravings, such as 13 stars atop the slide and "WE THE PEOPLE" on the slide flats. The single-action trigger gives the P938 unmatched accuracy in a pistol its size. With dimensions just slightly larger than its .380ACP counterpart, the P938 packs seven plus one rounds of 9mm. While it honors the past, We The People is fully equipped for modern day use, with an ambidextrous safety and low-profile high contrast sights.

This SIG EX-A01 Tactical Automatic Folder: 3.5" Grey PVD Drop Point Blade, Solid Black G10 Frame ($279.95) by Hogue Knives may at first glance look like a piece of jewelry, but do not let its attractive appearance fool you. Inside this knife beats the heart of a beast! The oversized pivot, stop pin and button lock are heat treated stainless steel which provides a robust lock-up. Integrated spacers are designed to ensure the knife's long-term durability. The EX-A01 is the auto version of our most popular folder. Adding speed to this already distinguished design may just make the EX-A01 your go to high speed, low drag knife.

This particular EX-A01 has a 3.5-inch Drop Point Blade coated in Grey PVD, Solid Black G10 Frame and Gray PVD SIG Medallion
Sig Sauer Limited Edition P238 We The People Specifications
CALIBER: 9mm Luger
ACTION TYPE: Semi-Auto
GRIP TYPE: Custom Aluminum Star Grips
FRAME SIZE: Micro-Compact
FRAME MATERIAL: Alloy
FRAME FINISH: Hard Coat Anodized
SLIDE FINISH: Distressed
SLIDE MATERIAL: Stainless Steel
BARREL MATERIAL: Carbon Steel
ACCESSORY RAIL: N/A
TRIGGER: SAO
TRIGGER TYPE: Standard
BARREL LENGTH: 3.0 in (76 mm)
OVERALL LENGTH: 5.9 in (150 mm)
OVERALL WIDTH: 1.1 in (28 mm)
HEIGHT: 3.9 in (100 mm)
WEIGHT: 16.0 oz (454 g)
SIG EX-A01 Tactical Automatic Folder Specifications
SPECS
• Blade Length: 3.5"
• Overall Length: 8.0"
• Closed Length: 4.5"
• Weight: 4.3 oz
BLADE
• Style: Drop Point
• Thickness: 0.15"
• Material: 154CM Stainless Steel
• Hardness: RC 57-59
• Treatment: Cryogenically Heat Treated
• Finish: Grey PVD
FEATURES
• SIG SAUER® Firearm Match: Exclusive Series
• Grey PVD SIG™ Medallion
• Locking Mechanism: Automatic Button Deployment with Manual Safety
• Handle Material (Frame): Solid Black G10
• Pocket Clip: Stainless Steel Spoon (Reversible)