Donate to Win
SIG SAUER MCX RATTLER CANEBRAKE .300 BLK PLUS SIG SRD762 Suppressor PLUS SIG ROMEO5 Red Dot Sight PLUS Powered By Silencer Shop Package PLUS Hogue EX-A04 SIG Emperor Scorpion Automatic Folder

Total Retail Value:
$4,410.95
Donated By:
Sig Sauer, Hogue Knives and Silencer Shop
**** Chosen by Winner:
John B.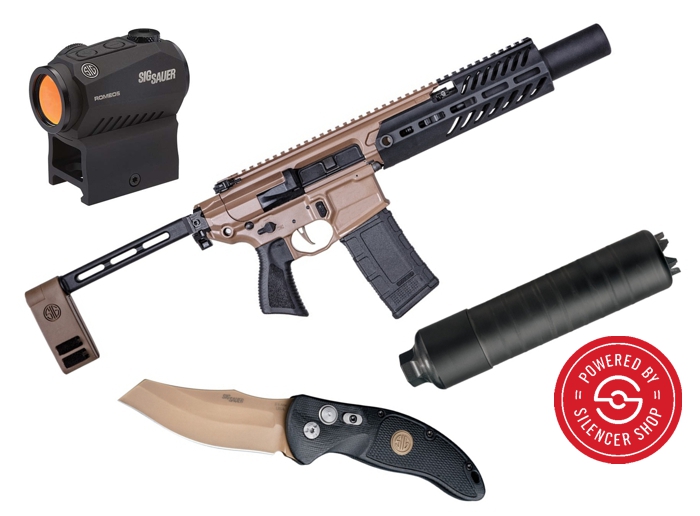 NOTE: Restrictions on delivery of automatic knives in accordance with federal and state laws apply. Winner is responsible for compliance with all state and local laws governing automatic (switchblade) knives. Automatic knives CANNOT be shipped to a P.O. Box, we MUST have a STREET ADDRESS. Click for complete rules.
NOTE: Firearm and optional suppressor will not be shipped directly to winner, but rather to Federal Firearms Licensee ("FFL") specified by winner (or selected by Knife Rights or Hill Country Class 3 LLC d.b.a. Silencer Shop (Silencer Shop), in Knife Rights' and Silencer Shop's sole discretion). Winner can only take possession of firearm and suppressor from the FFL(s). Winner must comply with all applicable legal requirements prior to taking possession of firearm or suppressor. Winner is responsible for shipping charge ($40 Pistol/$70 Rifle Caliber) and any fees charged by receiving FFL. Click for complete rules.
The Sig Sauer MCX Rattler Canebrake ($2,897) is the newest addition to the MCX family.  Created for those that desire the MCX as a suppressed system, and eliminates the need to purchase additional components to do so.  The Rattler Canebrake comes with a factory installed inert training device, making it operable right out of the box while NFA paperwork and waiting periods are completed, and then is easily convertible to run suppressed.
The MCX Rattler Canebrake comes as a suppressor ready platform with an SD handguard and inert training device that mimics the size and weight of the SIGSRD762 suppressor and assure all muzzle flash is past the shooters hand when reaching out on the handguard during operation without a functional suppressor installed.   With the MCX Rattler Canebrake there's no need for the purchase of a shorter barrel kit and SD Handguard to have a suppressed MCX system, simply unthread the inert training device, install your suppressor, and select the appropriate gas setting for your ammunition.
Additional features of the MCX Rattler Canebrake include a 2-stage flat-blade match trigger, Cerakote E190 finished upper and lower, a folding coyote-tan PCB, and comes with one 30-round polymer 300blk Magpul™ magazine.
The SRD762 ($680) is an Inconel 718 direct thread suppressor. Inconel 718, a nickel alloy stainless steel, provides the highest level of durability, particularly with short-barreled hosts using supersonic ammunition. The 5/8"-24tpi threads match the vast majority of modern sporting rifles in .308/762/300BLK on the market today. The rear mount has wrench flats to torque the suppressor to the barrel. These wrench flats can be used as a location to "pin and weld" the suppressor to make a shorter barrel over 16" in total length.ÌÁThe SRD762 is rated up to 300 Win Mag and any other rifle cartridges that are of equal or less projectile diameter, pressure and case capacity. Examples of this would be .204 Ruger, .223/5.56x45mm, 5.45x39mm, 7.62x39mm, 300BLK, 6.5 Grendel, 6.5 Creedmoor, 6.8 Spc, .260 Remington and other cartridges.
The ROMEO5 1x20 mm Red Dot Sight ($219) provides civilians and armed professionals a robust 1x aiming solution for any situation. Ultra-low parallax so point-of-aim is point-of-impact and the red dot remains parallel to the bore of your firearm, no matter what your viewing angle is relative to the optical axis of the sight. Unlimited eye-relief allows you to acquire the aiming point and the target regardless of the position of your eye behind the sight. The readily available CR2032 battery is side-loading, allowing for quick battery replacement (featuring 40,000+ hours or more of life). Dependable waterproof (IPX-7 rated for complete water immersion up to 1 atmosphere) and fog-proof performance.
FEATURES:
-2 MOA Red-Dot provides 10 illumination settings (8 daylight plus 2 NV) for visibility in all light conditions
-MOTAC™ (Motion Activated Illumination) powers up when it senses motion and powers down when it does not. Provides for optimum operational safety and enhanced 40,000+ hour battery life
-Integrated M1913 Picatinny interface provides industry-standard mounting options for a wide range of applications
-Dependable waterproof (IPX-7 rated for complete water immersion up to 1 meter) and fog-proof performance
-Includes a M1913 Picatinny low mount riser and a co-witness 1.41" riser mount
NOTE: Optional suppressor can be excluded if the winner is ineligible for any reason or prefers not to become subject to the requirements of the National Firearms Act (NFA). Current wait times for NFA transfers conducted by the BATFE are nine to twelve months and could be longer. KR is not responsible for tracking such wait times. Winner is responsible for compliance with the NFA and all state and local laws governing the possession of NFA items in the winner's jurisdiction.*
Powered By Silencer Shop Package (Retail Value $335): If you choose to accept the suppressor prize, but are new to the suppressor world, DON'T WORRY! Silencer Shop is powering every step of the transaction. All required paperwork and fees will be handled for the recipient utilizing the nationwide Powered By Silencer Shop network of dealers. Silencer Shop is including the following*:
FREE NFA Gun Trust
FREE Tax Stamp Payment
FREE Transfer to the Powered By Silencer Shop Dealer of Your Choice
* Additional rules apply for suppressors. Click for complete rules.
This Hogue Knives EX-A04 SIG Emperor Scorpion Automatic Folder (279.95) has a 3.5" FDE PVD Wharncliffe Blade, Solid Black G10 Frame and Flat Dark Earth PVD SIG™ Medallion
SIG SAUER MCX RATTLER CANEBRAKE Specifications
OPERATING SYSTEM: Gas Piston
CALIBER: 300 Blk
OVERALL LENGTH: 29.25 in (743 mm)
OVERALL WIDTH: 2.8 in (71 mm)
HEIGHT: 8 in (203 mm)
BARREL LENGTH: 5.5 in (140 mm)
WEIGHT: 6.5 lb (29 kg)
MAG TYPE: AR-15
SIG SAUER SRD762 Silencer Specifications
CALIBER: 300 Blk / 300 Win Mag / 7.62 NATO
WEIGHT: 15.5 oz (439 g)
DIAMETER: 1.625 in (41 mm)
OVERALL LENGTH: 6.6 in (168 mm)
THREADS: 5/8 in - 24 tpi
ATTACHMENT TYPE: Direct Thread
MATERIAL: Inconel 718 / Stainless Steel
SIG SAUER ROMEO5 Specifications
Recticle: Dual Option -2 MOA red dot
LED: Ultra-efficient red LED
Electronics: MOTAC™ (Motion Activated Illumination System)
Housing: Lightweight aircraft grade CNC Aluminum
Battery: Side Loaded CR2032 - 5,000 Hour Rated
Waterproof: IPX-7 rated for complete water immersion up to 1 atmosphere
SIG EX-A04 Emperor Scorpion Automatic Folder Specifications
• Blade Length: 3.5"
• Overall Length: 8.0"
• Closed Length: 4.5"
• Weight: 4.48 oz
• Style: Modified Wharncliffe
• Thickness: 0.15"
• Material: 154CM Stainless Steel
• Hardness: RC 57-59
• Treatment: Cryogenically Heat Treated
• Finish: Flat Dark Earth PVD
• Flat Dark Earth PVD SIG™ Medallion
• Locking Mechanism: Automatic Button Deployment with Manual Safety
• Handle Material (Frame): Solid Black G10
• Pocket Clip: Stainless Steel Spoon (Reversible)