Donate to Win
Smith & Wesson M&P9 SHIELD EZ PLUS Crimson Trace LG-459G Laserguard PLUS Crimson Trace CWL-300 Handheld Tactical Light PLUS Smith & Wesson M&P Officer Tactical Range Bag PLUS Smith & Wesson Throwing Knives
Total Retail Value:
$962.96
Donated By:
Smith & Wesson and Crimson Trace
**** Chosen by Winner:
Paul A.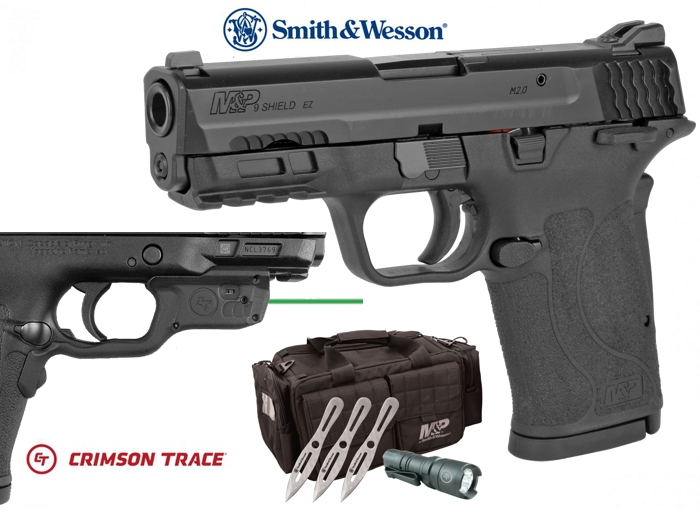 NOTE: Firearm will not be shipped directly to winner, but rather to Federal Firearms Licensee ("FFL") specified by winner (or selected by Knife Rights in Knife Rights' sole discretion). Winner can only take possession of firearm from the FFL. Winner must comply with all applicable legal requirements prior to taking possession of firearm. Winner is responsible for a shipping charge ($40 Pistol Caliber Pistols/$70 Rifle Caliber Pistols and Long Guns) and any fees charged by receiving FFL. Optics and Accessories will ship separately, not via the FFL. Click for complete rules.
M&P®9 SHIELD™ EZ® Manual Thumb Safety - SKU: 12436 ($479) Built for personal and home protection, the new M&P9 Shield EZ pistol is the latest addition to the M&P M2.0™ family and features an 8+1 round capacity and a 3.675" barrel. The M&P9 Shield EZ pistol ships with two 8 round magazines that feature a load assist tab for quick, easy loading, as well as a picatinny-style equipment rail to accommodate accessories. The pistol also features an optimal M&P pistol 18-degree grip angle for a natural point of aim, white-dot front and adjustable white-dot rear sights, and a light, crisp trigger.

Other Features
• Easy to rack slide
• Crisp, light trigger with tactile and audible reset
• Includes 2 easy-to-load magazines
• Grip safety
• Windage adjustable, TruGlo® Rear Night Sight
• Disassembles without pulling trigger
• Grip texture optimized to size and recoil
• Tactile Loaded Chamber Indicator (TLCI)
• Picatinny-Style Rail
• Perfect size for nightstand, carry or a day at the range
• Reversible magazine release
• Optimal 18º grip angle for natural point of aim
• Armornite® – Durable, Corrosion Resistant Finish
The Crimson Trace LG-459G Laserguard® for Smith & Wesson® M&P®9EZ™, M&P®380EZ™ & M&P®22 Compact ($319.99) is a powerful green laser sight. The LG-459G is quickly and easily user-installed in moments and offers a front activation button powered by Crimson Trace's Instinctive Activation™ technology. The laser sight will provide two (2) hours of battery life with a single 1/3N Lithium battery (included). As with all Crimson Trace laser sights, the LG-459G is completely user-adjustable for windage and elevation.

M&P®9 SHIELD™ EZ® Specifications
SKU: 12436
Caliber: 9mm
Capacity: 8+1
Barrel Length: 3.675" / 9.3 cm
Overall Length: 6.8"
Front Sight: White Dot
Rear Sight: White Dot Adjustable for Windage
Action: Internal Hammer Fired
Grip: Polymer
Weight: 23.2 oz / 657.7g
Barrel Material: Stainless Steel - Armornite® Finish
Slide Material: Stainless Steel - Armornite® Finish
Frame Material: Polymer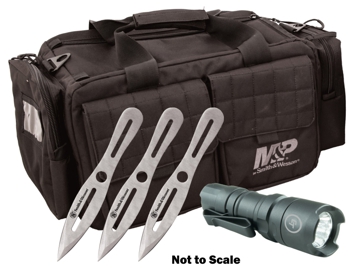 CWL-300 Handheld Tactical Light ($69.99) The CWL-300 is a compact and powerful handheld tactical flashlight from the brand you trust for personal protection optics. Featuring high & low modes with momentary and constant activation, the CWL-300 boasts 200 Lumens (peak) to 50 Lumens (low) and offers 2 hours to 8 hours (respectively) of battery life. The CWL-300 Tactical Light is waterproof up to 1 meter.
Smith & Wesson M&P Officer Tactical Range Bag ($64.99) All Smith & Wesson® and M&P® gun cases and bags are designed with quality and durability in mind. Built to hold under extreme use and harsh conditions, these cases and bags have features that will protect your gear no matter what. Our Officer Tactical Range Bag has durable ballistic fabric and thick nylon strapping to ensure it will outlast the nastiest circumstances. The heavy-duty hardware, oversized zippers, and top-of-the-line hook and loop closures are sure to keep everything exactly how you had it, all in one piece.

The Smith & Wesson 3 Pack 10" Throwing Knives ($28.99) have stainless-steel dual edged spear point blades. A polyester belt sheath is included.