Donate to Win
Smith & Wesson M&P9 M2.0 Compact Pistol including Crimson Trace Green Laserguard PLUS Smith & Wesson M&P Out The Front Assisted-Opening Knife
Total Retail Value:
$768.99
Donated By:
Smith & Wesson
**** Chosen by Winner:
Zach O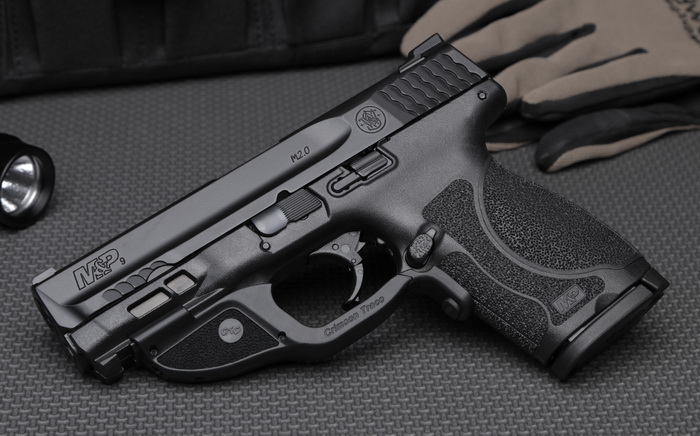 NOTE: Firearm will not be shipped directly to winner, but rather to Federal Firearms Licensee ("FFL") specified by winner (or selected by Knife Rights in Knife Rights' sole discretion). Winner can only take possession of firearm from the FFL. Winner must comply with all applicable legal requirements prior to taking possession of firearm. Winner is responsible for a shipping charge ($40 Pistol Caliber Pistols/$70 Rifle Caliber Pistols and Long Guns) and any fees charged by receiving FFL. Optics and Accessories will ship separately, not via the FFL. Click for complete rules.
M&P®9 M2.0™ 4" Compact Crimson Trace® Green Laserguard
The M&P M2.0 pistol, the newest innovation to the respected M&P polymer pistol line. This one comes complete with a factory installed Crimson Trace Green Laserguard with Instinctive Activation™. Designed for personal, sporting, and professional use, the M&P M2.0 delivers an entirely new platform, introducing innovative features in nearly every aspect of the pistol, including trigger, grip, frame, and finish. Highlights of the M&P M2.0 pistol include an extended stainless-steel chassis and a low barrel bore axis for reduced muzzle rise and faster aim recovery. The M&P M2.0 pistol further improves performance with a fine-tuned, crisper trigger, lighter pull and a tactile and audible reset. The pistol includes an aggressively-textured grip and four interchangeable palmswell inserts for optimal hand-fit and trigger reach. Includes two magazines, a limited lifetime warranty and a lifetime service policy.
Features
• Low barrel bore axis makes the M&P pistol comfortable to shoot reducing muzzle rise and allowing for faster aim recovery.
• Optimal 18-degree grip angle for natural point of aim.
• Four interchangeable palmswell grip inserts for optimal hand fit and trigger reach - S, M, ML, L.
• Aggressive grip texture for enhanced control.
• New M&P M2.0 crisp trigger with lighter trigger pull.
• Tactile and audible trigger reset.
• Accurate 1 in 10" twist M&P M2.0 barrel.
• Extended rigid embedded stainless steel chassis to reduce flex and torque when firing.
• Armornite® durable corrosion resistant finish.
The Crimson Trace Green Laserguard is a seamlessly integrated green laser sight designed to match the unique design of the pistol, and features our patented Instinctive Activation™ - meaning the laser is activated when the gun is held in a natural firing grip. It is fully adjustable for windage and elevation. Features a powerful green laser diode for improved laser targeting in all lighting conditions.

M&P®9 M2.0™ 4" Compact Crimson Trace® Green Laserguard Specifications
SKU: 12413
Caliber: 9mm
Capacity: 15+1
Barrel Length: 4" / 10.2 cm
Overall Length: 7.3"
Front Sight: Steel - White Dot
Rear Sight: Steel - White Two Dot
Action: Striker Fire
Grip: Polymer
Weight: 24.0 oz / 680.4g
Barrel Material: Stainless Steel - Armornite® Finish
Slide Material: Stainless Steel - Armornite® Finish
Frame Material: Polymer
Purpose: Concealed Carry, Home Protection, Law Enforcement & Military, Personal Protection, Recreational Shooting

Green Laserguard Specifications:
Material: Polymer
Color: Black
Activation Location: Front Activation
Attachment: Trigger Guard
Battery Type: One 1/3N Lithium Battery
Finish: Polymer Housing with Rubber Overmold Activation Pad
Laser Battery Life: Over Two Hours
Activation Mode: Pressure Activated
Sighting: Factory Sighted at 50'
User Adjustable: Windage and Elevation
Dot Size Approx. 0.50" at 50'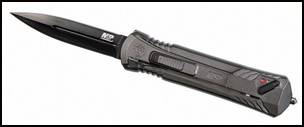 M&P Out The Front Knife ($69.95) This M&P Spring Assisted OTF knife sports a double-edged, black coated spear point blade and a lightweight tan aluminum handle. The knife offers spring assisted single-action deployment with a press of the thumb slide. A locking feature at the top of the handle releases the blade for manual closing. The handle sports notched finger grooves for improved grip and added style. It also includes a stainless steel pocket clip for tip-down carry. A sliding safety switch keeps the blade secure in the closed position.
Features:
Spring assisted OTF mechanism offers rapid single-action blade deployment.

Sliding safety lock allows safe storage and secure pocket carry.

Includes a stainless steel pocket clip and a glass breaker for striking applications.