Retail Value:
$1,419.00
Donated By:
Smith & Wesson
**** Chosen by Winner:
Darien M.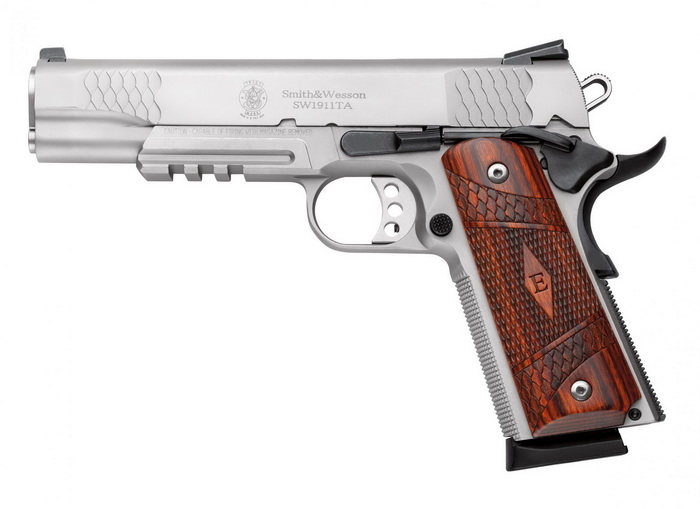 NOTE: Firearm will not be shipped directly to winner, but rather to Federal Firearms Licensee ("FFL") specified by winner (or selected by Knife Rights in Knife Rights' sole discretion). Winner can only take possession of firearm from the FFL. Winner must comply with all applicable legal requirements prior to taking possession of firearm. Winner is responsible for a shipping charge ($40 Pistol Caliber Pistols/$70 Rifle Caliber Pistols and Long Guns) and any fees charged by receiving FFL. Optics and Accessories will ship separately, not via the FFL. Click for complete rules.

Smith & Wesson SW1911 E-Series .45 Auto ($1,419)  Precision. Accuracy. Performance. With a remarkable selection of SW1911's, Smith & Wesson continues its tradition of innovation and its commitment to bringing shooters the finest quality high performance firearms. Smith & Wesson's variations of John Moses Browning's extremely popular 1911 design can be seen in the production, Pro Series, and Performance Center line of SW1911 pistols. These 1911's are manufactured with a wide variety of materials, finishes and unique features and are favorites in any collection.
SKU 108411
Model SW1911TA E-Series™ Tactical Accessory Rail
Caliber 45 AUTO
Capacity 8+1
Color Silver
Safety Grip & Thumb
Length 8.7
Front Sight Tritium Night Sight
Rear Sight Tritium Night Sight
Action Single Action
Grip Wooden Laminate E-Series™
Barrel Material Stainless Steel
Slide Material Stainless Steel
Frame Material Stainless Steel
Slide Finish Satin Stainless
Frame Finish Matte Silver
Barrel Length 5" (12.7 cm)
Weight 41.6 oz.