Donate to Win
Smith & Wesson SW1911 E-Series .45 Auto PLUS Smith & Wesson M&P Out The Front Assisted-Opening Knife
Total Retail Value:
$1,048.95
Donated By:
Smith & Wesson
**** Chosen by Winner:
Frank W.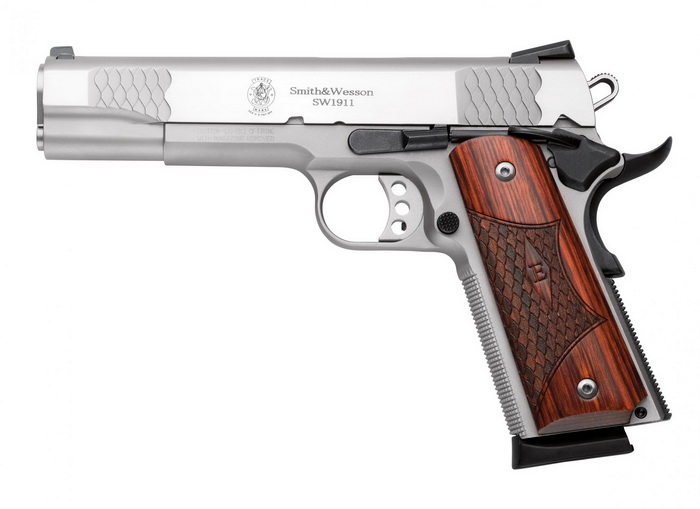 NOTE: Firearm will not be shipped directly to winner, but rather to Federal Firearms Licensee ("FFL") specified by winner (or selected by Knife Rights in Knife Rights' sole discretion). Winner can only take possession of firearm from the FFL. Winner must comply with all applicable legal requirements prior to taking possession of firearm. Winner is responsible for a shipping charge ($40 Pistol Caliber Pistols/$70 Rifle Caliber Pistols and Long Guns) and any fees charged by receiving FFL. Optics and Accessories will ship separately, not via the FFL. Click for complete rules.
Precision. Accuracy. Performance. With a remarkable selection of SW1911's, Smith & Wesson continues its tradition of innovation and its commitment to bringing shooters the finest quality high performance firearms. Smith & Wesson's variations of John Moses Browning's extremely popular 1911 design can be seen in the production, Pro Series, and Performance Center line of SW1911 pistols. These 1911's are manufactured with a wide variety of materials, finishes and unique features and are favorites in any collection.
SKU: 108482
Model: SW1911 E-Series™
Caliber: 45 AUTO
Capacity: 8+1
Safety: Grip & Thumb
Barrel Length: 5" / 12.7 cm
Overall Length: 8.7"
Front Sight: White Dot
Rear Sight: White 2-Dot
Action: Single Action
Grip: Wooden Laminate E-Series™
Weight: 39.6 oz / 1,122.6g
Barrel Material: Stainless Steel
Slide Material: Stainless Steel
Frame Material: Stainless Steel
Slide Finish: Stainless Steel
Frame Finish: Satin Stainless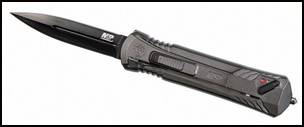 M&P Out The Front Knife ($69.95) This M&P Spring Assisted OTF knife sports a double-edged, black coated spear point blade and a lightweight tan aluminum handle. The knife offers spring assisted single-action deployment with a press of the thumb slide. A locking feature at the top of the handle releases the blade for manual closing. The handle sports notched finger grooves for improved grip and added style. It also includes a stainless steel pocket clip for tip-down carry. A sliding safety switch keeps the blade secure in the closed position.
Features:
Spring assisted OTF mechanism offers rapid single-action blade deployment.

Sliding safety lock allows safe storage and secure pocket carry.

Includes a stainless steel pocket clip and a glass breaker for striking applications.