Donate to Win
Smith & Wesson Performance Center T/C Long Range Rifle in 6.5 Creedmoor PLUS Crimson Trace CTL-5324 5-Series Tactical Riflescope PLUS Wheeler Picatinny Scope Rings PLUS Caldwell HydroSled PLUS Caldwell Stable Table Lite PLUS Crimson Trace CWL-300 Handheld Tactical Light PLUS Smith & Wesson M&P Officer Tactical Range Bag PLUS Smith & Wesson Throwing Knives
Total Retail Value:
$3,844.93
Donated By:
Smith & Wesson and American Outdoor Brands' Crimson Trace, Wheeler, and Caldwell
**** Chosen by Winner:
Steven F.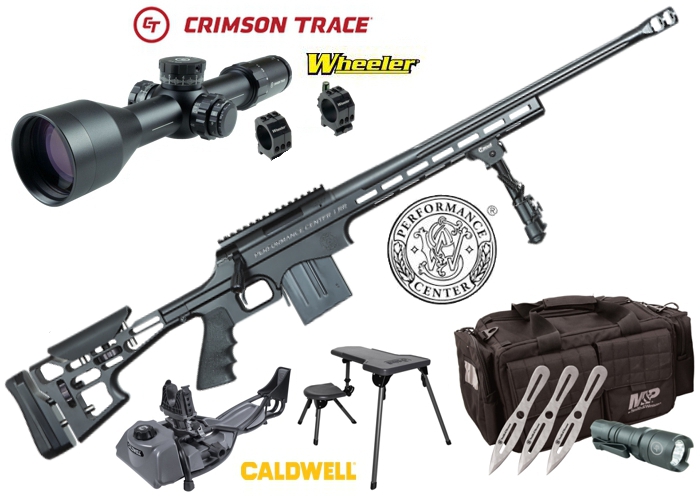 NOTE: Firearm will not be shipped directly to winner, but rather to Federal Firearms Licensee ("FFL") specified by winner (or selected by Knife Rights in Knife Rights' sole discretion). Winner can only take possession of firearm from the FFL. Winner must comply with all applicable legal requirements prior to taking possession of firearm. Winner is responsible for a shipping charge ($40 Pistol Caliber Pistols/$70 Rifle Caliber Pistols and Long Guns) and any fees charged by receiving FFL. Optics and Accessories will ship separately, not via the FFL. Click for complete rules.
Performance Center T/C Long Range Rifle ($1,211)  The Performance Center T/C Long Range Rifle in 6.5 Creedmoor also includes a 20 MOA picatinny-style rail and 5R rifled, fluted barrel for enhanced accuracy. Built for the precision shooter, featuring an adjustable cheek piece and butt plate for a custom fit and built-in Magpul® M-LOK® slots for quick, easy mounting of accessories. The rifle features a threaded barrel with muzzle brake, and a Performance Center trigger that's adjustable from 2.5 to 3.5 pounds for precise tuning.  Tactical-life.com / 10 Best Rifles 2018
Features
• Adjustable cheek pieces and butt plate
• Magpul® M-LOK® cuts for mounting accessories
• 20 MOA picatinny-style rail
• Performance Center® Trigger adjusts from 2.5 lbs to 3.5 lbs
• Caldwell® bi-pod
• Soft gun case
Specifications
Weight: 184.0 oz / 5,216.3g
Caliber: 6.5 Creedmoor
Capacity: 10
Barrel Material: 4140 Steel
Crimson Trace CTL-5324 5-Series Tactical Riflescope 3-24x56mm MIL/MIL FFP ($1,999.99) The CTL-5324 5-Series™ is a feature rich 3-24x56mm premium long-range rifle scope that has been purposefully built from the ground up. The scope's First Focal Plane (FFP) and impressive Japanese ED glass clarity makes for an unparalleled shooting experience. The custom designed LR1-MIL advanced reticle is fully illuminated and offers quick hold-over points for windage and elevation. The exposed .1 MIL tactical turrets provide a precise and rugged feel when dialing for the most accurate of shots. The entire Crimson Trace Scope Line offers EZ Mount Leveling Indicators for quick and exact mounting and red alignment ring for proper eye placement. All Crimson Trace Scopes are part of the FREE Batteries For Life program and are covered under the Lifetime Protection Guaranteed Warranty.
POWER: The 3-24x56mm scope makes objects seem three to 24 times closer than with the naked eye, featuring a 56mm Objective Lens constructed to meet the needs of precision and tactical shooters who demand the best. Coupled with an Advanced Illuminated Reticle to provide quick target acquisition and adjustments.
FIRST FOCAL PLANE (FFP): Glass etched, LR1-MIL Advanced Illuminated reticle sits in front of the magnification mechanism, scaling to provide correct ballistic hold points at any range. This feature allows the reticle to be sighted in at any part of the magnification scale and precise range measurments. Numerous windage holding points allow for on the fly adjustments during ever-changing environmental conditions. Premium, Fully Multi-Coated ED Glass leads to enhanced image quality across the visual spectrum.
EXPOSED TURRETS with MR1-MIL ADVANCED RETICLE: Allowing for elevation and windage adjustments makes the 5-Series optimal for long range precision, hunting applications while being lightweight. Zero-Stop for simplified return to zero and 2nd rotation indicator. Incredibly forgiving eye-box with diopter adjustment to maintain a focused reticle.
QUALITY MANUFACTURING: Single piece 34mm Anodized Aluminum main tube is constructed to handle the most demanding environments. Waterproof and Fog proof with coated lenses to protect from scratches, oil, and debris. Nitrogen purged and O-Ring sealed.
WARRANTY: Crimson Trace's Lifetime Protection Guaranteed Warranty and FREE Batteries for Life guarantees a lifetime of performance.
Click for Full Features and Specifications
Wheeler 2 Piece Picatinny Scope Rings ($59.99) Securely mount your scope to any picatinny rail. The 6-screw design provides increased clamping force to keep the optic in place during recoil and the integrated articulating anti-cant mechanism helps keep your gun level for your long range shots. Centerline height from top of rail: Low - 0.775 in Medium - 0.950 in High - 1.100 in
Caldwell HydroSled

The Caldwell® HydroSled™ Shooting Rest ($272.99) features a weight reservoir that holds up to 50 lbs. of various media types, including dry weight, water, sand, pebbles etc. (Media not included.) The added weight plus an advanced rear recoil absorbing pad reduce recoil by as much as 95%. A rack and pinion elevation ram allows precise adjustments for elevation and windage, and a steel tube frame with rubber-capped feet provides a solid platform for fine accuracy. Padded forearm and buttstock cradles protect firearm finish, and an elastic front retention strap reduces muzzle jump. When empty, the Caldwell HydroSled Shooting Rest is easily transported.
Weight reservoir holds wet or dry media

Advanced rear recoil absorbing pad

Reduces recoil by as much as 95%

Rack and pinion elevation ram

Padding protects firearm finish

Steel tube construction
Caldwell Stable Table® Lite ($136.99) Wish you could conveniently bring your own shooting table to the range? Now you can with the Caldwell Stable Table® Lite. This shooting table is lightweight and durable, making it the perfect solution to overcrowded or rundown ranges. Setup and adjustments are fast and simple with a rotating seat and table depth adjustment to ensure maximum shooting comfort. No matter if it's raining, snowing, the shooter is right handed or left handed, this table is ready for all situations with its ambidextrous seat pivots and all-weather tabletop and seat.
Table is 23: wide and 34" long with a leg height of 32" and a seat height of 17"

Ambidextrous, rotating seat, coupled with table depth adjustment, for maximum shooting comfort

Fully collapsible, easy transportation and storage

All-weather tabletop and seat can support up to 250 pounds of weight

Weighs less than 30 pounds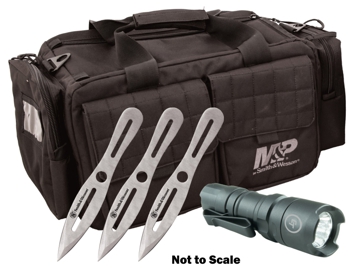 CWL-300 Handheld Tactical Light ($69.99) The CWL-300 is a compact and powerful handheld tactical flashlight from the brand you trust for personal protection optics. Featuring high & low modes with momentary and constant activation, the CWL-300 boasts 200 Lumens (peak) to 50 Lumens (low) and offers 2 hours to 8 hours (respectively) of battery life. The CWL-300 Tactical Light is waterproof up to 1 meter.
Smith & Wesson M&P Officer Tactical Range Bag ($64.99) All Smith & Wesson® and M&P® gun cases and bags are designed with quality and durability in mind. Built to hold under extreme use and harsh conditions, these cases and bags have features that will protect your gear no matter what. Our Officer Tactical Range Bag has durable ballistic fabric and thick nylon strapping to ensure it will outlast the nastiest circumstances. The heavy-duty hardware, oversized zippers, and top-of-the-line hook and loop closures are sure to keep everything exactly how you had it, all in one piece.

The Smith & Wesson 3 Pack 10" Throwing Knives ($28.99) have stainless-steel dual edged spear point blades. A polyester belt sheath is included.