Donate to Win
SOG Studies and Observations Group "Survival" Package #2
Total Retail Value:
$732.79
Donated By:
SOG Studies and Observations Group
**** Chosen by Winner:
Elliott O.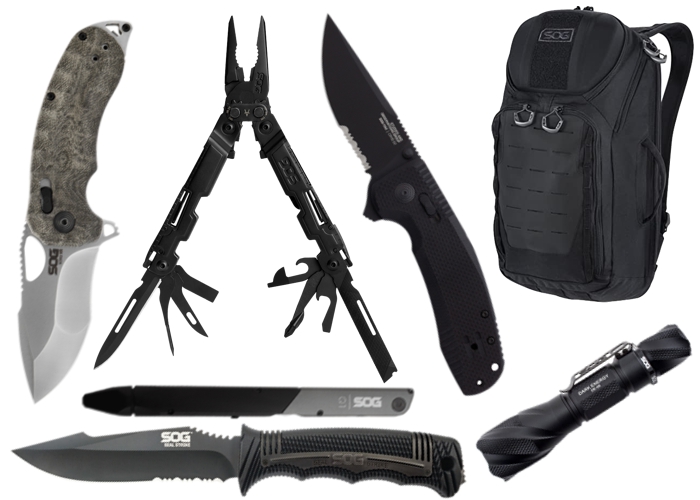 Our friends at SOG Studies and Observations Group have assembled a very useful set of Survival Gear.

1) SOG Kiku XR - Natural Linen Micarta ($198.95) - With a powerful styling that harkens to its Japanese DNA, the muscular Kiku XR makes a subtle statement of strength wherever it's carried. The high-utility modified tanto blade cuts under virtually every condition, and the linen micarta handle provides for a sure, secure grip. SOG's XR Lock enables smooth ambidextrous single-handed opening in three different ways, with extremely secure blade-lock once open. The next generation of designed and engineered performance. Expertly blending form and function, the Kiku XR is a rugged solution for situations that require a quick opening, super sharp knife.
2) SOG-TAC XR ($88.95) - Features a 3.4 inch cryogenically heat-treated stainless steel D2 blade and ultra-grip G10 handle. SOG's XR Lock enables smooth ambidextrous single-handed opening in three different ways, with extremely secure blade-lock once open. The next generation of designed and engineered performance.

3) SOG Seal Strike - Black, Sheath ($99.95) - The newest member of the SEAL fixed-blade knife family, the SEAL Strike takes everything SOG has learned from years of real-world deployment and combines it into one spectacular package. This quality AUS-8 stainless steel, partially serrated blade is an excellent field companion for outdoor and underwater adventures. The SEAL Strike is serious business and carries on the tradition of supplying the world's elite military forces. It comes with a standard hard nylon sheath or a deluxe model with built-in cord cutter, single-stage sharpener, fire starter, and larger attachment points. Be at the ready with the fully capable SEAL Strike.

4) PowerAccess - Black ($69.95) - Pocketable, streamlined, and comfortable: the PowerAccess is the ultimate EDC multi-tool. Equipped with our patented gear-driven Compound Leverage mechanism, the PowerAccess doubles the torque at plier jaws maintaining grip and reducing chances of slipping off nuts and bolts. The outward-opening components are easily accessible with the multi-tool closed and will lock securely open. When closed, the PowerAccess has a centered, magnetic hex bit driver that can utilized any widely available ¼" hex bit.

5) Baton Q1 ($29.95) - Methodical and careful, the Baton Q1 ensures everyday basics are accounted for. Its tool arsenal is aimed toward tackling office and administrative tasks. This trusty tool is not only travel-friendly, it is also always ready to capture every plan, detail, and idea. The Q1 comes with a pressurized ballpoint pen cartridge with a fine point and blue ink. This is replaceable with any D1 pen refill.

6) Dark Energy DE-06, 750 Lumens ($144.95) - SOG's line of flashlights, Dark Energy, pierces the night with ease. Our goal was simple. We wanted you to have the brightest flashlights of their size. You will be surprised at the power and durability of these lights as soon as you hold one. Packing 750 lumens in the palm of your hand, you can light up the tree tops and down trails. The rechargeable SOG Dark Energy DE-06 has the power and range for many tasks. We wanted to be able to utilize different power settings quickly, so we developed a single-button switch that allows users to go through 5 modes: momentary on/off, 100% power, 40% power, reading, and tactical strobe without the need to press and hold the button. The 6061 T6 aluminum housings are aggressively checkered - more than any other - and are coated in a Class III anodizing for maximum durability and grip. Powered by a rechargeable 18650 Battery.
7) SOG TOC 20 Backpack ($95.99) - The SOG TOC is the ultimate 20L daypack for an urban warrior or forest adventurer. Its light overall weight makes it easy to tote around. The quick-adjust shoulder straps, padded hip belt, and rigid suspension keep it comfortable all day long. As the Tactical Operating Center, this pack houses plenty of options for storage and organization: the main compartment has multiple interior zippered pockets and small sleeves, the molded top contains a small organizing system for quick access items, two side access pockets live on the front of the pack, and a pass-through side access laptop compartment keeps your notebook safe. Whether you are hopping on the subway or jumping over creeks, the TOC makes a great companion for the modern user all day long.