Donate to Win
SOG Studies and Observations Group "Pentagon" Package
Total Retail Value:
$709.85
Donated By:
SOG Studies and Observations Group
**** Chosen by Winner:
John S.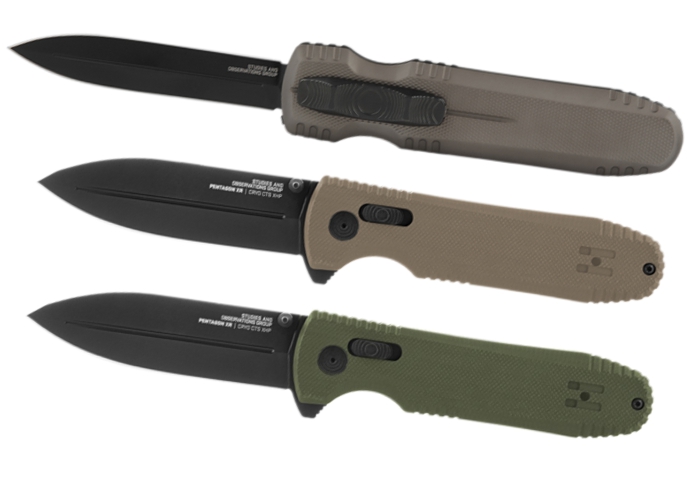 NOTE: Restrictions on delivery of automatic knives in accordance with federal and state laws apply. Winner is responsible for compliance with all state and local laws governing automatic (switchblade) knives. Automatic knives CANNOT be shipped to a P.O. Box, we MUST have a STREET ADDRESS. Click for complete rules.

Pentagon OTF - FDE ($349.95)  The American made Pentagon OTF automatic knife is designed to meet the exacting demands of users who require a dependable one-handed, fast opening switchblade knife. SOG's Dynamic Lock-up System redefines open reliability and blade lock-up strength in OTF knives, while the CRYO S35VN blade and hard-anodized aluminum handle reinforce the durability of the switchblade. Pentagon OTF delivers reliable OTF technology for professional users who rely on high-end steel and technology.
Overall Length: 9.00"
Blade Length: 3.75"
Blade Material: CPM S35VN
Finish: Black
Handle Length: 5.25"
Handle Width: 1.25"
Handle Thickness: 0.59"
Handle Material: Aluminum
Frame/Liner: Stainless Steel
Weight: 6.70 oz.
Pocket Clip: Tip-Down
Opener: Thumb Slide Automatic
Made in USA
Pentagon XR - OD Green ($179.95) + Pentagon XR - Flat Dark Earth ($179.95) A folding knife designed for defense, the easy to carry SOG Pentagon XR features a 3.66" cryogenically heat-treated CTS XHP stainless steel, wide spear point blade and ultra-grip G10 handle. SOG's XR Lock enables smooth ambidextrous single-handed opening in three different ways with distinguishably solid blade-lock once open with fixed-blade-like feel and confidence. The next level of enhanced pocket knife capability backed by Pentagon's proven pedigree.
Overall Length: 8.375"
Blade Length: 3.50"
Blade Material: CTS XHP
Handle Length: 4.75"
Handle Thickness: 0.55"
Handle Material: G-10
Frame/Liner: Stainless Steel
Weight: 4.83 oz.
Pocket Clip: Tip-Up
Opener: Flipper, Thumb Stud
Lock Type: SOG XR Bar Lock
Made in Taiwan